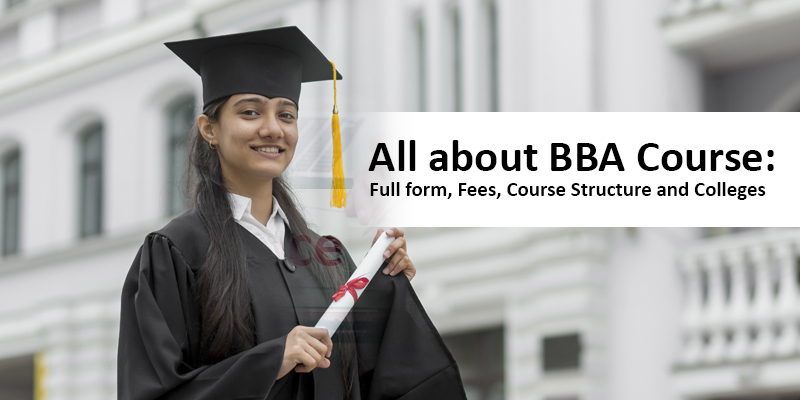 Introduction
One of the most in-demand fields in the world right now, with no scope of its importance going down is management. Earning a BBA degree in the current times can work in your favor, especially when it is considered an important organ of all working institutions. The success of any business enterprise is determined by the efficacy of its managers. A BBA degree is a precursor to landing an outstanding job in the field of management and kick starting your journey into the same. This course deals with imparting knowledge and essential training required in management and administration of business to management aspirants from any stream like arts, science and commerce. This degree helps develop entrepreneurship skills and provides specializations in Human resources, Finance and Marketing. This degree plays a pivotal role in instilling the much needed business acumen in people by giving them a structured body of knowledge that deals specifically with the development and growth aspect of a business.
Eligibility Criteria
To pursue BBA in India, the following are the qualification required to make the candidate eligible: BBA course Eligibility

You must have cleared your high school board examination or 12th Class examination. Usually, the minimum percentage required is 50% but this varies from college to college. Some government institutions such as Delhi University tend to increase this cutoff to more than 90% in consecutive merit lists.
Candidates from any background can study in this course.
Some universities only consider the 12th percentage, however, many require students to appear for the entrance exams as well.
Private colleges usually have their own entrance examinations, like GGSIPU, NMIMS University, etc.
BBA is a 3-year undergraduate degree that entails the following subjects per semester:
Semester 1
Business Organization And System
Business Communication Skills
Business Accounting
Business Economy (Micro)
Business Mathematics
Business Demography And Environmental Studies
Semester 2
Principles Of Management
Principles Of Marketing
Principles Of Finance
Cost Accounting In Business
Business Statistics
Business Informatics
Semester 3
Business Laws
Human Resource Management And Organizational Development
Management And Accounting
Macroeconomics In Business
Information Technology Management
Personality Development
Semester 4
Production And Operation Management
Industrial Relations And Labor Laws
Business Taxation
International Businesses
Management Information SystemsZ
Semester 5
Supply Chain And Logistics Management
Business Ethics
Research Methodology
Subjects As Per The Chosen Specialization
Semester 6
Business Planning And Project Management
Event Management
Management Control Systems
E-Commerce
Subjects As For The Chosen Specialization
Visit the official website of the exam you are planning on taking and check the form for BBA. Candidate's need a cell phone number and email ID which will be used for all communications regarding the admission process. Since everything is done online now, you will need to take utmost care while filling out the application in terms of age, gender, caste, and qualification, etc.
Fill up all the necessary information like the Course you are applying to, Category, Contact and Personal Details, etc. correctly.
Agree to the terms & conditions under the application by clicking the 'I Agree' Checkbox and pressing the 'Start button and entering the details. They might ask for certain documents like 10th and 12th-grade sheets, identification cards etc. Upload all the necessary documents.
You might also need to pay some amount as the application fees. Make sure to print a copy of the receipt for future use.
You will need to select a center near your home where you can give the test, or it might be possible that you will need to go to the university to give the entrance exam.
After filling out the forms, you will be intimated about the details for the examination via email, like date, time, and place, documents to carry in the examination hall, rules and regulations for the same.
Once you have given as well as cleared the exam, you will receive your score along with your rank, based on which you will be given a choice to select your desired BBA specializations in the desired college.
If you pass the necessary criteria for your chosen college, you will be shortlisted, upon which you will need to pay a certain amount to confirm your seat in that course and college.
After this, you will be required to visit the university at a given time and date for document verification, which you had uploaded before giving the exam.
You will submit the fees receipt, documents as well as your biometrics for the same.
Once all these processes are completed, then your admission to that university is confirmed and you will be intimated when the orientation ceremony will take place.
| S.no. | Name Of The College | Average Annual Fees In Rs. |
| --- | --- | --- |
| 1 | Shaheed Sukhdev College of Business Studies, Delhi | 68 Thousand |
| 2 | IIM Indore (Five-year Integrated Programme in Management-IPM) | 16 Lakhs |
| 3 | Guru Gobind Singh Indraprastha University, Delhi | 1.3 Lakhs |
| 4 | Indian Institute of Management, Rohtak | 30 - 32 Lakhs |
| 5 | JamiaMilliaIslamia (JMI), New Delhi | 30.3 Thousand |
| 6 | SavitribaiPhule Pune University | 1.58 Lakhs |
| 7 | YMCA University Faridabad, Haryana | 2.18 Lakhs |
| 8 | Institute of Cooperative Management Dehradun | 1.19 Lakhs |
| 9 | Sri Atal Bihari Vajpayee Government Arts and Commerce College, MP, Indore | 35 Thousand |
| 10 | Indian Maritime University, Kochi Campus | 3 Lakhs |
| S.no. | Name Of The College | Average Annual Fees In Rs. |
| --- | --- | --- |
| 1 | NarseeMonjee Institute of Management Studies, Mumbai | 8.61 Lakhs |
| 2 | Christ University, Bangalore | 7 Lakhs |
| 3 | Symbiosis Centre for Management Studies, Pune | 9.10 Lakhs |
| 4 | Manipal University, Manipal | 4.12 Lakhs |
| 5 | School of Management, DY Patil University, Mumbai | 3.6 Lakhs |
| 6 | IBS Business School Hyderabad | 7.1 Lakhs |
| 7 | O.P. Jindal Global University (JGU), Sonepat | 13.5 Lakhs |
| 8 | Bennett University Greater Noida | 8.25 Lakhs |
| 9 | BharatiVidyapeeth Institute of Management and Entrepreneurship Development, Maharashtra | 3 Lakhs |
| 10 | Department of Business Administration, SRM University | 3 Lakhs |
Summary
One of the major plus points about BBA is that it opens up a plethora of opportunities based on your interest in different specializations and fields. BBA degree allows every student to enter into the sphere of management and this degree teaches them varied aspects that are necessary for gaining ample knowledge in the field of effective business management. Moreover, if someone wants to pursue MBA after graduation, BBA is one of the top degrees to go after completing 12th class. In this article, we have covered all the important information and aspects that an aspiring management candidate must browse through before applying for this degree. From the list of exams that are conducted for BBA to colleges that offer this undergraduate management degree, everything has been covered in detail, along with the admission process for the same. This process might change a bit concerning different colleges, but the workflow remains the same. Due to the global pandemic, the admission process was delayed for government colleges. Private colleges had their own timeline and started their registration in June of the current academic year.