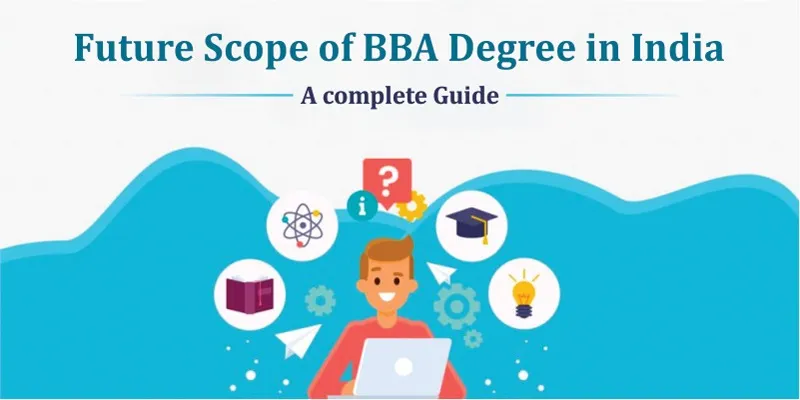 Introduction
India is currently harboring a rapidly growing corporate hub with millions of job opportunities and vast scope of business. Hence, management courses are presently viewed with great adulation and are pursued with great enthusiasm by the youth of India. Besides educating students on making rational decisions when it comes to running a business organization or a company, management courses also teach the appropriate time for taking a proactive or reactive decision. Establishing a business, let alone running it successfully, is not a child's play. It needs sustained efforts and a piece of in-depth knowledge about the know-how of running a company or organization. Management courses like MBA, BBA, PGDM, etc. enable you to do exactly the same.
Of these aforementioned courses, BBA Course or Bachelor of Business Administration is the most sought after course globally as well as in India. This highly coveted undergraduate course is ideal for students who aspire to build a solid career in the field of business. Besides, it also gives the students a head start on developing required management skills.
BBA as a Lucrative Course:-
BBA forms the base of an MBA degree. Students who aim to venture forth into the field of MBA at the postgraduate level usually opt for the BBA degree. Although different people have distinct reasons for taking up BBA after their 12th, every student will unanimously agree that BBA is rendered to be the best start for climbing up the career ladder in the field of management.
Mentioned below is the list of colleges that takes admission on the basis of merit scored in the respective entrance examination:
Duration- BBA is a three-year curse consisting of six semesters.
Average Fees- There are many colleges as well as universities in India that provide this discipline. The average fees range from Rs 3,00,000- to Rs 6,00,000.
Why Pursue BBA in 2022?
If you have been going back and forth on the decision of taking up BBA after your graduation, we'll put an end to your hesitation. BBA is the best course one can choose after the 12th to secure a good future in the management field. Here's why-
● Early Development of Managerial Skills- To secure a good position in the corporate world it is very important to master proper managerial skills. We have often heard "the early bird gets the worm"- this idiom is very relevant when it comes to the beginning of developing managerial skills. The faster you start inducing the necessary changes in yourself and absorbing new knowledge or skills, the easier it will be for you to shine. BBA introduces you to the tactics of acquiring good managerial skills from the very beginning itself thus letting you be well versed in the core areas of management.

● Great exposure- Good companies are always on the lookout for BBA graduates because this course not only imparts theoretical knowledge but also endows students with proper practical knowledge. These attributes help a student to gain access to a sea of exposure after completion of the degree.

● Tempting job market and huge scope for growth- As mentioned earlier, the corporate sector is a very rapidly growing sector in this country. It is needless to say that this sector generates millions of job opportunities while employing many.

● Affordable and less time taking- Besides seeing the importance of pursuing a course, it is also important to see its affordability. BBA does not disappoint in this sphere also for it is one of the most affordable management courses currently present in India. Moreover, the course has a minimum duration of three years. This leaves a student with ample time to venture and try out different career options for themselves.

● Versatility- As said earlier, this professional degree provides the perfect concoction of practical and theoretical knowledge while continuously provoking a student's character development.
Future Scope of BBA Degree in India—
● In the Government Sector- A BBA degree is not only viewed with respect in the private sector, but it also opens a gateway to opportunities in the government sector. One can take various government entrance exams and serve the country in those respective fields. Some of the sectors are-

1. Banking- After BBA, one can go into the banking sector with an average starting salary of Rs 4,00,000- Rs 6,00,000.
2. Civil services- Any graduate can aspire for this, a BBA graduate is no exception. The starting salary ranges from Rs 5,00,000- to Rs 7,00,000.

● In the Private Sector- The BBA graduates are offered jobs in esteemed positions like HR Manager, Finance Manager, Administrator, etc. with pretty high packages. Most of them are enlisted below-
| Job Profiles | Salary |
| --- | --- |
| Sales Manager | Rs 7,49,521 |
| Tax Manager | Rs 18,01,134 |
| Actuary | Rs 5,13,329 |
| Management Consultant | Rs 11,37,398 |
| Business development manager | Rs 6,00,000 |
| Business Advisor | Rs 11,52,372 |
| Business Analyst | Rs 6,04,826 |
| Human Resources Officer | Rs 2,90,488 |
| Procurement Manager | Rs 12,20,720 |
| Product Manager | Rs 16,69,290 |
| Investment Banker | Rs9,66,410 |
| Administrative Officer | Rs 6,65,091 |
| Assistant Controller | Rs 9,88,824 |
| Credit & Risk Manager | Rs 21,90,000 |
| Asset Manager | Rs 7,00,000 |
● In Foreign- Management is famous worldwide due to its persistently escalating demand and need. Hence, abroad provides boundless scope to those who aim to seek a job thereafter pursuing BBA from India. One must clear the IELTS, TOEFL, SAT, etc to settle or look for job opportunities abroad.
● Personal Development- This degree is probably the only degree that grants confidence to a person during its course besides granting him knowledge, managerial, leadership, skills, team spirit etc. you name it.
● Academics- If one is keen on continuing in the academic field, pursuing BBA is the perfect bargain. It gives a golden opportunity to those who plan to pursue MBA in the near future.
● Entrepreneurship- This degree gives you the necessary apprehension of the requirements of being an entrepreneur and having your own start-up. Present times are the most lucrative times for students to tap into the start-up culture since the government is aiding amply through various schemes. This career path also enables the scope for employment opportunities and makes students more than just an employee, particularly job creators too.
● In the teaching field— The BBA course as a whole provides students with a headway into the MBA degree. After gaining an exponential experience in the corporate sector post MBA, or even BBA if you manage to get good placements, students can try and apply at various private institutions that employ corporate leaders and professionals for a more industry-oriented insight into courses.
To Sum Up
If you want to nurture your knack for management, BBA is the right pick for you, it will not only help you bag a great job right after your Bachelor's, but also acquaint you well with core concepts of Economics, Marketing, etc. The best thing about BBA is that it holds the same importance all over the world thus granting one more career option to settle with. Since this discipline lets one gain hands-on skills, and experience and picks the best high-paying jobs for oneself, it can be assuredly said that the future scope for BBA in India looks promisingly bright.