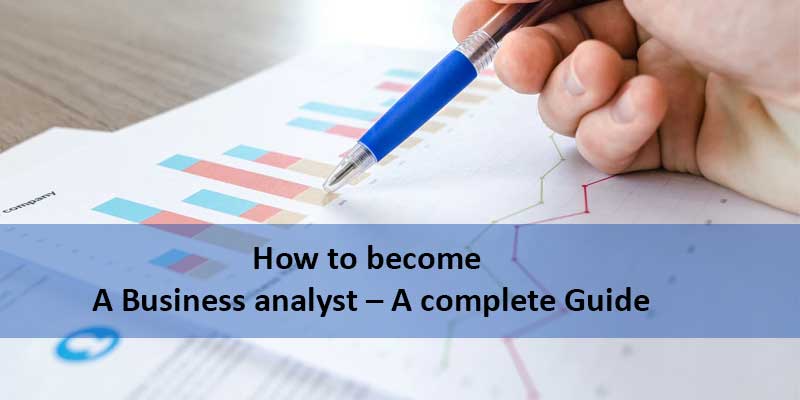 Who Is A Business Analyst?
A Business Analyst is a trained tech professional working in the business domain, who holds expertise in data analysis and uses it to deliver actionable input, based on which future business decisions can be made so it flourishes. Business analytics is a data-driven strategy for businesses that employ statistics and data modelling to provide actionable business insights. Because of the combination of technology and business, it is an outstanding academic choice for those interested in programming or dealing with big data.
While courses differ between colleges and business schools, students are often taught data analysis and business intelligence technologies under this course, allowing them to do tasks such as predictive analysis. This entails examining data from a company's previous performance to forecast how it will evolve in the future and making business decisions accordingly. For example,
Reasons to Choose Business Analytics as a Profession In 2024
IN 2022, there are plenty of reasons to choose business analytics Course as your choice of career. One of the major reasons for the increased popularity of this course is the data-driven output that businesses can leverage, resulting in them thriving in the market. There is a lot of untapped potential when it comes to businesses but sometimes it's overlooked due to a lack of adequate knowledge of their strengths and positive points that can be worked upon to enhance the operations. Data analysts are people who help identify where this potential is stored through studies of statistics and past performances, resulting in a better show. Let's look at some of the popular reasons why business analysis as a career is flourishing.
Aspect
Dependability Of Businesses On Technology
Strategic Intervention Through Data
Prevalence Of Tools To Leverage Data
Emerging Field
Wide Job Market
High Placement Packages
International Relevance
Courses That Lead To a Strong Career in Business Analytics
Following is the list of top 8 courses that students can opt for to become business analysts. While there is ample debate on whether or not a formal degree is needed to master business analytics as it's a highly specialized practical course, what we can do as students is carve a career that's more organized and promising, which is one of the following degrees and diplomas can guarantee.
Program
BBA In Business Analytics
BBA In Finance
BBA In Information Systems
BBA In Operations Management
Bachelor's Of Computer Application
MBA In Business Analytics
Post Graduate Diploma In Business Analytics
Post Graduate Diploma In Data Science
Skill Set Required To Pursue Business Analyst as a Profession
1. Creativity
2. Technical Skills
3. Knowledge of Computer Languages
4. Mathematical Proficiency
5. Statistical Skills
6. Innovative Thinking
7. Problem-Solving Attitude
8. Critical Thinking
9. Interpretation Skills
10. Quantitative Aptitude
How to Be a Business Analyst ?
1. Enrol In A Relevant Program If you want to pursue your career as a business analyst, it is imperative that you apply for a good college offering the said programme. There are a couple of steps in this itself, ranging from deciding a relevant course to registration through the college website. Once you have registered, you will be required to fill out the online application form and do as directed, followed by fee payment. If you pass the selection criteria, your admission will get confirmed. While most colleges give admission on a merit basis for BBA (bachelor of business administration), some conduct entrance exams as well. In that case, students have to appear for and clear that exam as well.
2. Take Part In Projects/ Seminars/ Workshops Once you have successfully been admitted to a program, you should give it your all. From taking all classes, participating in relevant seminars and workshops, to industrial visits, if any, a business analyst student must grasp all knowledge first-hand to gain ample exposure and insight into the aspects of analytics.
3. Maintain A Decent Gpa All Through The Course Maintaining a decent CGPA through the semesters is very important to make your profile stand out when you're applying for jobs in the future. Other than this, another crucial factor is consistent upskilling and making sure you're up to date with all the tools and techniques required for data analysis. This can be done by taking up short term certification courses online on mediums like Coursera, udemy, or any other.
4. Take Up Internships In Business Analytics Theoretical learning is one thing but actually putting yourself in the game by working directly in this field with industry stalwarts and full-time corporate professionals is a different thing altogether. You can never gain as much knowledge as you can in a real-life setting where you actually have to apply your skills and put them to actionable use.
5. Apply For A Job If you have followed all the pointers listed above religiously, then getting the job will supposedly be a piece of cake for you. Appear for multiple job interviews, and select the most rewarding one in terms of salary, growth potential, learning element, and work spectrum. Build excellent networks over the years and stand out in what you do. This will not only make you a stellar business analyst, but also a renowned and professional industry leader some years down the line.
Top Companies Hiring Business Analysts In India
Business analysts are in dire need of dept and knowledgeable analysts. Some of the companies mentioned below have multiple branches across India and globally as well, so the number of openings is usually in bulk. These companies offer handsome salary packages to their employees. Let's look at the top 15 companies and MNCs in India hiring business analysts:
1. J.P. Morgan
2. IBM
3. Accenture
4. Deloitte
5. Citi
6. Bank of America
7. Capital One
8. UnitedHealth Group
9. General Motors
10. Macquire
11. Manthan
12. Cognizant
13. Ernst & Young
14. Amazon
15. Tata Consultancy Services
Top 15 Colleges In India Offering BBA in Business Analytics Degree and Their Fees
| Name Of The College | Fee Structure |
| --- | --- |
| Presidency University, Bangalore | 4.5 Lakhs |
| GITAM Hyderabad Business School | 5.97 Lakhs |
| BML Munjal University, Gurgaon | 8.41 Lakhs |
| CT University, Ludhiana | 3 Lakhs |
| Lloyd Business School, Greater Noida | 1.85 Lakhs |
| Dr MGR Educational And Research Institute, Chennai | 2.4 Lakhs |
| ITM School Of Management, Gwalior | 4.8 Lakhs |
| The Northcap University, Gurgaon | 6.45 Lakhs |
| Birla Global University, Bhubaneshwar | 5.94 Lakhs |
| Garden City University, Bangalore | 1 Lakh |
| SRM University, Delhi NCR, Sonipat | 3.46 Lakhs |
| Sushant University, Gurgaon | 5.96 Lakhs |
| GH Raisoni University, Amravati | 2.04 Lakhs |
| Jagannath University, Jhajjar | 2.31 Lakhs |
| International School Of Business Management, Jaipur | 2.6 Lakhs |
Conclusion
The limitless advantages of pursuing a Business Analytics degree should be able to convince you to opt for this career by now! We have laid down the step by step ways of becoming a business analyst in 2022. Not only is this a lucrative career choice, but will also take you to heights in your career with little diligence and truckloads of expertise. If you're someone who's passionate about data and numbers and how it impacts the business world, then be assured this course is made for you.