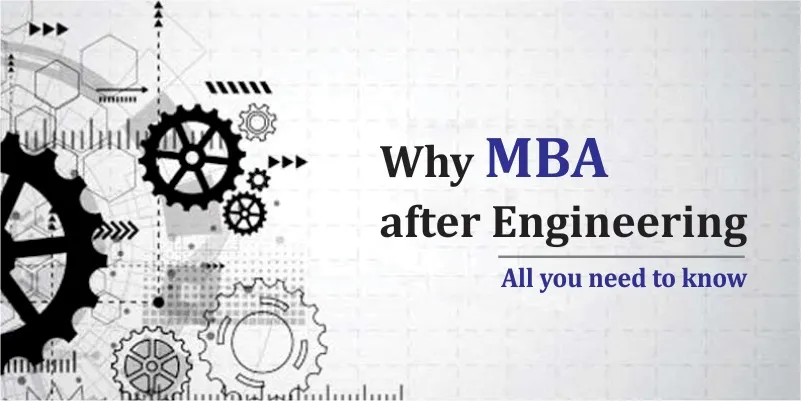 Introduction
The branch of engineering deals with the use of science in designing, experimenting, testing, and manufacturing machines. The branch is commonly pursued by students who have chosen science for their 10+2 the board's examination. It is usually a 4-year bachelor's course. BTech is a skill-oriented course, based on application engineering. MBA Course deals with business and management studies, which uses a person's analytical, managerial, business, and other skills, to prepare the businessmen and entrepreneurs of the next generation.
One might wonder, why should one study for an MBA after engineering? BTech is a course that fuels the student up with different skills and knowledge, mostly the basic stuff needed to operate the machine they are doing their specializations on. However, studies have shown that a majority of the students who have just done their BTech are not employable. Then, what to do next? MBA secures you with all that. While one might be tempted to go for M.Tech and get a deeper knowledge of the scientific knowledge gained in the previous years, doing an MBA is more practical and fruitful, in the world of today, where businessmen and entrepreneurs run the world. Mentioned below are the main reasons why one should go for an MBA after engineering.
B tech Admission in DelhI NCR
Reasons to pursue MBA after BTech
A degree that gets recognized all over the world. Being an internationally recognized degree, your MBA certificate from a recognized college will get you a job anywhere in the world. The degree is taken as important for the ones who are aiming at the top management posts. No other master's courses are as successful as securing a career, a good internship, or a good lifestyle as an MBA degree does. However, it is not that one can only secure jobs in managerial positions. MBA covers a lot of fields and thus raises one's chances of getting a job at the top companies, in the country, and the world as a whole. Companies like Amazon, Google, Deloitte, etc. are all hiring MBA graduates from all over the world. And as the Indian colleges provide quality education when it comes to MBA, it raises one's chances to get a job in one's dream company, no matter how grand the company is. It also enables them to become entrepreneurs anywhere in the world.
Heightened chances to get proper experiences Unlike other postgraduate degrees, where one has to do multiple internships or side jobs, to get the proper experience in the field, MBA offers the students first-hand experience in college itself. By creating engagement with prominent companies, CEOs, internships offered by the college itself, workshops, and seminars, the students get to know what they are about to face when they enter the real work environment and do not get overwhelmed by the work pressure or the ones who have been in the field for a longer time. If we look closely, we can see that most undergraduate B.Tech courses don't provide proper experience to the students.
Entrepreneurs of tomorrow Unlike the B.Tech and other undergraduate courses, MBA prepares you for becoming the leader of the world. B.Tech does not give as much occupational autonomy and even if it does, it happens after a long time and needs you to work under somebody for a long time. With an MBA degree, however, you are teaching yourself to be a leader, with the ability to work in groups, to lead, and anything needed to establish and run a company successfully.
Enables career and study time flexibility At times, it happens that students want to work at a job while studying parallel. In that case, MBA is the best option for you, as, unlike other post-graduation courses, you do not need to mug up all day to score good marks. Moreover, there are many companies which offer part-time courses, which gives you more time to focus on your job and studies parallelly.
Promising salary In most of the postgraduate courses, students remain unsure about what their job is going to be or what their income will be! However, every good company needs MBA graduates and thus chances of employment in any of the top-grossing companies are quite high, which can provide the person with the desired lifestyle.
The flexibility in choosing jobs and career paths As MBA covers a huge area, and the courses include a wide variety of subjects, the students gain different skills, which become useful in a variety of career choices. For example, if one is not happy with the position they occupy at their company, they can set up their own business or look for other positions in other companies.
High demand for B.Tech graduates with an MBA degree Technology is evolving every day, thus increasing the need for professionals who can tackle it best. Well, what can be more professional than somebody with expertise in two fields, and who can manage both the tech or machinery and the organization that deals with it.
To level up your career in engineering For somebody who has already got a job in some engineering department, getting an MBA will help them to climb up the ladder of job hierarchy, and secure them a high managerial position. This is followed by a sense of prestige and personal satisfaction owing to one's knowledge and investment in education at the right time.
Developing innovative and marketable ideas In case, a student with a B.Tech degree wants to move forward with their skills of science and technology and develop a business based on that, an MBA will help them develop their business, find out ways to be a better leader and take their organization to the top-notch.
To develop both soft and hard skills MBA is a course that not only helps all the students to develop their skills in the business world, but also helps them develop skills related to their personal life, and helps with personality development. The student develops problem-solving skills which can be effective in their life.
Conclusion
Mentioned above are the various reasons why one should choose MBA after engineering. Doing so will place them at the highest tier in the world of jobs, especially in today's India, where entrepreneurs and management professionals make up a high percentage of India's economy. Completing this, BTech graduates who do an MBA are great assets for any business organization due to their technical and managerial expertise. It might take 6 years to complete both degrees but it puts you 6 years ahead in your career too. In an evolving economy like India, it is only fair to be the best of the best and fast-track your way to success. What you will learn through years of experience after B Tech, you can easily learn with 2 years of investment in an MBA course. To conclude, all the pointers listed above make a great case as to why you should study MBA after the completion of your B Tech degree.