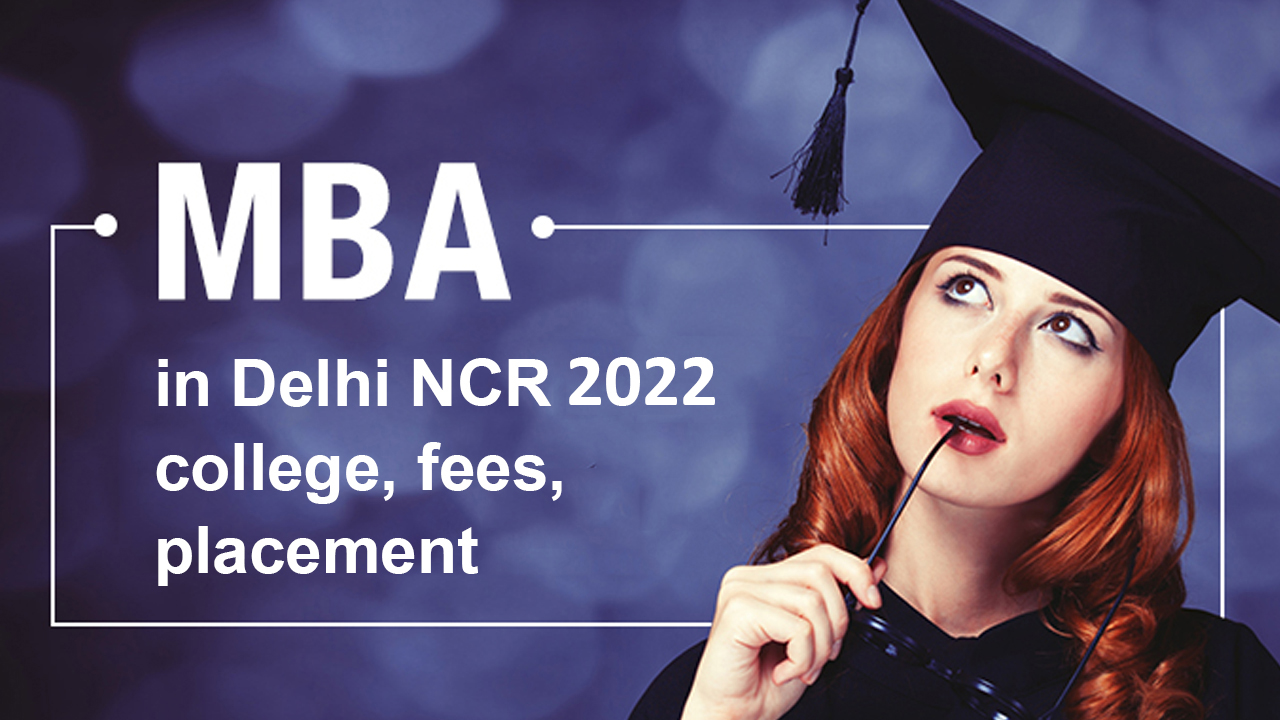 MBA course in Delhi NCR 2022
About the Course
MBA or Master of Business Administration is a Post-Graduate degree course which comes under the management activities. The duration of the course is 2 years with a total of 4 semesters. The eligibility criteria for the course are minimum 50% score in the bachelor degree from a recognized university. There is no age limit for applying the course. The course deals with different fields such as Human Resource Management, Finance, Marketing, Business and Banking and many more MBA specializations. The job scope of the course is very high in corporate or you can say business environment.
Entrance exams for MBA
Every student wants an admission in best management colleges In delhi NCR and other Metro Cities in India, therefore, he/she must qualify certain entrance exams conducted by different colleges, such as CAT, XAT, CMAT, SNAP, NMAT, IIFT, ATMA and GMAT.
Best time to start MBA
It is very difficult nowadays to get admission into a top Business School. So, it is very important to wait for few years before applying for MBA.
A programme that a student selects requires some experience first.
Start your career in MBA only after analysing that is it necessary or not.
Get aware of all the specializations exists before getting admitted into a Business School.
MBA lets the students to get aware about the actual mode of working in corporate. The theoretical knowledge is distilled along with the practical industrial exposures throughout the academics to ready the students for the outer corporate world. Training are there to evolve students as an eligible manager. Students get the Chance to increase their area of knowledge and evaluate themselves as per the market requirements by the internships, Industrial Visits, Hands on Experience on various cases, Various seminars and guest lectures by the Industry experts are organized.
Emerging skills through MBA
MBA students are taught about many management skills to function in outer corporate world. Some of them are:
Leadership
Analytical Skills
Teamwork
Initiative
Adaptability to change
Interpersonal & Communication Skills
Global Orientation
Critical Thinking
Procurement sills
How to be efficient
Time & Project Management Skills
MBA in Delhi
when it comes to MBA course in Delhi NCR, Delhi is one of the most preferred places for MBA admissions (mba admission in delhi). Delhi and its nearby areas is the hub of the active corporate interface. At present, about 132 colleges are functioning in Delhi & NCR region, out of which 17 are Government colleges or Universities.
Here is the list of some colleges along with their respective academic mba course fees in delhi.
Government Owned or Public colleges/Universities
| S.no. | Colleges | Fees |
| --- | --- | --- |
| 1. | Faculty of Management Studies, University of Delhi, Delhi | RS. 100,000 |
| 2. | Jamia Malia Islamia, New Delhi | RS. 1,16,960 |
| 3. | Department of Management Studies, Indian Institute of Technology, Delhi | RS. 10,80,000 |
| 4 | Delhi School of Management, Delhi Technological University, Delhi | RS. 3,17,000 |
| 5 | University School of Management Studies, GGS IP University, Delhi | RS. 1,40,000 |
| 6 | Department of Business Economics, University of Delhi, Delhi | RS. 24,752 |
| 7 | Netaji Subhas University of Technology, New Delhi | RS 3,56,000 |
| 8 | Department of Commerce, University of Delhi, Delhi | RS. 30,392 |
| 9 | Bhai Parmanand Institute of Business Studies, Delhi | RS. 1,20,000 |
| 10 | Bharat Ratna Dr BR Ambedkar University, Delhi | RS. 2,99,880 |
Private Colleges/Universities
| Sr. no. | Names | Fees |
| --- | --- | --- |
| 1 | Millennium School of Business, New Delhi | RS. 2,00,000 |
| 2 | Lloyd Business School, Greater Noida | RS. 2,00,000 |
| 3 | Maharaja Agrasen Institute of Technology, Delhi | RS. 2,66,000 |
| 4 | NSB - NIILM School of Business, Delhi | RS. 4,06,000 |
| 5 | Amity Business School, Noida | RS. 12,80,000 |
| 6 | Institute of Management Studies, Noida | RS. 3,70,000 |
| 7 | Delhi Institute of Advanced Studies, Delhi | RS. 3,16,100 |
Different specializations offered by these colleges
1) MBA in marketing: - it involves advertising, branding, market research and global & online marketing and alike many more. Requires certain skills: Interpersonal Skills | Creative & strategic thinking | General awareness about the market | Understanding consumer as well as market behavior 2) MBA in Finance:- It deals in different fields such as Investment Banking, Taxation, Tax planning, financial statement reports & Analysis, funds, transactions, monetary policies, and alike many more. Requires certain skills: Financial knowledge | Analytical Skills | Knowledge of ERP/IT | Critical thinking 3) MBA in Human Resource Management:- It involves the management of employees within an organization and deals with programmes like planning, recruitment and training of employees. Requires certain skills: Multitasking | Leadership skills | Communication skills | Conflict Management |Strategic Skills 4) MBA in Information System: - It focuses on critical management & business skills, database management & its business applications, IS principles, Analysis and Designing. Requires certain skills: Technical writing | Data Mining and Coding | Flexibility and Foresight |Workplace interpersonal skills 5) MBA in Consultancy requires certain skills: Problem solving (related to business) | Consultancy knowledge | Analytical skills | Strategic skills | Presentation skills | Communication skills 6) MBA in Entrepreneurship:- It deals with managing investments, raising money, began and operate their own organizations or businesses. Requires certain skills: Resilience | Management | Problem Solving | Networking | Self-awareness 7) MBA in Operations Management:- It is concerned with planning, organizing and supervising the production or manufacturing & distribution of goods and services. Requires certain skills: Leadership | Conflict Management | Labour Management | Decision-making | Organization 8) MBA in International Business:- It involves foreign trade management, imports & exports, and many more global business activities. Requires certain skills: Cross-cultural communication skills | Excellent networking Abilities | Interpersonal influence | Adaptive Thinking | Innovation | Emotional Intelligence 9) MBA in International Taxation:- It includes corporate taxation, real estate taxation, Contemporary tax theory, tax research and estate tax laws. Requires certain skills: Taxation knowledge | Mathematical skills | Research skills | Analytical skills | Detail Oriented 10) MBA in Supply Chain Management:- It includes supply, production, distributions, logistics, inter-entity relationships and consumer behaviours. Requires certain skills: Project Management | Technical Understanding | Cost Accounting skills | Understanding E-commerce activities | Strategic Skills 11) MBA in Logistics:- It deals the distribution of goods and services including, warehousing activities and transportation systems. Requires certain skills: Negotiation Skills | Follow-up Skills | Analytical Skills | Geographical Knowledge
Job Opportunities after these Courses
After completing MBA, Managers are liable for following jobs:
Accounting Manger
Financial Analyst
Corporate Controllers
Cash managers
Chief Financial Officers
Manager Consultants
Credit Mangers
Insurance & Risk Managers Etc.
One can start its company or Firm as well. There is 'n' number of opportunities waiting for you after MBA.
"What I have against MBA is the assumption that you come out of a two-year program, probably never having been a manger- at least for full-time younger people MBA programs and assume you are ready to manage" -Henry Mintzberg