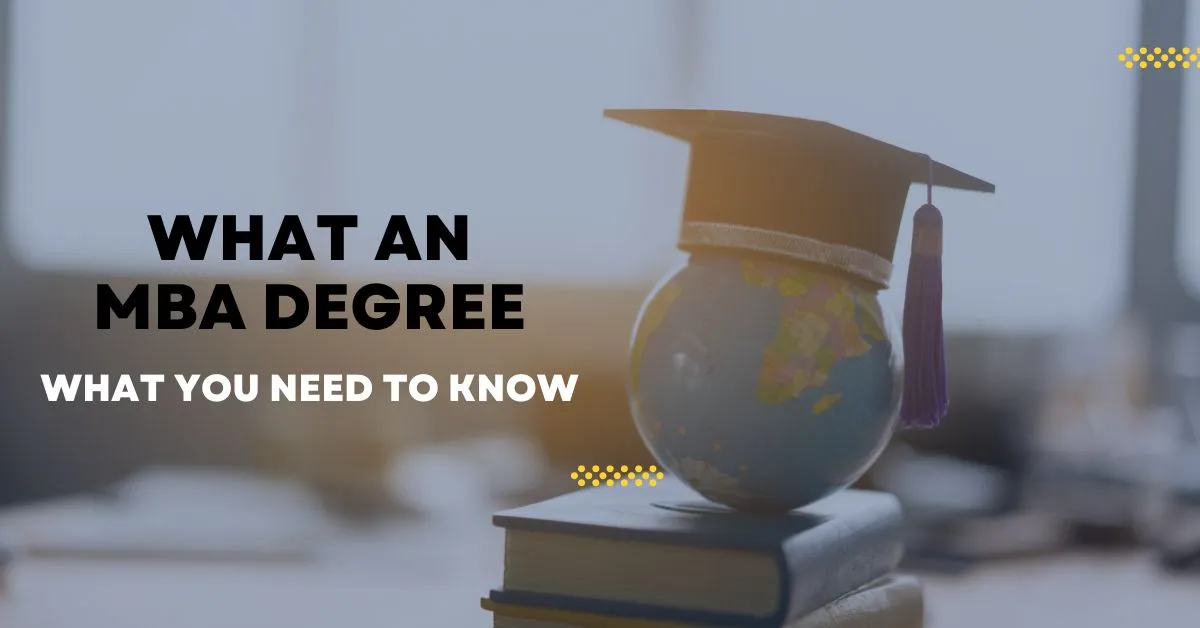 If you are thinking about earning your MBA in India, you must have a solid understanding of what it comprises, the many types of programs that are offered, the requirements for entrance, and how to select the MBA program that is best suited to your needs. Earning a master's degree in business administration (MBA) may provide considerable advantages in terms of career progression, salary increases, the opportunity to network, and skill development. In this post, we will discuss what a Master of Business Administration degree is, why getting an MBA in India is a good idea, the requirements for admission, and how to select the best MBA program.
MBA Course Admission 2024 - Apply Here
Check MBA Entrance Exam - Click here
What Exactly Is an MBA Degree?
An MBA is a graduate-level program that gives students the skills and information they need to do well in the business world. It covers an extensive spectrum of topics, such as financial matters, advertising, company operations, leadership, and strategy. MBA programs are made for students who want to become pioneers and stalwarts in the business world. Graduates of MBA programs are well-prepared for jobs in areas like management consulting, finance, marketing, business, and other related domains.
MBA Course Structures and Options
In India, there are several ways to finish an MBA program, including executive MBA programs in online, part-time, and full-time classroom settings. Full-time MBA programs typically span two years and necessitate that students attend courses on campus. Part-time MBA programs are designed for working people and may be finished in two to four years, depending on the program. Some programs provide lessons in the evenings and on weekends to meet students' job commitments.
The independence that comes with online MBA programs, which let students do their homework from any location on the globe, is being embraced by students in India. Depending on how rapidly the student progresses through the curriculum, one of these programs may take 12 to 36 months to finish. Programs for executive MBAs are intended for seasoned individuals who want to continue working while getting a higher education. The duration of these programs may range from one to two years, and students are expected to attend classes on weekends or during intensive sessions.
How Long Does It Take to Obtain a Master of Business Administration Degree?
The amount of time it takes to earn a Master of Business Administration degree in India is contingent both on the particular program chosen by the student and the rate at which they complete their coursework. MBA programs that are attended full-time normally take two years to complete, whereas MBA programs that are attended part-time might take anywhere from two to four years to finish. The length of time it takes to complete an online MBA program can range from as little as 12 months to as many as 36 months, depending on the student's pace. The duration of time needed to complete an executive MBA program is normally between one and two years.
Accreditation and Ranking of Master of Business Administration Programs
When deciding on a Master of Business Administration (MBA) program in India, certification is a crucial factor. The program must demonstrate that it adheres to a specific set of quality and rigor requirements to be accredited. AACSB, also known as the Association to Advance Collegiate Schools of Business; AMBA, also known as the Association of MBAs; and EQUIS, also known as the European Quality Improvement System, are the most frequent methods of accreditation for MBA programs.
When selecting a Master of Business Administration (MBA) program in India, rankings can also be helpful because they can provide you with a sense of the reputation and quality of the program. The rankings that are issued by Business Today, Outlook India, and Business World are three examples of well-known MBA rankings.
Why get a Master's in Business Administration in India?
In India, getting a Master of Business Administration degree might be useful for some different reasons. The following are some of the most frequent:
Career Advancement Opportunities: A Master of Business Administration degree may make it possible to develop one's career, particularly in management and leadership positions. For jobs of this nature, a significant number of companies in India favor, and in some cases require people, to hold an MBA.
A Raise in Compensation: According to the 2021 Corporate Recruiters Survey conducted by the Graduate Management Admission Council, the median base pay for MBA graduates in India is 15 lakhs of Indian rupees, whereas the median base salary for bachelor's degree holders is 5 lakhs of Indian rupees. Because of the potential for higher compensation, earning a master's degree in business administration might be a worthwhile financial investment.
Opportunities for Networking: MBA programs in India provide students with good networking opportunities. These opportunities come in the form of the chance to connect with classmates, lecturers, and alumni who are currently employed in a wide variety of fields and businesses. These contacts may result in employment opportunities, the provision of mentoring, and the acquisition of invaluable business insights.
Skill Development Getting an MBA in India will assist you in developing important business skills such as critical thinking, problem-solving, communication, and leadership. These are all skills that can help you succeed in business. Employers place a high value on individuals with these skills, and having them can help you advance more quickly in your chosen field.
MBA programs in India Have certain requirements to enter
The qualifications needed to enroll in a Master of Business Administration (MBA) program in India can differ from school to school and program to program. On the other hand, the majority of MBA programs demand the following things:
A bachelor's degree from an institution that is recognized by an approved body
A grade point average of at least fifty percent (50%) in the undergraduate degree
A credible score on either the GMAT or the CAT (certain educational institutions may also accept GRE marks)
Many educational institutions advise having experience in the working world but do not necessarily require it.
Recommendation letters and cover letters/ SOP stands for "statement of purpose
How to Pick the Right Masters of Business Administration Program in India
Because there are so many different alternatives, choosing the proper MBA program to study in India can be a challenging endeavor. When it comes to making a decision, the following are some things to keep in mind:
Accreditation: Look for master's in business administration (MBA) programs that have earned accreditation from AACSB, AMBA, or EQUIS. The program must fulfill several quality requirements to receive accreditation.
Program Structure: Think about the structure of the MBA program that will work best for you and your goals. MBA programs offered on a full-time, part-time, online, and executive level each have their own unique set of benefits and drawbacks.
Reputation: When choosing an MBA program, look for one that has a solid standing in the business community. You can get an idea of the program's reputation by checking out various rankings and reviews.
Search for MBA programs that offer a curriculum that is in line with the professional aspirations you have for yourself. Certain programs may put more emphasis on the financial side of things, while others may put more emphasis on the marketing or operational side of things.
Look for MBA schools that have members of the faculty that are both experienced and knowledgeable in their fields. By looking at their profiles on the educational institution's website, you can get an idea of the qualifications and areas of expertise that the faculty members possess.
Conclusion
Getting a Master of Business Administration (MBA) degree in India might be a worthwhile investment in your professional future. It may also present you with opportunities to enhance your compensation, advance your career, and expand your professional network, all of which are quite significant. When selecting a master of business administration (MBA) program, it is important to consider several aspects, including accreditation, program format, reputation, curriculum, and faculty. An MBA degree can help achieve career goals in India, provided that the student chooses the appropriate program and is committed to studying.