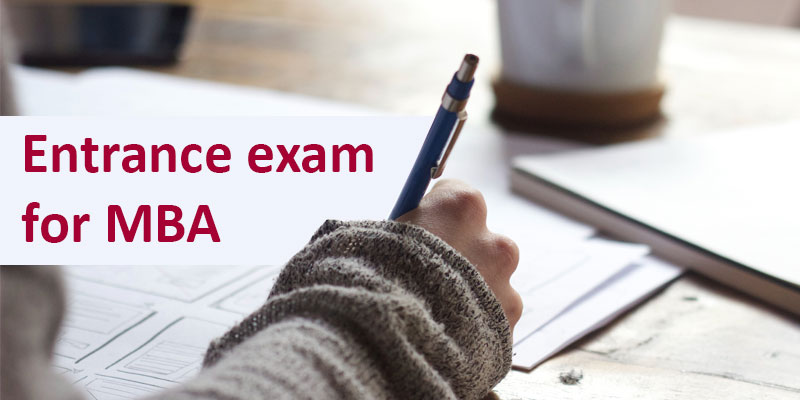 MBA is rightfully known to be the most popular and prestigious course, despite being the mainstream. One of the very reasons for its popularity is the job prospects it offers, which is why it is also the safest career path after graduation for most students. Completing an MBA programme displays a dedication to learning, refining, and adopting abilities that can aid a company's success. Furthermore, people with MBAs are more confident in their market potential and the abundance of expertise they can bring to the table. This also means having a more secure and rewarding professional life throughout.
The real deal is getting Admission to MBA courses in India, as there is always a restriction in the number of available seats as opposed to the candidates desirous of pursuing this course. This means exceptional input is required to clear most MBA entrance exams, especially if you're aiming for IIMs. While the most famous and widely accepted exam is CAT, there are various other options that an MBA aspirant can explore to pursue their dream course. Let's look at some of these exams and understand how to go about them!
MBA Entrance Exam Level
MBA entrance exams can be broadly categorised into three categories: national level exam, state-level exam, and university level exam. Let's look at them in detail.
National Level Exams
National level exams are conducted at different centres throughout the country and are accepted by almost all colleges offering the particular course. The difficulty level of these exams is usually tough since they open up admission to most government colleges. For MBA in India , there are 12 national level exams. Some of them are listed below:
1. CAT

This CBT exam is conducted by IIM-A every year in November. As for 2021, the duration of the exam has been reduced to 2 hours from 3 hours, and the number of questions has been reduced to 76 from 100. Similarly, the total marks have fallen from 300 to 228. This year, the CAT notification was issued on July 31, and the registration window lasted from august 4th to September 22.

2. CMAT

This exam is conducted annually by NTA during the last week of January. The application process begins early in November and goes up until December. As of recently, a new section called "entrepreneurship" in addition to language comprehension, DI, LR, general awareness, and quantitative techniques.

3. NMAT BY GMAC

The applications for this entrance exam are currently open. NMAT is conducted by the graduate management admission council every year in October and November. 120 minutes are given for a total of 108 questions, from sections including language skills, quantitative skills, and reasoning skills.

4. IB SAT

ICFAI Business School Hyderabad conducts this exam once every year. This year the exam will be conducted at the end of December. The application process began on 6th July and will continue until December 16th.

5. SNAP

The applications for SNAP 2021 are currently open. The exam will be conducted once on December, 8th, and twice in January 2022— 8th and 16th. The application process began on 31st August and will end on November 27th this year.

6. MAT

The MAT exam is conducted by AIMA. The duration of this exam is from 28 September. The registration will be closed after 30th November 2021.

7. ATMA

The ATMA exam was conducted on 7th September this year. The results for the respective exam were declared on the 11th of September. The exam consisted of questions from the section including analytical reasoning, verbal skills, quantitative skills.

8. IIFT

The date of the IIFT exam has been postponed to October 25. All the candidates are required to apply at the IIFT NTA Official website, iift.nta.ac.in for the entrance exam. This entrance exam will be held on 5th December 2021.

9. JIPMAT

This entrance exam is specifically conducted for students who wish to pursue the 5 year integrated management program in the 2 IIMs— Bodh Gaya and Jammu. In 2021, the JIPMAT exam was held on 10th August.
State Level Exams
State-level exams are conducted by a particular state and allow students to take up admission in various public, semi-government, and private universities belonging to that state. Some of these exams include:
1. HPU MAT

This exam is conducted by Himachal Pradesh University Business School every year in May. The mode of this exam is offline.

2. JEMAT

The MaulanaAbulKalam Azad University of Technology conducts the JEMAT exam every year so that students can take admission into the MBA courses offered by the university. This year, the exam took place on 21st September.

3. PU MET

This exam is conducted by Punjab University, Chandigarh. The exam was held on July 10 this year and results for this exam were declared on 30 July 2021.

4. Karnataka PGCET

This exam is conducted by Karnataka Examinations Authority once a year for programs like Mtech, MBA and MCA. The MBA exam this year will be conducted on 14th November 2021.

5. TANCET

This year, the TANCET exam was conducted in March. As for the latest update, candidates can now check their results from the official website by entering their registered id and password.

6. APICET

This exam is conducted every year by Andhra University, Visakhapatnam. According to the latest update, the results for APICET 2021 were released on October 1.

7. TSICET

This MBA entrance exam is conducted online by Kakatiya University to allow students from Telangana to take admission into all participating colleges. This year, the exam was conducted on August 19th and 20th.

8. KMAT

The applications for Karnataka Management Aptitude Test 2021 are currently open, and the registration process commenced on July 6th. Students who wish to appear for this exam can apply online until 25th October 2021.

9. KMAT KERALA

Commissioner of entrance exams conducts this MBA entrance exam in affiliation with Cochin University of science and technology. This exam is held twice a year, and application forms were released in March 2021.

10. MAH MBA CET

This MBA entrance exam is conducted by Maharashtra State every year to allow students to get into MBA and MMS courses in colleges of the particular state. This year, the exam was conducted in September and the tentative date of the result is October 20th.
University Level Exams
University Level Exams are conducted mostly by private universities that accept these entrance exams in addition to the ones centralised and conducted nationally. These exams are mostly flexible and act as a qualifying criterion to secure MBA courses in these colleges. Some of these exams include:
1. GMAT

Gmat is one of the most popular entrance exams for students who wish to pursue MBA courses abroad. The test is conducted by the graduate management admission council and includes questions from sections such as quantitative reasoning, verbal reasoning, integrated reasoning, and analytical writing.

2. SRMJEEM

This computer-based exam is conducted by SRM University, Chennai to allow students to take admission in its MBA courses at different campuses across the country. A total of 100 questions are asked from sections like data interpretation, quantitative aptitude, reasoning, English and GK. there is no negative marking.

3. UPES-MET

This entrance exam is a computer-based test conducted by the university of petroleum and energy studies, Dehradun, to qualify for admission to its MBA program. The exam is conducted in 4 cycles and multiple phases to facilitate a convenient admission process for all interested students.

4. IPU CET

GGSIPU conducts the IPU CET exam once a year for admission to different UG and PG courses. For MBA, this exam is conducted in 11 states across the country. The application process for 2021 began on 8th June.

5. GMET

This entrance exam opens up admission to Guru Nanak Dev University MBA programs and is held once a year. The question paper includes MCQs from various sections including mental and numerical ability, general knowledge, English and business aptitude.
Other than these, several other universities conduct their MBA entrance exams to tone down the competitive nature of mainstream MBA exams and foster the inclusion of students from diverse backgrounds in such futuristic courses. Some of these entrance exams include GUMAT conducted by Galgotias University, HBSAT conducted by Hyderabad Business School, ALLIANCE-AMAT by Alliance University, B-MAT by BharatiVidyapeeth Deemed University, X-GMT by Xaviers Institute of Management, SMAT by Shiv Nadar University, and JKLU-MET by JK Lakshmipat University.