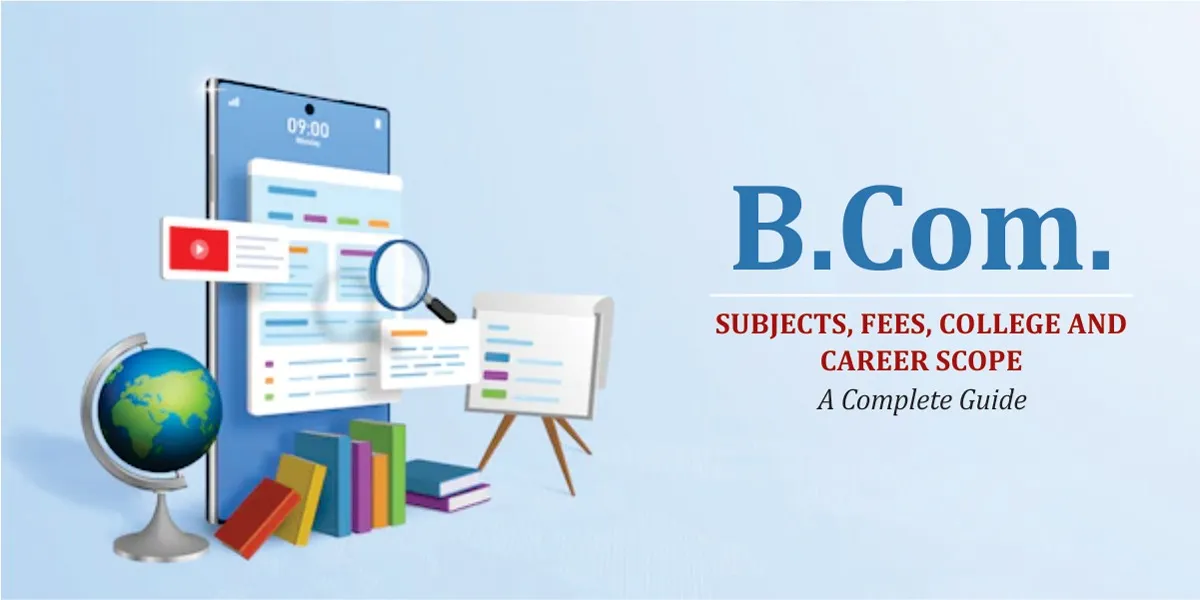 Introduction— What Is B.com?
B.com or bachelor of commerce is a three-year undergraduate course that students can opt for after completing their 12th grade with commerce. It is the most popular course that commerce students go after as it is directly synchronized with their line. Studying B.com gives the students a headway into working in the BFSI (Banking, financial services and insurance) sector. The subjects are usually a mix of accounting, law, and management, which means the range of careers, though interrelated, is diverse.
B.com Curriculum in India
Curriculum pursuing B.com as a degree is important in helping students acquire conceptual knowledge of subjects like financial accounting and more so that they can better impart skills and be a debt in recording different business transactions. Subjects like business management under this curriculum help provide basic knowledge to students about the organization and management of an enterprise. Each subject has a different course objective. Business law for one is taught to provide knowledge on business legislation in power with relevant case laws. Likewise business mathematics and statistics. Similarly, students are taught about applying math's and statistical techniques for decision making.
Various laws such as the company law and income tax law are taught to equip students on how to apply principles and provisions of these taxes along with their relevant rules. The application of computers in business is also taught to enhance the understanding of students on the usefulness of information technology for business operations. Subjects focus on communication are a part of the curriculum to expand comprehension skills reading skills writing skills communication narrative and leveraging media for business strategies.
Eligibility Criteria to Pursue B.com in India
Students must have completed their 12th grade from commerce stream.
Students from other streams beside commerce, may also apply at the discretion of the university
Cut-off percentages exist at colleges. Students must have received a score that is more than or equal to the cut-off percentage. Some Colleges continue to lower cut-off percentages until all seats are filled.
Private colleges sometimes admit students regardless of their grade point average.
Apply For B.Com Course
Semester Wise Subject Breakup of B.com
Semester I
Environmental Studies
Financial Accounting
Business Organization and Management
English Language
Semester II
Language: English/Hindi/Modern Indian Language
Business Law
Business Mathematics and Statistics
Hindi/ Modern Indian Language
Semester III
Company Law
Income Tax Law and Practice
Hindi/ Modern Indian Language
Computer Applications in Business
Semester IV
Business Communication (English/Hindi)
Corporate Accounting
Cost Accounting
E-Commerce
Semester V— choice-based course electives to choose from
Human Resource Management
Principles of Marketing
Auditing and Corporate Governance
Fundamentals of Financial Management
Indirect Tax Law
Entrepreneurship
Principles of Micro Economics
Semester VI— choice-based course electives to choose from
Corporate Tax Planning b. Banking and Insurance
Management Accounting
Computerized Accounting System
Any one of the following
International Business
Office Management and Secretarial Practice
Fundamentals of Investment
Consumer Protection
Personal Selling and Salesmanship
Indian Economy
Top 10 Government Colleges Offering B.com in India and Their Fees
| Name of the institution | Average annual fees |
| --- | --- |
| Shri Ram College of Commerce-DU | INR 30,000 |
| Lady Shri Ram(LSR) College for women | INR 19,870 |
| Loyola College, Chennai | INR 12,650 |
| Hansraj College-DU | INR 20,945 |
| Gargi College-DU | INR 12,495 |
| Banaras Hindu University, Varanasi | INR 3,420 |
| Jamia Millia Islamia University New Delhi | INR 7,200 |
| St Xavier'S College Ahmedabad | INR 60,485 |
| Savitribai Phule Pune University | INR |
| Guru Gobind Singh Indraprastha University | INR 83,000 |
Top 10 Private Colleges Offering B.com in India and Their Fees
| Name of the institution | Average annual fees(in lakhs) |
| --- | --- |
| Saint Xaviers College Mumbai | INR 5537 |
| Madras Christian College Chennai | INR 6000 |
| Christ University Bangalore | INR 245000 |
| R.A. Podar College of Commerce &economics Mumbai | INR 40900 |
| Symbiosis College of Arts &Commerce Pune | INR 19100 |
| HR College of commerce &economics Mumbai | INR 18162 |
| Saint Joseph's College of Commerce Bangalore | INR 132500 |
| KJ Somaiya College of Arts &Commerce Mumbai | INR 9995 |
| Kasturi Ram College of Higher Education | INR 191000 |
| Vivekananda Institute of Professional Studies Delhi | INR 87800 |
Scope of Pursuing B.com in India
E-commerce and Fintech are currently hot in India. As the technologies emerge further, this sector will witness a boom in the upcoming years, and acquiring a base in this line through B.com is as smart a decision as it gets. Similarly, sectors like Edtech, Influencer Marketing, and Digital Marketing are the current hot trends that can benefit from the expertise of a B.com Graduate. Apart from these, students look forward to a remunerative career after this course as they can get a headway into various specializations, depending upon their interest. These speculations range from:
B.Com. in Tourism & Travel Management
B.Com. in Taxation
B.Com. in Economics
B.Com. in Humans Resources
B.Com. in Financial Management
B.Com. Honors
B.Com. in Accounts & Finance
B.Com. in Marketing
B.Com. in Banking & Insurance
B.Com. in Law
Career Prospects after Studying B.com
1. Foundation Course— CA, CS, CMA
CA, CS, and CMA are all 3 tier examinations in India which entail lifelong job security. The subjects under all these 3 courses range from finance, law, accounting, auditing, cost management, and other related areas of study, all of which fall under the broader course of B.com. While a b.com degree is not needed to crack these exams, it sure adds to the portfolio, expertise, background, and areas of specializations under the respective field.
2. Masters in Commerce
A master's degree in commerce can help you establish a good business and accounting career. After finishing their M.Com, students will have access to higher-paying private and government jobs. Students learn about research, teaching, and a variety of other topics. It's a professional, job-oriented master's degree that allows students to advance their knowledge, skills, and abilities in any or all of the many disciplines of commerce, including Finance, Finance Management, Corporate Finance, Accounting, Banking, Insurance, and Income Tax, while also landing a great job.
B.Ed
If a student wants to pursue full-time teaching at a senior secondary level, then B.Ed. is the most feasible choice for them. They can teach a multiplicity of subjects in the commerce stream, ranging from business, accounts, and math's.
Corporate Job
This is the most straight career path for b.com graduates. They can work as full-time professionals at MNCs and corporate giants, at positions like Finance manager, risk analyst, accountant, business analyst, digital marketer, and many more.
Digital Marketing
Owing to the consistent technological advancements happening around the globe, digital marketing has come up as a creative career avenue that allows professionals to explore the scope of online businesses, e-commerce, social media marketing, influencer marketing, and more alike.
Conclusion
If you wish to pursue a career in the nation's ever-growing commerce industry, B.Com. Is the degree to acquire? There are various occupations you might consider, and the majority of them pay well and offer benefits. The most essential thing to remember is that you must enroll in a B.Com. programme at the appropriate institution. So spend some time looking for a great university and put yourself on the growth trajectory to a distinguished career.