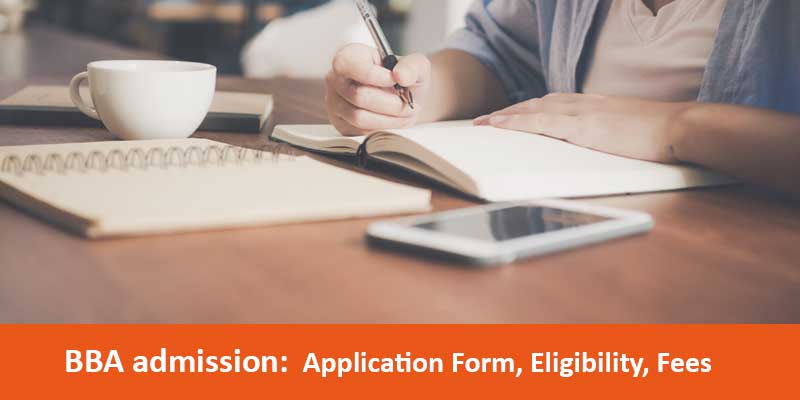 Introduction
In a growing economy like ours, businesses present ample opportunities for skilled graduates to excel in their careers. The B.B.A. (Bachelor's in Business Administration) program, trains students in just that. The B.B.A. is an undergraduate program available in many government and private colleges across the country. It aims to produce graduates who can run businesses efficiently. It helps them hone their managerial skills, entrepreneurship skills and business acumen. Every business needs good managers and thus, skilled B.B.A. graduates from prestigious institutions are in great demand. This 3-year program is interestingly open to school pass-outs from all streams of study- Science, Humanities and Commerce. The program may be available with or without a specialisation in streams such as – H.R., Marketing, Finance. The program is also available in distance learning mode in many colleges. However, the employment statistics of a regular BBA program , looks better than that of a distance mode program. While considering taking admission to this program, one must know the eligibility criteria, availability of the program in different colleges and fees structures. The consolidated information is presented here.
Eligibility criteria for admission to B.B.A. program in India
To secure a seat in the B.B.A. program in any college in India, a candidate must have passed 10+2 from a recognised board or school. Candidates must be within the age bracket of 17 to 25 years if they wish to enroll in this course. This is the minimum eligibility criteria for BBA admission. However, some universities might also ask for the fulfilment of additional criteria such as a certain percentage of marks secured in the qualifying examination.
Admission to B.B.A. — All You Need To Know
Admission to this program again depends on the university/college which is being considered. Some colleges grant admission based on merit i.e. marks secured in the qualifying examination, while others might ask candidates to appear in the entrance examination. Colleges such as Jai Hind College, Mumbai and ICFAI Business School, Hyderabad grant admission to the BBA program based on marks secured in class 12th while others like Shaheed Sukhdev College of Business Studies offer admission based on entrance test. Entrance exams test candidates on subjects such as quantitative aptitude, English language skills and Comprehension, Logical Reasoning and General Awareness. There is an ample amount of study material available and one can prepare for these exams well in advance, keeping in mind the date of the exams approaching. Students also complete compulsory internship requirements to gain the degree. It gives them the practical experience, managerial skills and professional exposure needed to carve out a successful career ahead. This program also makes students better suited and prepared for the MBA program. Subjects taught in the B.B.A. programs are - Marketing Management, Operations management, financial accounting, business mathematics, business economics, personnel management, labour relations, industry relations etc. As must be obvious by now, it is a professional degree that relies heavily on practical knowledge and exposure. Therefore, one must also check online about the internship opportunities available in every college. Private colleges usually charge higher but the ranking of the colleges does not depend on whether they are government or private.
Top 10 Government colleges offering BBA and their fees
1. IIM Indore - Course fee: INR 4,00000
2. IIM Rohtak - course fee: INR 5,00000
3. Shaheed Sukhdev, Delhi - Course fee: INR 35,000
4. Keshav Mahavidyalaya, DU - course fee: INR 15,000
5. Sydenham College, Mumbai - course fee: INR 10,000
6. Loyola College, Mumbai - course fee: INR 50,000
7. Jamia Millia Islamia, Delhi - Course fee: INR 14,000
8. Mount Carmel College - Course fee: INR 50,000
9. Madras Christian College - course fee: INR 28,000
10. GGSIPU, Delhi - course fee: INR 65,000
Apart from these, there are also several great private institutions offering a B.B.A. program. These institutions provide world-class quality education and good employment opportunities. A list of the top 10 private colleges offering this course is available here-
Top 10 private colleges offering BBA and their fees
These private colleges are situated in the major metro cities of the country and have some of the most popular BBA programs to opt for.
1. NMIMS, Mumbai — INR 3,00000
2. Christ University, Bangalore — INR 120000
3. Manipal University, Manipal — INR 160000
4. Symbiosis, Pune — INR 300000
5. St. Xavier's, Mumbai — INR 40,000
6. Amity Business School — INR 150000
7. O.P. Jindal, Sonepat — INR 350000
8. Bennett University — INR 250000
9. SRM University — INR 500000
10. JIMS, Delhi — INR 90000
It is to be noted that IIM Rohtak and IIM Indore provide an IPM program instead of the conventional B.B.A. program. It is a five-year integrated program in management after which the candidates take away an MBA degree along with the BBA degree. If one decides to appear for B.B.A. entrance exams, then she should prepare in time and not miss the opportunity to register for the exam. Also Read - Top MBA college in Delhi NCR
BBA Admission Exam Calendar
Here is a list of information regarding the dates of registration and date of exam. It's important to stay ahead of the exam schedule to avoid any scope for confusion later.
| S.no. | Exam name | Registration window | Exam date |
| --- | --- | --- | --- |
| 1 | IPMAT 2022 | March last week to May first week | June 2022, third week |
| 1 | Delhi University CUCET 2022 | May 2022 to July 2022 | August 2022, first or second week |
| 3 | NPAT 2022 | December 23, 2021, to June 5, 2022 | Testing window from April 1 to June 10 |
| 4 | SYMBIOSIS SET 2022 | January 25, 2022, to April 24, 2022 | May 14, 2022 |
| 5 | JIPMAT 2022 | April 1, 2022, to May 30, 2022 | Jun 20, 2022 |
| 6 | GGSIPU CET 2022 | June 8, 2022, to July 15, 2022 | Yet to be announced |
| 7 | AIMA UGAT 2022 | January 27, 2022, to April 29, 2022 | May 7, 2022 |
Job Profiles After BBA Degree
BB.A. program, needless to say, provides diversified career options based on one's interest and specialisation. After completing B.B.A., one might go ahead and plan further studies or may choose to start working right away. Some popular job roles available after graduating from a B.B.A. program are- Career after BBA
1. Finance Analyst
2. Human Resources Executive
3. Digital Marketing Executive
4. Sales Executive
5. Retail Management Executive
6. Supply Chain Manager
7. Logistics Manager
8. Operations Manager
9. Healthcare Management executive
10. International Business Executive
Apart from these, one can also prepare for competitive exams and secure a government job in various departments and PSUs. Therefore, opting for a B.B.A. from a reputed institution that has good employment statistics can be a very rewarding decision in today's time.
Conclusion
By now, you must have understood the necessary details required to take admission into a BBA program in 2022. In this article, we have covered the dates and registration window of upcoming exams that can facilitate admission into the BBA program for students. The best thing about pursuing a Bachelor's of Business Administration is that students can choose their preferred specialisation from the very beginning and carve a highly focussed field of work in the future. So buckle up and get going! Take admission into your dream colleges with early preparation and a laid-out plan of how to get there.