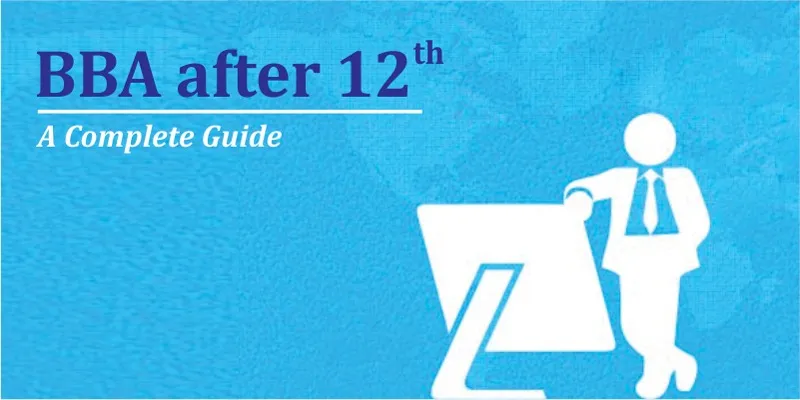 BBA as a Course
The bachelor's degree in business administration is an undergraduate degree programme that focuses on the foundations of business management. The curriculum offers specialisations in finance, communication and media management, international business, and a range of other areas. A BBA degree allows any student to enter the field of management, and it offers them many qualities that are necessary for obtaining sufficient information in the field of innovative business management.
Bachelor of Business Administration, or BBA, is one of the best undergraduate programmes that allow you to excel in the field of business and develop your brain pathways in the manner of a businessperson. Almost all students who want to pursue a career in business enrol in BBA (BBA Admission). You'll learn how to improve your communication skills and pitch your clients in order to increase sales and conversions in your company. Bachelor of Business Administration, or BBA, is one of the best undergraduate programmes available. BBA is derived from the areas of Business Studies that teach us how to do business, comprehend people, manage people, handle difficult and crucial client interactions, and communicate effectively. This is a widely available course with simple entrance and affordable tuition, thus more and more people are enrolling.
Admission Process of BBA After 12th
Getting admission to a BBA course can prove beneficial for students' careers in many ways. It must be noted that some institutions provide admission on a merit basis whereas others conduct their own entrance exams which can sometimes be a tedious process.
To commence, students must login on the university's website and complete all essential application details, such as the program, type, contact details, and personal details. After filling out the form and accepting all the terms and conditions, students are required to upload their 12th-grade certificates, identification documents as asked, and mark sheets. Post this, applicants must pay the application fees and make a copy afterwards, to submit to the College in future. In the case of entrance exams, students should choose their preferred location to sit for the exam and attempt it carefully. The test should be given with utmost precision especially if it's a CBT. If students happen to pass the cut-off marks or fetch a good rank, they will find their names in the provisional result released by the college. This will help students to secure a seat at the college, which is later confirmed by fulfilling the necessary formalities and giving the part payment for the first semester.
Reasons to Pursue BBA After 12th
Prospective course- As established before, BBA gives the inroad to a strong MBA career. Owing to BBA's vast specialisation options, students will have a diverse array of fields to carve a career in, with utmost flexibility and good pay.
Skill-building – Being a primary management course, students can build a plethora of soft and technical skills in their internships as well as jobs. From communication skills to team building, software learning to quantitative skills, BBA professionals are exposed to a lot of insights into the corporate world, thus adding to their business acumen.
Network-building – As Business Professionals, the students will interact with a lot of people across various managerial positions, which can increase their chances of building networks and garnering references if need be. This is a very good and underrated way the move on the career ladder.
Good Pay Scale- As per entry-level job positions, the average salary of a BBA graduate ranges somewhere between INR 25-35k per month, which is a good enough number for someone who is just starting out their career. With good performance and results, these professionals can make their case to get promotions early on.
A vast number of specialisations – Students have a lot of flexibility to choose a career that suits their needs, interests, and preferences better. There are a number of BBA specialisations, given below.
BBA specialisations list in India
Marketing
Human Resource Management
Finance
Supply Chain Management
Business Analytics
International Business
Tourism Management
Social Media Management
Strategic Management
Hospitality Management
Entrepreneurship
Information Technology
E-commerce
Banking & Insurance
Eligibility Criteria of BBA in India
Students who want to pursue BBA are usually open to working in the management department of business organisations, as many students study it with the goal of cracking an MBA. While BBA does give students an inroad in the MBA line, there are a multiplicity of career avenues that BBA on its opens for students in India. Let us look at some of the BBA eligibility criteria that students must fulfil to be able to pursue a BBA from a good university.
Students must have completed their 12th grade from a recognised board of education, such as the state board, CBSE, ICSE, or any other equivalent.
Students should have scored at least an aggregate of 45% in their 12th to secure admission to private universities. However, for state universities like DU, the percentage of students must fall into the cut off bracket released by a college. Sometimes, the cut-offs go as high as 99%.
Students from any stream can take up BBA as their preferred undergraduate degree.
While admissions are given on a merit basis for BBA, some institutions may choose to conduct their entrance exam, such as IP University, in which case the students must attempt and clear the entrance exam.
BBA- Curriculum
Admission to Indian universities that offer BBA courses is mainly based on merit obtained in several BBA entrance tests offered around the country. A minimum of a 50 per cent mark in class 12th from a recognised educational board is required for a three-year professional undergraduate study in business management. There are six semesters in the programme. It can also be studied via distance learning, with admission based on entrance exams administered by several institutions and universities. While certain entrance examinations are used for admission to many institutions, many colleges have their own individualised entrance exam. The majority of entrance tests assess students' quantitative aptitude, General English, Analytical Reasoning, and General Awareness.
BBA- Semester Wise Subject Distribution
| Semester 1 | Semester 2 |
| --- | --- |
| Principles & Practice of Management | Organizational Behaviour |
| Business Communication | Business Environment |
| Financial Accounting | Environment Management |
| Business Economics | Management Accounting |
| Computer Application | Profit Planning and Control |
| Semester 3 | Semester 4 |
| Production Methods | Operations Research |
| Manpower Management | Industrial Law |
| Marketing Concepts | Office Management |
| Business Finance | Sales And Distribution Management |
| Business Statistics | Research Methodology |
| Computer Application | Business Finance 2 |
| Semester 5 | Semester 6 |
| Management Information System | Corporate Planning and Strategic Management |
| Indian Economy | International Marketing |
| Banking Law and Practice | Marketing Services |
| Advertising And Public Relations | Financial Institutions and Markets |
| Human Resources Development | Entrepreneurial Development |
| Summer Training Report | Viva |
Conclusion
Aspirants who pursue a BBA degree might discover rewarding employment opportunities in a variety of business and government-based industries. Students frequently inquire about the course's content. The training prepares students for high-paying professions in the government and commercial sectors. Students might enter the working world as trainee managers or in other administrative jobs right after graduation. Aspirants are also offered a competitive beginning salary and comprehensive benefits packages. These innumerable career benefits stand as reasonable factors to consider pursuing BBA if you're a management fanatic! This article guides you to follow a step by step procedure and secure a spot at the choicest of BBA colleges in India, and get a perfect kickstart to your leadership journey!