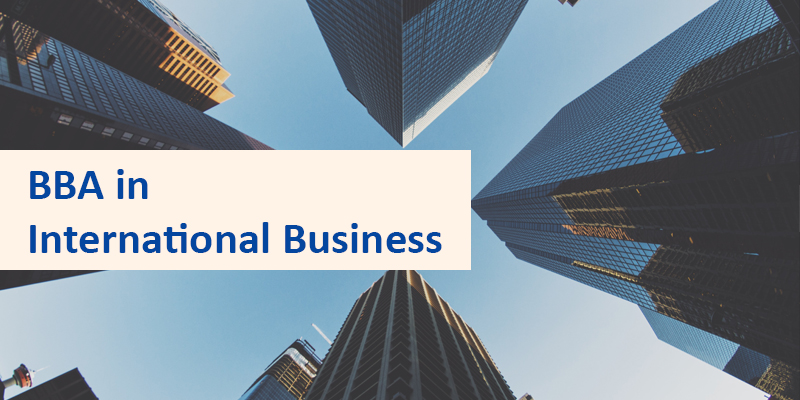 What is BBA in International Business?
BBA in international business is an undergraduate specialization of Bachelors in Business Administration degree that extends to the functioning of business conduction and practices on a global level. This program offers a 3-year undergraduate degree and students from any stream or background can pursue it, given they must have studied maths at +2 level. In today's globalized world, it makes a lot of sense to specialize in this field. This degree will open doors for you to work in multinational companies, both in and out of the country. This degree is all about conducting trade and business on an international scale, so you can expect to learn about international trade, taxation, and accounting laws. The payscale after this degree is excellent along with benefits and high growth opportunities. With the huge culture shift and mobility of people across countries, this degree has been in popular demand lately.

Eligibility Criteria for BBA in International Business
Just any 12th pass student can Pursue a BBA degree in any specialisation of their choice, including international business as well. Some of the common criteria that universities require for students to qualify are given below:
1. The candidate must have cleared their 12th grade or equivalent in any stream, preferable commerce with maths as a subject and should have secured a minimum aggregate of 45%, varying differently for government and private colleges.
2. The candidates must have completed their intermediate degree from a recognised board of education such as CBSE, ICSE, or any state board.
| S.no. | Name Of The College | Average Annual Fees In Rs. |
| --- | --- | --- |
| 1 | Christ University Bangalore | 4.8 Lakhs |
| 2 | Dr DY Patil University, School Of Management, Mumbai | 3.6 Lakhs |
| 3 | Sharda University, Greater Noida | 5.1 Lakhs |
| 4 | Lovely Professional University, (Mittal School Of Business— Phagwara) | 3.7 Lakhs |
| 5 | GD Goenka School Of Management, Gurgaon | 8.1 Lakhs |
| 6 | Amity International Business School, Noida | 11.4 Lakhs |
| 7 | Vivekananda Global University | 3 Lakhs |
| 8 | Indore Institute Of Management And Research | 1.2 Lakhs |
| 9 | Institute Of Management Sciences, Lucknow | 2.52 Lakhs |
| 10 | Lloyd Business School, Greater Noida | 1.85 Lakhs |
Scope of studying BBA in International Business in 2021
There are no bounds to the scope of International Business Course in the world today, especially with the rapidly changing business environment having a direct implication on individuals involved in trade practices, no matter which corner of the world they're in. not only does it mean no geographic boundaries to the expanse of work, but also provides wider and more rigorous business opportunities for a progressive career.
The degree incorporates pragmatic business solutions that are aligned with global perspectives and approaches that extend to dynamic interventions in the industry. The upward mobility of capital, investment, capital, economical growth, the flow of goods, and so many other factors is likely to lend an unparalleled activity and scope for the booming of global industries and corporations in the truest sense. This also means the window to work under internationally competitive industries stays wide open, thus leading to higher pay-scales, and opportunities to work in profitable and prestigious multinational firms.
Semester Wise Syllabus Of BBA In International Business
Bba in international business is a 3 year undergraduate course, which is evenly divided into 6 academic semesters, involving core subjects that are common for all BBA specialisations in the first year, electives that students can pick as per their interest, and finally, a specialization or an add on to their chosen field of study. This also includes internships and guided projects to be undertaken parallelly as they hold significant credit value along with the theory. Let us look at some of the subjects taught semester wise in this course.
Semester 1

Principles Of Business And Management
Business Mathematics And Statistics
Global Business Communication And Public Relations
Business Accounting
Business Economics

Semester 2

Cost Accounting
Global Business Environment
International Trade Theory
Foreign Language
Principles Of Marketing

Semester 3

Management & Cost Accounting
Business Law
Production And Operations Management
Government And International Business
Business Communication
International Business Management

Semester 4

Customer Relationship Management
Research Methodology
Digital Marketing
Consumer Behaviour
Banking Operations
International Business Logistics

Semester 5

Income Tax
Marketing Communication
Entrepreneurship Development
E-Commerce
International Finance
Export-Import Procedures And Documentation

Semester 6

Project Management
Cross-Cultural Issues In Management
Insurance And Risk Management
Financial Services
Strategic Management
International Accounting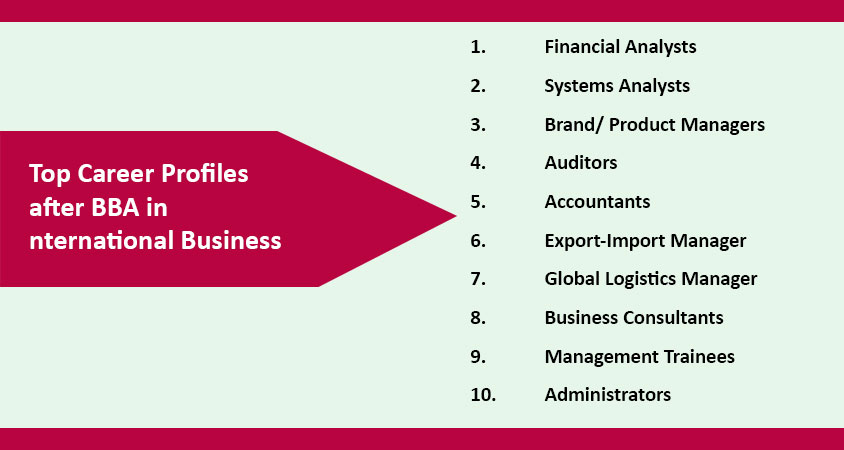 Top Career Profiles After BBA In International Business
Career profiles after BBA in International Business are not only diverse but also a strong blend of cultural and global exposure. This variation reflects in the profile description of individuals across the countries. That being said, graduates with international business as their specialization get to work at positions any manager normally would, except at a much more expanded level. The vast range of opportunities offers an intense growth curve, ultimately leading to the benefit of the position holder as well as the organisation. Some of the excellent job profiles are given below:
1. Financial Analysts
2. Systems Analysts
3. Brand/ Product Managers
4. Auditors
5. Accountants
6. Export-Import Manager
7. Global Logistics Manager
8. Business Consultants
9. Management Trainees
10. Administrators
11. International Trade Consultant
12. Academicians
13. Economists
14. Global Executives
15. Entrepreneurs
Some industries in international business are recorded to be growing at a rapid rate. The performance of industry both globally and domestically has a direct impact on the job market in that specific sector, of which international competitiveness is a great determinant. However, there are certain industries that IB graduates can choose to work in because of their safe nature, endurance, global requirement, and previous growth track. This depends majorly on the economic development of the country, transitive lifestyles and additionally, the growth in per-capita income. Some of the industries that are likely to demonstrate an upturn in the upcoming years are listed below:
1. Electronics
2. Telecommunications
3. Pharmaceuticals
4. Finance sector
5. Chemical industry
6. Transportation
7. Healthcare
8. Tourism
9. Consumer products
10. Information services
Top 15 Skills Required To Pursue A Career In International Business
1. Flexibility
2. Interpersonal Skills
3. Leadership Skills
4. Cultural Awareness
5. Adaptability
6. Risk-Taking Ability
7. Cross-Cultural Communication
8. Networking
9. Decisional Abilities
10. Creative Quotient
11. Technological Adeptness
12. Strong Management Aptitude
13. Problem Solving Ability
Summary
It is no secret that international business is a rewarding career choice. If you want to gain serious operational skills and insight into developing a long-term career in global business, then this undergraduate degree is the most appropriate career path for you. Electives such as international economics, comparative studies of politics, culture, foreign trade practices, languages and many more will shape your persona as a global practitioner right from the ground up. Not only does the course deal with global aspects, but also infuses a range of technical skills, and soft skills needed to survive a stringent international environment mandatory for a strong profile.
In this article, we have summarised every minute detail about pursuing BBA in International Management in a concise manner. From the course content to its scope in 2021, skills required for a career after IB to the topmost flourishing industries under international business— everything you need to know about BBA IB in India and the career prospects of BBA in International Business is right here!