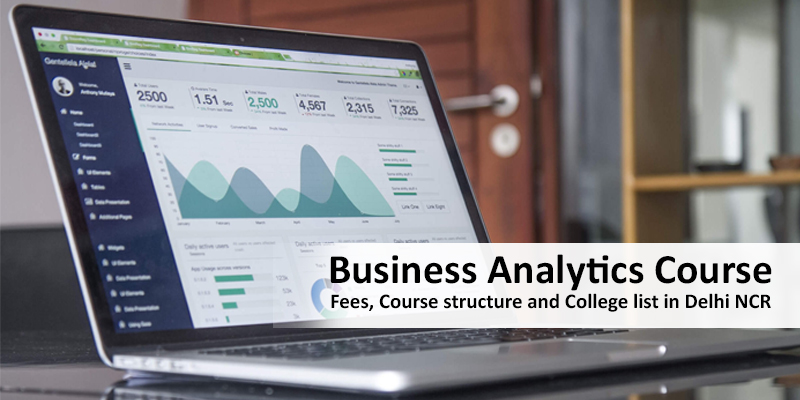 Business Analysis as a Specialization In 2022
In the era we're living in, if we truly want a business to sustain itself profitably in the long run, we ought to consistently keep track of its functioning, performance, and public outcome across various divisions. Merely selling a product or service is simply not enough! The important question now is— how do we do that? This is where the business analytics specialisation comes into play. Since every business decision is driven by data these days, having a centralised way of deriving, processing, and turning raw figures into actionable metrics stands of great vitality. This means the scope of earning a rewarding career out of this profession, especially considering the way most firms are run in the present times are more concrete than ever.
Course Curriculum
PGDM Business Analytics is a two-year professional diploma course that consists of a practical, and realistic curriculum covering all aspects of existing business models, capstone projects, industrial visits, case studies, reports, and direct guidance from seasoned industry leaders as faculty members. The course teaches the students about leveraging technology to convert raw data into useful insights. Studying this course puts the students ahead of the development function of the business. Various tools and techniques for analysis, decision-making, and complex problem solving are blended perfectly to facilitate a rich; learning experience, with emphasis on real-time business models along with textbook knowledge.
Top Colleges in Delhi NCR Offering PGDM Business Analytics and Their Fees
While a lot of colleges in Delhi NCR do offer business analytics as a specialization with a post-graduate management degree, i.e. MBA, not many business schools in Delhi NCR have coupled this specialisation with their PGDM programs. Since a PGDM degree is more practical, updated, and relevant to the current times, there should be a provision for more colleges and universities that incorporate business analysis in their PGDM curricula, especially in and around the capital city of the country.
| S.no. | Name Of The College | Average Annual Fees In Rs. |
| --- | --- | --- |
| 1 | Jawaharlal Nehru University, New Delhi | 15k |
| 2 | Lloyd Business School, Greater Noida | 5 Lakhs |
| 3 | Entrepreneurship And Management Processes International, New Delhi | 7.6 Lakhs |
| 4 | ChBansi Lal University, Bhiwani | 32k Lakhs |
| 5 | FORE School Of Management | 16 Lakhs |
| 6 | Institute Of Management Technology, Ghaziabad 1.5 Lakhs | 1.5 Lakhs |
| 7 | Lal Bahadur Shastri Institute of Management, Delhi | 12.24 Lakhs |
| 8 | IILM Graduate School Of Management, Greater Noida | 10 Lakhs |
Subjects Taught Under PGDM Business Analysis
Following is the semester wise breakup of the subjects taught under PGDM business analytic specialization . The tentative subjects consist of a few core subjects that are mandatorily taught in each semester, as well as elective courses that are taught as per the selection of students.
Semester 1
Statistical Analysis
Managerial Economics
Financial Accounting
Marketing Management
OrganisationalBehaviour
Data Modelling
Semester 2
Computing For Data Sciences
Financial Management
Stochastic Modelling
Research Methodology E
Business Communication
Hr Management
Optimisation Analysis
Modelling In Operations Management
Fundamentals Of Database Systems
Semester 3
Predictive Analysis
Market Analysis
Business Accounting And Banking Analytics
Optimization And Business Decision Analysis
Analytics Systems And Design
Data Mining
Semester 4
Analytics In Business Forecasting
Business Process Management
Consumer Analytics
Legal And Ethical Aspects Of Data Mining
Project Management
Operations And Supply Chain Analytics
Career Profiles After PGDM Business Analytics
For somebody who has studied a PGDM course, whatever may the specialization be, the career options are vast. Coupled with a specialization in business analytics, the course gains all the more prospective career paths for students to explore, some of which are mentioned below.
Data Analyst

Average Annual Salary: 6-9 lakhs per annum

This profession is majorly a rewarding vocation to go after since the scope of work expands to all industries such as finance, healthcare, business, science, and more. The role involves the interpretation of data in a manner that helps solve a business problem. Key components of the job role of a data analyst are stakeholder management and strategic business planning.
Marketing Analyst

Average Annual Salary: 8-10 lakhs per annum

The role of a marketing analyst primarily centres around devising a sales forecast based on current, relevant, and futuristic market trends, with accurate consideration of the potential demand. This research varies across industries.
Data Scientist

Average Annual Salary: 6-10 lakhs per annum

This career profile moves slightly towards the technological and mathematical side of business analytics. A data scientist is majorly responsible for running a statistical analysis of raw data by the means of computer science. This analysis is further compiled into actionable plans to help the company grow.
Business Analytics Consultant

Average Annual Salary: 9-19 lakhs per annum

Business analysis can work as a consultant on various projects independently or as a freelancer. Since there are a wide number of industries that require the expertise of a business analyst, this profession is only likely to boom in the upcoming years.
Project Manager

Average Annual Salary: up to 14 lakhs per annum

Business analytics is a component of management itself, which means the students can easily secure a top-level managerial position such as a project manager. The scope of work under this profile would require the employee to undertake the responsibility of the entire project right after the ideation to the final evaluation through adequate means and resources.
Financial Analyst

Average Annual Salary: 4-9 lakhs per annum

Much like a marketing analyst deals with the market, a financial analyst deals with data concerning the financial history and models to perform functions such as financial forecasting, data gathering, and running an early analysis on the financial layout of prospective deals. This function is highly important when it comes to business organisations, and often has a lucrative pay scale.
Operations Analyst

Average Annual Salary: 4-8 lakhs per annum

An operational analyst is responsible for the overall performance of a business organisation, including efficiency in processes, policies, and carrying out of the activities involved. The onus of suggesting areas of improvement, enhanced performance metrics, as well as allround proficiency of the business falls upon the shoulders of a business analyst.
Managing Consultant

Average Annual Salary: 8-16 lakhs per annum

Improvement in business processes, finding solutions to complex business problems, and growth optimization are some of the activities that fall under the spectrum of managing consultants' roles. Immense value addition to the organization is ensured through accurate implementation of suggestions rendered by a managing consultant.
Conclusion
As we know, PGDM is a more practical and comprehensive course than an MBA degree in particular. However, there are not many institutions that have integrated the business analytics specialization with PGDM, as it is more commonly clubbed with MBA given the similar course tenure and related prospects. This makes it even more important for students to look for a college that integrates the very practical and enriched post-graduate diploma in management with this specialization. In this article, we have compiled the list of the top 8 colleges in the Delhi NCR region that offer PGDM in business analytics, along with a detailed break up of semester wise subjects and information on the course structure of PGDM business analytics entails.