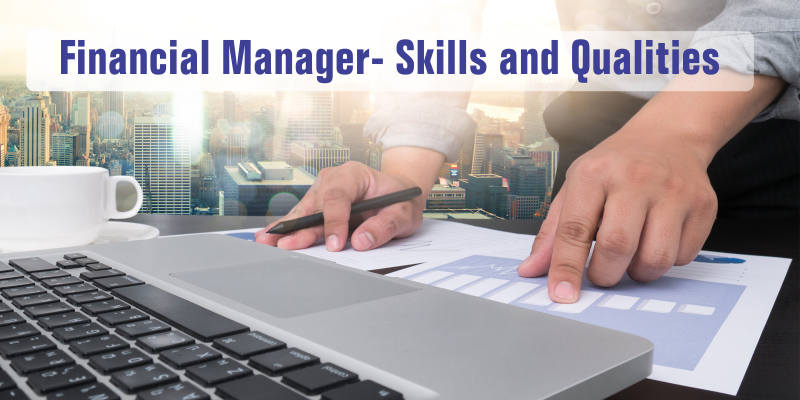 Who Is A Financial Manager?
Finance managers are people in charge of supervising the finances of big corporations, institutions, and other entities. Their major responsibility includes collaborating with their teams to organize bookkeeping, audits, generate consolidated financial reports, cash flow statements, and profit forecasts. In addition to dealing with data, financial managers also assist other members of the firm in comprehending their responsibilities related to finance and following reports. The long-term financial health of any company relies solely on the efficiency of financial managers. Whether the functions are dividend-related, finance-related, or investment-related, all of these come under the prerogative of a financial manager.
BBA/MBA Finance - A bachelor's or a master's degree in business administration with finance as a major prepares a student for a career in the financial management sector. Students will learn to examine corporate reports, forecast economic trends, and take steps to maximize stock value, select investment portfolios, assess risks and gains, and use financial risk management techniques in this course. This is the most popular option for students to become finance professionals.
Top 10 Reasons Why PGDM Is the Best Career Path In 2021
1. Highly Specialized Course
Unlike the general MBA courses, PGDM diplomas can be chosen for exactly the discipline you want to work in as these courses contain specializations in more than 50 domains. Some of the widely taken up diploma specializations include PGDM In Marketing Management, PGDM In Financial Management, PGDM In Business Analytics, PGDM In Logistics And Supply Chain Management, PGDM In Human Resource Management, and various others. The reason why the PGDM diploma is specialized is that the course structure is more equipped with practical learning inputs rather than focusing entirely on theory. Out of other alternatives like MBA and MIM, PGDM stands as the best.
2. Bcom/Mcom
A bachelor's or master's degree in commerce with specializations like banking, accounting, taxation, etc is a direct path for students who have studied commerce at +2 level to build a career in finance. Students at the graduate level themselves are offered decent annual packages as financial managers.
3. Bsc/Msc Mathematics
This area of study may not be directly linked to the financial competencies but are sufficient to give students the numeracy they need to work in the finance sector. The kind of proficiency thatmaths graduates and post-graduates have, only a little knowledge about the financial trends would alleviate their prospects and land them the big break they need to become a distinguished financial manager.
4. Professional Qualifications Such As CS/CA/CFA
CS, CFA, and CA, also called company secretary, chartered financial analyst and chartered accountant respectively are three professional courses that offer these designations once the students clear all the required exams. Students can start their exams trail for CA right after 10tor CS after 12th, and CFA after 4 years of the undergraduate degree and 4 years of work experience. All of these posts make a person eligible to work as a financial manager in India irrespective of the duration one takes to complete these programs.
5. PGDM Financial Management
PGDM in finance is a popular degree many have followed after graduation due to its wide possibilities for a sustained, high-paid profession. Because of its industry-centred framework, this course is preferred by corporations. It encompasses numerous learning outcomes, such as management of working resources, financial and international mergers and acquisitions etc. This course is the most convenient way for students to become financial managers.
Skillset Required To Become A Financial Manager
While there is no rule of thumb when it comes to being a finance manager, having a fair idea of where to maximise the effort never harms. Management as a profession involves constant learning as different days call for different solutions, but the following are the top 8 skills that a finance manager must cultivate through various means to become a skilled and polished professional in the industry.
1. Statistical proficiency
Branches of finance Management such as credit modelling, forex market, insurance and risk management, etc use statistics as the very basic tool for their operations. Statical analysis helps to derive key concepts in a presentable and understandable manner, thus making it an indispensable skill set for this profession.
2. Excellent financial literacy
Since the ultimate job role of financial managers is to manage the finances effectively and help the funds grow, the importance of this skill goes without saying. Financial literacy is backed by the qualifications that a person had taken up, along with proper as well as updated knowledge of current developments in the sector to suggest better and latest regulatory options.
3. Analytical skills
Synthesizing the abundance of data, organising it, and finding the best, most suited option calls for stellar analytical skills on the financial manager's part. This skill set goes a long way in identifying the financial problem, estimating risks, strategising investment options, forecasting profit and loss and much more, and is thus a crucial possession for managers of all kinds.
4. Problem-solving skills
Whether it is budget analysis or assessment of investment risk, financial managers must respond quickly and come up with answers. Managers must thoroughly grasp and develop efficient means to meet the firm's financial objectives without exposing the company to risks.
5. Well-versed with related laws and regulations
Whether a finance manager is working in insurance, tax, private equity, or investment, legal compliance is the foremost imperative that they must look at. Various industry-related acts significantly affect the credit and debit regulations, the flow of money, investment schemes, tax-related information, real estate, and much more. This skill set is non-negotiable for financial managers.
6. Quantitative aptitude
A good finance manager should be handy and resourceful when it comes to numbers and must apply his/her logical thinking skills and reasoning when dealing with quantitative data. This includes basic mathematical aptitude like ratio, proportion, calculations, averages etc. as much as this skill is personally beneficial, this is also mandatory for financial managers to demonstrate.
7. Project management skills
Short-term and long-term goals of an enterprise are achieved if every project is planned, presented, schedules, organised, and executed effectively within a set budget range while considering cost-cutting factors. Project management skills, especially in the finance industry need to make all of these happen with no barrier or scope of error.
8. Mathematical proficiency
Financial managers handle enormous sums of money every day as a part of their job. This involves the collection and analysis of data with advanced mathematical abilities. Competent financial managers must have the intellect to understand and construct different formulae, algebraic, mathematics equations and much more. Qualified financial managers also sometimes comprehend global finance and may need to decrypt different financial papers. This is where this skill comes in.
Top 12 Qualities That An Ideal Financial Manager Possesses
1. Detail-oriented
2. Strategic Thinking
3. Forecasting Experience
4. Negotiation Skills
5. Organisational Skills
6. Leadership Abilities
7. Communication Skills
8. Ability To Remember Facts And Figures
9. Presentation And Excel Skills
10. Computer Literacy
11. Time Management Skills
12. Quick Decision-making Skills
Conclusion
Finance is rightfully called the heart of every organization. To imagine a company working without sustainable profits is to imagine a car being driven without its wheels. The need for capable and proficient finance managers in India is recognized by all industries and institutions, to ensure an uninterrupted flow of income, and profits to keep the wheels rolling. This calls in for a heavy demand for finance managers in India, especially in large scale corporations and multinational companies.
Several other facts that are pivotal to the growth opportunities of people in this profession include revised taxation laws, liberalisation and globalisation policies, ethical concerns in financial matters, economic uncertainty and many more. The availability of more stable and sound investment options in the light of economic uncertainty and the frequent fluctuations in financial prices have made the job of finance managers more in demand than ever. This ensures that a promising career awaits the students who have taken up this area of study.