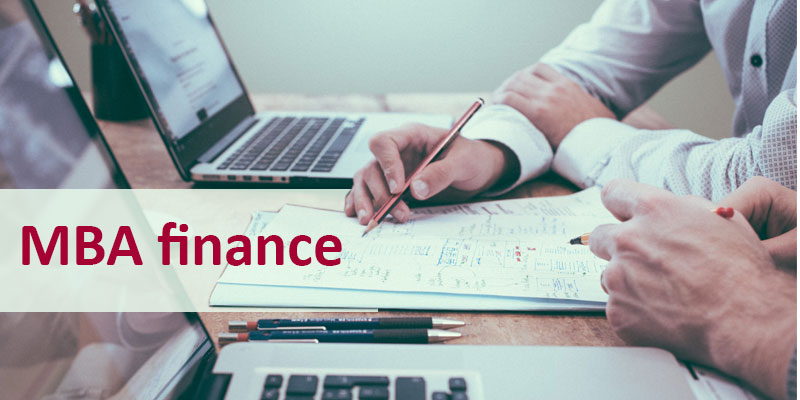 Why MBA in finance?
Finance is the core element of all working businesses. Whether you're a business owner, employee, or an individual just starting, the study of finance and its efficient management will only add value to your stack of knowledge, and help you establish a more stable, rewarding, financially sound career. Financial Management deals with planning finance, asset management, fundraising, and making decisions that enhance the value and longevity of the business. A Financial Manager is a professional who is adept in activities like budget analysis, taxation, internal trade, auditing, inflation rates, portfolio management, and much more.
This specialization is for students who have a way with numbers and good analysis and reasoning skills. The finance department is one of the most important departments in any company. Finding a job that requires the administration of finance would be a great career move. It comes with a high salary and many finance professionals gain the right amount of experience to start their own consulting and advisory businesses, thus providing students with an entrepreneurial advantage as well.
| S.no. | Name Of The College | Average Annual Fees In Rs. |
| --- | --- | --- |
| 1 | University School Of Management Studies, GGSIPU— Guru Gobind Singh Indraprastha University, New Delhi | 86K |
| 2 | Indian Institute Of Management (All) | 10-23 Lakhs |
| 3 | Sydenham Institute Of Management Studies, Research And Entrepreneurship Education | 1.53 Lakhs |
| 4 | BabasahebBhimraoAmbedkar University, Lucknow | 1.8 Lakhs |
| 5 | Utkal University, Bhubaneshwar | 1 Lakh |
| 6 | Gujarat National Law University, Gandhinagar | 3.46 Lakhs |
| | Punjab University, Patiala | 1.18 Lakhs |
| 8 | Department Of Financial Studies, University Of Delhi | 26K |
| 9 | Bharathidasan University, Tiruchirappalli | 77k |
| 10 | IMS, Devi Ahilya University, Indore | 1.27 Lakhs |
| 11 | MohanlalSukhadia University, Udaipur | 1.5 Lakhs |
| 12 | Aligarh Muslim University | 5.87 Lakhs |
| 13 | Annamalai University, Tamil Nadu | 1.16 Lakhs |
| 14 | Guru Nanak Dev University, Amritsar | 3.15 Lakhs |
| 15 | Haryana School Of Business, Hisar | 1.21 Lakhs |
| S.no. | Name Of The College | Average Annual Fees In Rs. |
| --- | --- | --- |
| 1 | Lloyd Business School, Greater Noida | 2.6 Lakhs |
| 2 | Christ University Bangalore | 7.6 Lakhs |
| 3 | School Of Management, DY Patil University Mumbai | 8.4 Lakhs |
| 4 | KJ Somaiya Institute Of Management Mumbai | 2.87 Lakhs |
| 5 | MIT School Of Management Pune | 7.5 Lakhs |
| 6 | GITAM Institute Of Management Visakhapatnam | 7.2 Lakhs |
| 7 | Symbiosis Institute Of Business Management Bengaluru | 14.6 Lakhs |
| 8 | Prestige Institute Of Management And Research Indore | 2.36 Lakhs |
| 9 | Sharda University Greater Noida | 5.43 Lakhs |
| 10 | Jindal Global Business School Sonipat | 4 Lakhs |
| 11 | Chitkara Business School Patiala | 6 Lakhs |
| 12 | Management Development Institute Gurgaon | 4.34 Lakhs |
| 13 | Delhi Institute Of Advanced Studies | 3.16 Lakhs |
| 14 | Presidency University Bangalore | 6 Lakhs |
| 15 | Mittal School Of Business LPU Phagwara | 7.6 Lakhs |
Similar Course Specializations

Financial Services
Financial Management
Finance
Banking And Finance
Accounting And Financial Analysis
Accounting And Taxation
Accountancy
Admission Process For MBA Finance
The admission process for MBA courses in any specialization in India consists of several common as well as mandatory steps that facilitate a smooth admission of students to this program. Following are the steps listed below:
1. Applying For Entrance Exam
Students interested to pursue MBA are required to attempt the entrance exam accepted by their university. There is a wide range of MBA entrance exams on the national, state as well as university levels. Online registration must be done and students should check for the notification released on the website of the conducting authority.
2. Downloading Admit Card
After the online registration is done students must fill the form duly and wait for the admit card to be released. All necessary documents are to be uploaded in the application form and students must also ensure that all details filled are error-free.
3. Appearing For Entrance Exam
Students are supposed to show up at their allotted exam centre during the given time and attempt the CBT timely. All exam related guidelines must be followed to avoid any last-minute hassle.
4. Online Registration On College Website
Individual registration on the college website should be done. Students should apply to more than one college and submit the application fee to proceed further with the admission procedure.
5. Filling Of The Application Form
The application form is released soon after the registration is done. Students are required to fill the online application form correctly and enter their exam scores.
6. Group Discussion And Personal Interview
If the students fall under the qualifying range as per the cut off list released by the college, then they must show up for the personal interview round, GD, WAT, or any selection test arranged by the respective university.
7. Provisional Merit List
Students can check their names in the provisional merit list released by particular universities to ensure whether they've been selected for admission or not. Students up to a certain rank are allotted seats as per the number of availability and reserved quota. Similarly, 3-4 merit lists are released by the colleges before the admission is locked.
8. Payment Of 1st semester Fees— Partly Or Wholly
If a student finds his/her name in the merit list, then contact with the admission cell must be made and the student should appear for the counselling process if applicable. Following this, part payment of the 1st-semester tuition fees must be done in the required mode, whether online or through a demand draft.
9. Admission Confirmation
The student's admission to the desired course in the university is confirmed upon the receipt of the selection letter and payment of fees. The student must wait for the semester to start as per the academic year.
1. Applicants must have completed their graduation and obtained a bachelor's degree after completion of their 12th standard from a recognised university in any stream and secured a minimum of 40-50 % in their final grade point.
2. Applicants must have appeared for any of the management entrance exams like CAT, XAT, CMAT, GMAT, SNAP, NMAT or any other accepted by their preferred university.
3. Applicants must have cleared the group discussion/ personal interview/ selection tests as conducted by the university they choose.
4. While there is no age bar for an MBA in most colleges, it is always advisable to confirm this from the respective university.
Subjects Taught Under MBA Finance— Semester Wise Break Up
Semester 1

OrganisationalBehaviour
Managerial Economics
Business Statistics
Business Environment
Corporate Finance
Management Principles
Business Economics

Semester 2

Human Resource Management
Marketing Management
Business Research Methodology
Indian Financial System
Financial Services
Corporate Governance
Business Communication

Semester 3

Strategic Management
Security Analysis
Risk Management
Foreign Exchange Management
Corporate Taxation
Financial Reporting
Personal Finance
Management Control System
Treasury Management

Semester 4

Portfolio Management
Financial Derivatives
International Financial Management
Behavioural Finance
Public Finance
Working Capital Management
Financial Economics
Funds Management
Principles Of Insurance
MBA in Finance is a 2-year postgraduate specialisation that has been very popular in recent times, and as time passes, the requirement for more and more skilled finance professionals in high-end companies and high-ticket clients and founders rises. This need is rightfully leveraged by young students who are aiming to set foot in the finance industry, as this course offers them a whole package of opportunities bundled meticulously in a rich two-year curriculum! If you're a student looking to establish an exemplary career in the field of finance, let this article be your guide to understand all that you need to know about MBA in Finance in 2021.