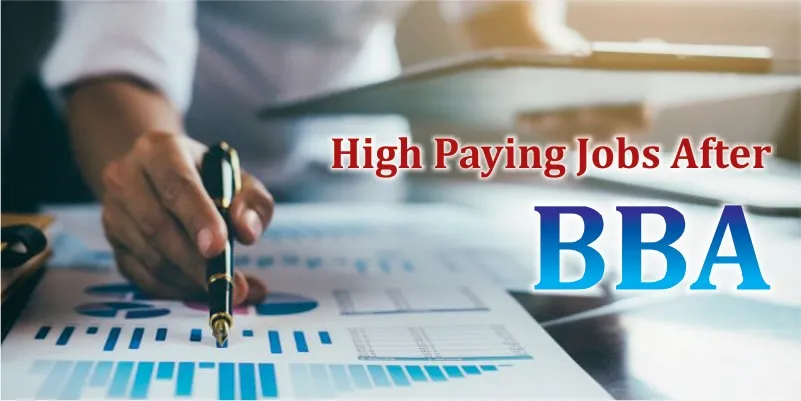 Introduction
Many government and private universities around the country offer the B.B.A. (BBA Course Details) as an undergraduate curriculum. Its goal is to generate graduates who are capable of running successful enterprises. It assists individuals in honing their management, entrepreneurial, and business aptitude abilities. Every firm needs strong managers, which is why professional B.B.A. graduates from prominent universities are in high demand. This three-year curriculum is unique in that it is available to high school graduates from all fields of study, including Science, Humanities, and Commerce.
BBA Business Analytics
The BBA Business Analytics programme is a professional course designed to train business analytics practitioners for a wide range of businesses. In today's world, data is everything! Finding data-driven insights are a huge part of business intelligence and taking the organisation forward, based on best practices.
| Name Of The Profile | Average Annual Pay (INR |
| --- | --- |
| Business Analyst | 6,04,800 |
| Business Advisor | 11,52,000 |
| Management Consultant | 11,37,000 |
| Business Development Manager | 6,00,000 |
| Data Scientist | 11,00,000 |
BBA in Marketing
BBA marketing will familiarise you with both classic and cutting-edge marketing ideas, allowing you to become an expert. Social Media Marketing, Organisational Behaviour, Promotional Mobile Advertising, Marketing tactics, Online Marketing, Marketing and Research in Businesses, International Marketing, Accounting, and other subjects will be covered in the course.
| Name Of The Profile | Average Annual Pay (INR) |
| --- | --- |
| Sales Manager | 7,49,5000 |
| Marketing Executive | 2,70,000 |
| Market Research Analyst | 4,50,000 |
| Marketing Manager | 6,77,000 |
| Sales Executive | 4,50,000 |
BBA in Human Resource Management
In any organisation, human capital is a key resource. Human Resource Management (HRM) is a critical strategic business function in our globalised world due to the constantly changing role of employment regulations and workforce demographics. Students in this programme will learn about talent acquisition, labour regulations, pay management, communication, distress tolerance, training, performance evaluation, and other topics in order to acquire the conceptual understanding essential for jobs in these fields.
| Name Of The Profile | Average Annual Pay (INR) |
| --- | --- |
| Human Resource Officer | 2,90,000 |
| Staffing Director | 8,40,000 |
| HR Generalist | 3,60,000 |
| Training And Development Executive | 6,25,000 |
| Employee Relations Manager | 3,50,000 |
BBA in Finance
Financial management is the examination and management of money investments for a person or corporation in order to assist in making business choices for an organisation. Furthermore, it is related to the functional area of a firm concerned with spending, profitability, credit, and cash in order to optimise debt or equity value. BBA in Finance Management is a three year undergraduate degree available to students who have completed the 12th grade.
| Name Of The Profile | Average Annual Pay (INR) |
| --- | --- |
| Investment Banker | 9,66,000 |
| Credit And Risk Manager | 21,90,000 |
| Asset Manager | 7,00,000 |
| Audit Manager | 12,22,000 |
| Cost Accountant | 5,10,000 |
BBA in Supply Chain management
The control of goods, information, and money as they flow through a process from supplier to manufacturer to wholesaler to retailer to the customer is known as supply chain management (SCM). Logistics operations are designed to meet the demands of the ultimate consumer. Simply said, operational experts, guarantee that the correct product, in the proper quantity, in the satisfactory condition, gets directed to the right customer at the correct location, at the specified time, and at the best price to the intended client.
| Name Of The Profile | Average Annual Pay (INR) |
| --- | --- |
| Procurement Manager | 12,20,000 |
| Administrative Officer | 6,65,000 |
| Assistant Controller | 9,88,000 |
| Operations Manager | 7,40,000 |
| Logistics Manager | 8,54,000 |
BBA in Information Technology
BBA Information Technology is a bachelor's degree programme in information technology. It's the process of storing, retrieving, transmitting, and manipulating information and data using computers, usually a case of a company or other enterprise. The basic and organizational areas of both management and information technology are covered in the Information Technology course. Computer science, information database administration, and networking are all included in the information technology curriculum. This course covers information technology, which encompasses data management concepts and associated technological applications. The course covers every aspect of computer technology.
| Name Of The Profile | Average Annual Pay (INR) |
| --- | --- |
| Database Manager | 15,50,000 |
| Systems Manager | 19,00,000 |
| Web Developer | 32,00,000 |
| IT Manager | 9,00,000 |
| Networking Manager | 17,00,000 |
BBA in International Business
The BBA in Worldwide Business is a comprehensive programme that integrates Business Administration coursework with exposure to the international business environment. The curriculum includes disciplines such as the international business environment, foreign exchange activities, and foreign diplomacy, in addition to economic analysis, accountancy, and advertising. There is a strong emphasis on students' developing abilities in both corporate governance and awareness of global relations. Soft Skill Development and Foreign Languages are two subjects that provide extra advantages. They prepare students for multi-national work situations and help them grow as all-around individuals. BBA in International Business
| Name Of The Profile | Average Annual Pay (INR) |
| --- | --- |
| Trade Manager | 8,64,000 |
| International HR Manager | 6,80,000 |
| Global Distribution Manager | 7,50,000 |
| Analyst | 6,00,000 |
| International Marketing Manager | 10,00,000 |
BBA in Travel and Tourism
The BBA in Travel and Tourism Management (BTTM) is a three-year (6-semester) programme that leads to an ongoing professional bachelor's degree. Graduates are qualified to work in the tourism and travel business as specialists and managers, as well as pursue a master's degree programme. The tourist industry contributes significantly to economic growth. Graduates can continue their education or choose from a variety of employment prospects after completing the course. Overall, the BBA Tour & Travel Management Course provides excellent opportunities for students.
| Name Of The Profile | Average Annual Pay (INR) |
| --- | --- |
| Travel Agent | 5,00,000 |
| Itinerary Manager | 4,50,000 |
| Personal Tour Guide | 4,00,000 |
| Business Consultant | 11,00,000 |
| Destination Manager | 13,00,000 |
BBA in Entrepreneurship
The Bachelor of Business Administration (BBA) in Entrepreneurship programme is designed to provide aspiring entrepreneurs with the skills and information they will need to launch their own firms. The programme will concentrate on identifying, analysing, and evaluating global and local business opportunities; improving creativity and recognising innovation; moral and environmental obligations for business owners; eco system evaluation for new businesses; market analysis; financial management; creating innovative business proposals to acquire funding; sources of money; and judicial issues pertaining to enterprises.
| Name Of The Profile | Average Annual Pay (INR) |
| --- | --- |
| Assistant Manager | 6,20,000 |
| Business Consultant | 11,40,000 |
| Franchise Manager | 5,30,000 |
| New Venture Developer | 5,03,000 |
| Banker | 4,00,000 |
BBA in Digital Marketing
The BBA in Digital Marketing is a three-year undergraduate degree that entails an in-depth study of the tactics employed in the marketing of products and services utilising digital technologies such as the internet, smart phones, display advertising, and other digital media. Not only in India, but throughout the world, digital advertising is a growing sector. BBA in digital marketing equips students with key abilities such as understanding sales conversions, analysing marketing campaigns, and devising marketing plans for their businesses.
| Name Of The Profile | Average Annual Pay (INR) |
| --- | --- |
| Search Engine Optimization Executive | 3,00,000 |
| Ecommerce Manager | 6,00,000 |
| Digital Strategist | 11,00,000 |
| Analytics Manager | 12,00,000 |
| Digital Marketing Manager | 7,20,000 |
BBA in Strategic Management
Strategic management refers to a collection of managerial decisions and actions that define a company's long-term success. The BBA Strategic Design and Managerial programme is designed to equip a new generation of industry leaders for entrepreneurial and management roles in which they can use cutting-edge design and innovation ideas. This multidisciplinary curriculum addresses the fundamentals of design-led research, strategy, and systems thinking and are taught by prominent industry experts. Branding, product and service development, innovation, legislation, finance, ethics, value alignment, and sustainability are all topics covered in these classes. This holistic approach to design and business may be applied to any industry.
| Name Of The Profile | Average Annual Pay (INR) |
| --- | --- |
| Product Strategist | 14,00,000 |
| Process Coordinator | 5,00,000 |
| Business Analyst | 7,00,000 |
| Project Manager | 14,00,000 |
| Project Consultant | 8,35,000 |
Conclusion
If you want to hone your management skills, BBA is the programme for you. It will not only help you land a fantastic job soon after graduation, but it will also familiarise you with basic economics, marketing, and other ideas. The best part about BBA is that it has the same value all across the world, giving you even another professional opportunity to consider. Because this subject allows students to develop practical skills and experience while also allowing them to choose the finest high-paying careers for themselves, the prospects for BBA in India appear to be excellent.