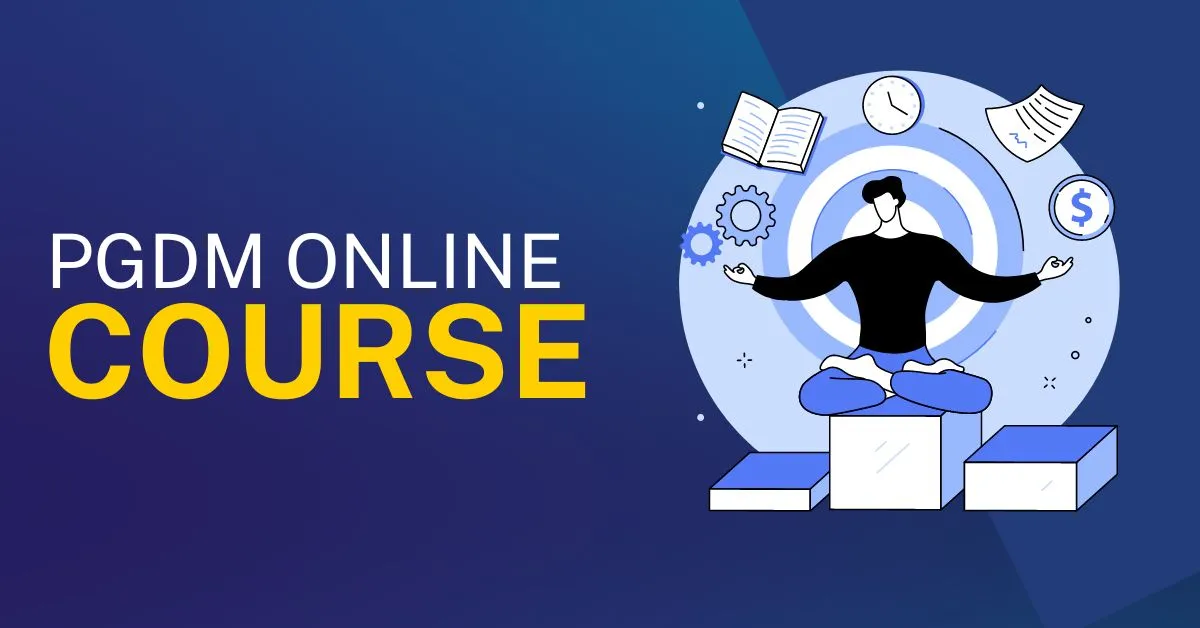 Online education has grown in popularity among students who want to further their education while juggling job and personal obligations in today's fast-paced society. Higher education is increasingly being pursued online because of the effectiveness of this technique for learning new things and honing existing abilities. One of the most popular programmes for students who want to pursue a management profession is the Post Graduate Diploma in Management (PGDM). In this blog article, we'll look at the advantages of taking an online PGDM course as well as the admissions requirements, costs, and online institutions that provide PGDM courses in India.
Advantages of pursuing a PGDM Online
The way we study and access education has been completely transformed by online education. Taking a PGDM course online has a number of advantages, such as:
Flexibility: Online education gives you the freedom to study whenever and however you choose. It is simpler to juggle work and personal responsibilities since students may choose to attend classes at any time and from anywhere.
Cost-effectiveness: Taking a PGDM online may be less expensive than enrolling in a conventional campus-based programme. Online courses sometimes offer reduced tuition costs and don't need students to pay for travel or housing.
Access to a greater selection of courses: Students may select from a choice of programmes provided by colleges and universities all across the country when they pursue an online education, which gives them access to a wider selection of courses.
Education that is Collaborative: Compared to traditional classroom-based learning, online learning may be more interactive and engaging. Through online forums and discussion boards, students may work together and communicate with their fellow students and lecturers.
Professional Advancement: Taking an online PGDM programme can assist students boost their management professions. A variety of sectors and career types can use the skills and information acquired during an online PGDM programme.
Admissions Procedure for Online PGDM
The admissions procedure for regular campus-based programmes and online PGDM programmes is comparable. Students must be eligible according to the requirements established by the institution or university conducting the course. The eligibility requirements may differ from institution to college, but for the most part, universities demand that applicants have earned an undergraduate degree from an accredited university with a minimum GPA of 50%. Additionally, students could be required to sit for Management admission examinations like the CAT, XAT, or GMAT and achieve the minimal score required by the institution or university. In addition, students can be required to present records like mark sheets, diplomas, and, if relevant, work experience certificates.
Assess the program's qualifying requirements on the institute's official site.
Completely and precisely fill out the online application form, including any needed fields for job experience, academic information, and personal information.
Upload scanned copies of any required papers, including transcripts, diplomas, and identity documents. Verify the quality and legibility of the scanned copies.
Pay the application fee online using credit/debit cards, internet banking, or other online payment methods. Before applying, verify the specifics of the fees.
If necessary, study diligently for the admission exam. For management programmes, the CAT, MAT, XAT, GMAT, and CMAT are typical entry tests. These tests assess a candidate's ability in a variety of areas, including language comprehension, math prowess, logical thinking, and general awareness.
Take part in the hiring process, which may involve a group interview, essay writing, or a personal interview. The selection procedure is intended to evaluate an applicant's aptitude for problem-solving, communication, and overall programme appropriateness.
To avoid missing out on any possibilities, keep track of crucial dates like application deadlines, exam dates, and selection rounds.
To prevent any delays in the selection process, thoroughly follow the online application process and submit the necessary documentation on time.
If you have any questions about the application procedure or the specifics of the programme, ask the admissions office or one of your guidance counselors for assistance.
After being accepted into the programme, finish the admissions process by providing all required paperwork and paying the programme cost.
Online Fees for PGDM Courses
Online PGDM programmes are a more affordable option than conventional campus-based ones. Depending on the institution and the course curriculum, the costs for these courses normally range from INR 2,00,000 to INR 6,00,000. To make an educated choice, it is crucial to examine the costs and course offerings of several universities that offer online PGDM programmes.
For the convenience of students, a number of institutions provide a variety of payment options, such as demand draughts, bank transfers, and online payments. In order to lessen the financial strain of taking a PGDM online programme, students can also investigate financial help alternatives including scholarships, grants, and loans.
Online Universities with PGDM Programmes
Online PGDM courses are offered by several institutions and universities all across India. Popular universities that provide online PGDM programmes include:
| Online Learning Platform | Description |
| --- | --- |
| Symbiosis Centre for Online Education | Leading remote learning organisation Symbiosis Centre for Remote Learning (SCDL) provides a range of management courses, including PGDM. The SCDL PGDM programme is intended to provide students the information and abilities they need to pursue a career in management. |
| Amity Online | A range of courses, including the PGDM, are available through Amity Online, a remote learning university. The goal of Amity Online's PGDM programme is to provide students a thorough grasp of management theories and practises. |
| IMT Online | IMT Online is a platform for online learning that provides several courses, including PGDM. The PGDM programme at IMT Online is created to give students the abilities and information needed to succeed in the management industry. |
| NMIMS Global Access School for Continuing Education | NMIMS Global Access School for Continuing Education is a distance learning organisation that provides a range of courses, including PGDM. The goal of the PGDM programme at NMIMS Global Access School for Continuing Education is to provide students a thorough grasp of management ideas and to equip them with the skills necessary for a rewarding career in management. |
| IGNOU | The PGDM programme is one of several online learning programmes offered by the renowned Indira Gandhi National Open University (IGNOU). IGNOU's PGDM programme aims to give students a thorough grasp of management theories and practises. |
Online PGDM Curriculum
A PGDM online course's curriculum may differ from one college to another. Nevertheless, the majority of universities provide a thorough curriculum that includes subjects like accounting, finance, marketing, human resources, operations management, and strategic management. The curriculum is created to give students a thorough grasp of management theories and practices, as well as the abilities needed to succeed in the management industry.
Some of the common subjects covered in a PGDM online course include:
Financial Accounting and Analysis
Marketing Management
Organizational Behavior
Operations Management
Business Ethics and Corporate Governance
Strategic Management
Human Resource Management
Entrepreneurship
International Business Management
Information Systems Management
Case studies, collaborative tasks, and hands-on instruction sessions may also be included in the syllabus of a PGDM online programme to offer students real-world experience with management principles and strategies.
Conclusion
For students looking to continue higher education while juggling employment and personal responsibilities, online learning has grown in popularity. The ability to learn at their own speed and convenience while pursuing a PGDM online equips students with the information and abilities needed for a career in management. Before choosing a college or university to enrol in a PGDM programme online, prospective students should carefully analyse the admissions requirements, tuition costs, and course requirements. Pursuing a PGDM online may be a rewarding experience that opens up a world of options in the management industry with the correct preparation and effort.