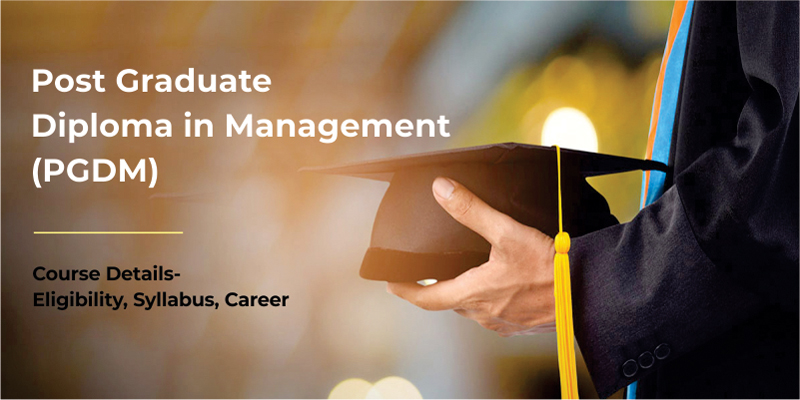 A postgraduate diploma in management is a two-year full-time course equivalent to an MBA degree, except this course is more professional and relevant to current industry standards. Students from all over India are passionate about pursuing a career in management because of its scope and universality, and this 2-year diploma stands as the best catch to a stellar and established career in management. What makes the PGDM core course stand apart from a course with different specialisations is that the student gains expertise in not one but many arenas that require an integrated approach to various functional units of management in a business environment. It broadens the scope of work and gives them an opportunity to carve a multifaceted and limitless career path. Let us look at various characteristics associated with PGDM core course:
Eligibility Criteria For PGDM
The eligibility criteria for getting admission into an AICTE approved institution is common for all postgraduate courses. Some of the conditions that a student must fulfil are given as follows:
1.The students must have completed their graduation from a UGC recognized university with a minimum aggregate of 45-50% marks for unreserved category, and 40-45% marks for reserved category, which may also depend on the individual institution's discretion.
2.The students have appeared for the entrance exams, such as CAT, MAT, GMAT, XAT, NMAT, SNAP, or any other based on the institution's requirement, and their score should fall within the cutoff bracket.
3.Students must clear the group discussion, or interview round, if any in case the admission is being offered on a merit basis.
4.Additional work experience is not required but is preferred by some universities, as a certain % depends on allotted to candidates with significant prior work history.
PGDM Curriculum
The curriculum for the PGDM course in 2021 contains updated and industry-relevant papers backed with prominent practical application through internships, externships, research projects, dissertations, field works, and much more. The sole approach for this course depends on making students a good fit for industry and adopting a teaching pedagogy that makes them ready for the corporate world soon after their diploma is done. The course is structured equally between two years and is either divided into 4 semesters or 6 trimesters, depending upon the college offering it. The best thing about the PGDM course curriculum is that equal credits are given to the practical work which actually lays the groundwork for real-time work experience, so the students do not devote all emphasis to the classroom theory. This enforces a balanced learning approach among students.
PGDM Syllabus
An accurate semester wise breakup of subjects taught under the PGDM core course depends upon the chosen college. However, while the order of these subjects may be different, several common subjects are majorly taught under this course. The subjects range from:
● Principles And Practice Of Management
● Managerial Economics
● Marketing Management
● Statistics Decision Making
● Human Resource Management
● Financial Accounting For Managers
● Business/ Managerial/ Executive Communication
● Cost Management Accounting
● OrganisationalBehaviour
● Macro And Indian Economy
● Legal Aspects Of Business
● Global Business Environment
● Strategic Management
● Operations Research
● HR Metrics Tools, And Techniques In Business
● Financial Modelling
● Tax Planning And Management
● Corporate Governance
● Entrepreneurship
● Indian Financial System
● Compensation And Payroll Management
● Artificial Intelligence
● Information Security In International Business
● Warehousing And Inventory Management
● Digital Social Media Marketing
● Research Methodology For Management
Top 15 Skills Needed To Pursue PGDM In 2021
In some cases, other skills such as technical and mathematical skills might also be a prerequisite in careers like information technology management or finance management. But primarily, these are the top 15 skills that anyone taking Admission into PGDM programs must possess.
1. Analytical Skills
2. Negotiation Skills
3. Time Management
4. Strategic Thinking
5. Entrepreneurial Skills
6. Attention To Detail
7. Communication Skills
8. Soft Skills
9. Problem Solving Skills
10. Decision-Making Abilities
11. Critical Evaluation
12. Team Spirit
13. Leadership Quality
14. Technical Knowledge in the respective field
15. Networking Ability
Career Options After PGDM In India
Management through its all-pervasive nature requires a workforce that is not only well versed in various branches of management but also possess certain skills and qualities like decision-making ability, strategic thinking, analytical skills, along with ample conceptual clarity. Any aspiring management professional with a strong consolidation of these qualities can potentially pave his/her way into the leading corporate hubs and business houses in India. Thus, the career options after PGDM can enable a student to work in just about any company with profiles such as Human Resources, finance, marketing, administration, logistics and supply chain management, business analytics , data analytics, and so much more. Tens of hundreds of profiles under these functional areas are open to taking PGDM postgraduates. Lucrative career prospects and handsome salary packages are offered to students who have completed their studies from the leading B schools of India.
Since entrepreneurship is a vital component of the PGDM core course, students always have the option to launch their own start-ups and businesses. In fact, many students consider the PGDM a prerequisite before commencing their own companies because of personal reasons, such as gaining insight into the business world, getting direct mentorship and guidance from industry leaders, networking purposes, cultivating textbook knowledge about business acumen, and much more. Thus, entrepreneurship is a sound career path after PGDM as well.
Top 15 Profiles That a PGDM Diploma Holder Can Work As
While there are a huge number of profiles for people who have pursued their post-graduate diploma in management, here are some of the most common job positions that students get placed as:
1. Human resource manager
2. Digital Marketing Manager
3. International Business Consultant
4. Market Research Analyst
5. Portfolio Manager
6. Quality Control Officer
7. Business Analyst
8. Training And Development Manager
9. Content Marketing Manager
10. Global Business Manager
11. Brand Manager
12. Financial Analyst
13. Operations Manager
14. Business Intelligence Expert
15. Service Operations Director
Top 15 Colleges In India Offering PGDM Core Course
While there may be more than 500 institutions in India offering PGDM courses , the following is the list of top 15 colleges that students can secure admission into for a fool-proof career plan ahead and added advantage of post graduating from these topmost renowned colleges in India.
1.Xavier School Of Management, XLRI Jamshedpur
2.S.P. Jain Institute Of Management And Research, Mumbai
3.Institute Of Management Technology, Ghaziabad
4.T.A. Pai Management Institute, Manipal
5.School Of Business Management, NarseeMonjee Institute Of Management Studies, Mumbai
6.Management Development Institute, Gurgaon
7.Welingkar Institute Of Management Development And Research
8.Great Lakes Institute Of Management, Chennai
9.Balaji Institute Of Modern Management, Pune
10. Institute Of Public Enterprise, Hyderabad
11. Loyola Institute Of Business Administration, Chennai
12. Goa Institute Of Management, Goa
13. International Management Institute, Delhi
14. Birla Institute Of Management And Technology, Greater Noida
15. Jagan Institute Of Management Studies, Rohini
Conclusion
PGDM undoubtedly is the course of the future, given its expanse and relevance in the times we're in. From engineering to somebody from a science background, this course is open for everyone who's planning to make their way into managerial positions in their respective backgrounds. In this article, everything about a PGDM course is explained in detail, including its scope, skills and qualities, curriculum structure, syllabus and subjects under it, top 15 colleges, work profiles as well as career options. Comprising everything you need to know about a PGDM course, the students can now decide upon blindly going after this futuristic, and in-demand course with ever-evolving job markets.