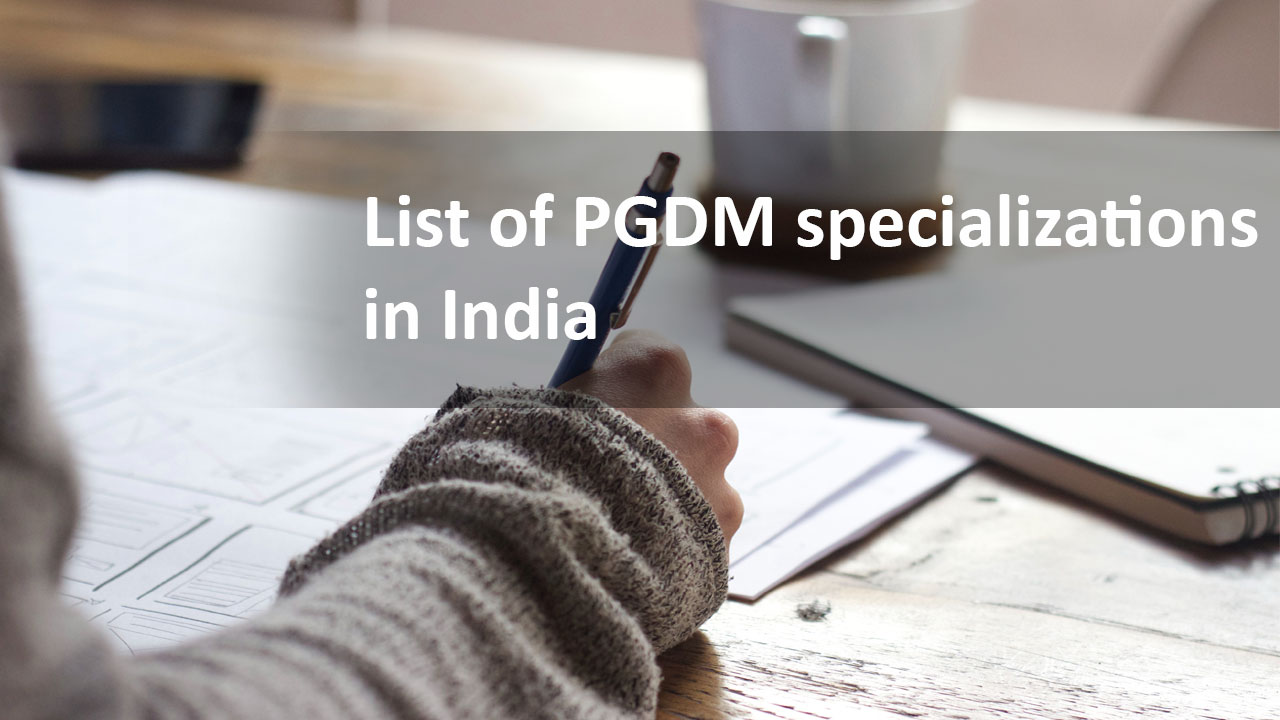 A post-graduate diploma in management is usually a two-year regular degree with more than 15 specializations in various disciplines available for students who wish to pursue a career in the management sector. Being a course that's clearly all-pervasive in nature, this degree has job prospects in multiple industries. After obtaining this degree, students get employed at reputed organizations in leadership roles and grab some really high-paying packages. Let's look at a comprehensive list of PGDM specializations available for students to choose from.
1. PGDM In Marketing Management
A postgraduate diploma in marketing management is a two years full-time post-grad degree that opens up a career in the marketing sector . The course mainly deals with the functioning of businesses concerning market orientation, and how the data gathered from markets can be used by thriving business organizations. The best thing about pursuing this degree is that it is relevant in all kinds of enterprises across all industries, especially in an ever-evolving digital world.
Job Profiles:Marketing Manager, Brand Manager, Product Manager, Marketing Communications Manager, Market Research Analyst, Marketing Executive, Etc.
2. PGDM In Hospital And Healthcare Management
Hospital and healthcare management is that domain of management that is ever-22growing and booming not just in India but throughout the world. The health care system especially in the wake of a pandemic needs a lot of regulation and systemization, which means the job market for healthcare management experts is likely to expand in the upcoming years. Along with personal fulfillment, working in this sector also adds more meaning to your roles as it contributes to a social cause
Job Profiles: Healthcare Consultant, Product Manager, Hospital Administrator, Operations Manager, Physician Assistant, Medical Coordinator, Etc.
3. PGDM In Human Resource Management
Under this post-graduate diploma, a candidate will leverage himself to learn not one but many skills, including administration, conflict resolution, organization, client relation, presentation, etc. This degree is most suited for candidates who consider themselves a 'people person. Another plus point of studying PGDM in HR is its universal applicability, which means you'll get a decent job no matter where in the world you are. The job roles in this sector are privy to the smooth functioning of any organization and bring out the efficiency and effectiveness in the employees.
Job Profiles: Talent Acquisition, Talent Management, Chief Recruiter, Employee Relations Manager, Staffing Director, Training And Development Manager, Etc.
4. PGDM In International Business
A postgraduate diploma in IB is a 2-year degree that provides insights into the workings of global organizations, their policy framework, functioning, business practices, perspectives, and strategies. The students sign themselves up for a globally competitive career by pursuing this degree, thus giving a significant pump to their employability.
Job Profiles: Consultant, Logistics Manager, Sales Coordinator, Export Manager, Administrative Service Manager, Etc.
5. PGDM In Operations Management
Operations management as a domain primarily deals with the manufacturing, logistics, and backend work of an organization. It fosters business execution by channeling resources and deriving products out of them. Operations management directly impacts the performance of a business, which means its vitality is non-negotiable. Students looking to pursue a career in operations management will understand the importance of ground-level skills in leading the way up the business ladder.
Job Profiles: Production Analyst, Distribution Manager, Inventory Manager, Quality Analyst, Schedule Coordinator, Procurement Specialist Etc.
6. PGDM In Rural Management
The relevance of doing PGDM in rural management in a developing country like India is immense since consistent measures to protect the interests of rural communities and their upliftment are being taken. Hundreds of projects are commenced every day that require qualified professionals' direct, immediate, and strenuous supervision.
Job Profiles: Region Executive, Research Head, Supervisor, Area Manager, Inspection Officer, Supervisor, Coordinator Etc.
7. PGDM In Business Analytics
Business analysis in the last decade has turned into an indispensable tool for the success of various organizations. The course provides know-how on acquiring data, gathering insights, and leveraging it to decide the next-best step on the grounds of which some important decisions are made. In today's times, this degree can land a student to their peak career potential, as there has been a technical push helpful in storing and analyzing data at a mass scale.
Job Profiles: Data Scientist, Market Analyst, Predictive Modeller, Quantitative Analyst, Systems Analyst, Etc.
8. PGDM In Logistics And Supply Chain Management
With a staggering growth in the E-commerce industry, this profession has gained momentum in the last few years. Almost every next business deals in product development at a good range, which are most unlikely to go out of need. This sector is also the least affected by any kind of slowdown in the market, which makes the job sector greatly in-demand. Students can get placed at fancy packages if they choose to build a career in Logistics and supply chain management.
Job Profiles: Industry Analyst, Project Manager, Procurement Analyst, Supply Chain Coordinator, Distribution Manager, Etc.
9. PGDM In Information Technology
Information technology is currently the most futuristic, relevant, and promising profession to enter. Coupled with a degree in management, this profession can yield the candidate some of the most prestigious and high-paying jobs of all time. Technology and management have rightfully been the driving forces behind the strong market-standing of a plethora of businesses, thus, pursuing this degree will be beneficial to a student on several levels.
Job Profiles: Chief Technological Officer, Systems Manager, It Consultant, Business Development Manager, It Executive, Systems Manager, Etc.
10. PGDM In Financial Management
From start-ups to globally established businesses, every organization relies on the direction of a finance manager. Pursuing this degree qualifies to be a fundamentally sound career move for every person irrespective of their background. From fund analysis to investment strategies, account operations to strategic exploitation of financial markets, the scope of work in this sector is crazy, not just professionally but personally as well.
Job Profiles: Investment Bankers, Equity Analysts, Portfolio Managers, Financial Advisors, Accounts Managers, Etc.
11. PGDM In Travel And Tourism Management
If you're somebody who wears the word 'wanderlust' on your sleeve, then this is the course for you. Industries like chain hotels, airlines, cruise lines, agencies, and more are always on the lookout for professionals with a keen interest in the exploitation of cultures and destinations along with managerial competencies, thus balancing professional and personal goals equally. Being an industry with a lot of recreational advantages, it will always keep blooming.
Job Profiles: Travel Agent, Hospitality Manager, Tour Manager, Itinerary Guide, Travel Executive, Travel Agency Manager, Guide, Planner, Etc.
12. PGDM In Event Management
Event management is a career LINE that establishes an equilibrium between creativity and managerial skills. From destination events to wedding planning, college fests to large-scale concerts, corporate conclaves to sports events, our lives are practically brimming with events happening every single day. The amount of input and management that goes into the planning and smooth organization of such events and the work product of experts working tirelessly in this field.
Job Profiles: Event Coordinator, Event Manager, Campaign Manager, Public Relations Executive, Etc.
Conclusion
Other than these mentioned above, there are various other specializations available like PGDM in pharmaceutical management, PGDM in retail management, PGDM in project management, etc. The availability of these courses varies from one institution to another. This diploma course is a highly professional degree that students can pursue for a domain-specific career profile in management.