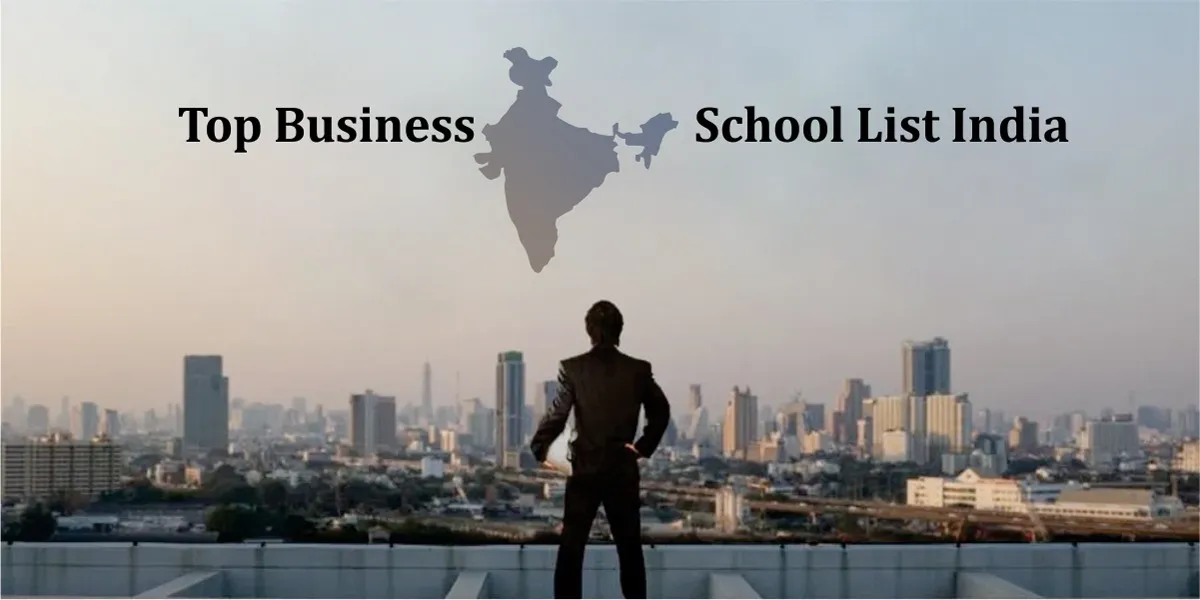 Introduction
Business schools have gained much popularity in recent years, with the continuously growing need for business and managerial skills experts. Thus, we can see present days that a large number of students are opting for business and management schools. Business schools provide with all the necessary skills, that can help the students to face real-world problems in the highly competitive world of management, and as India today lies in the hands of the corporate world, studies have shown that a majority of the successful population is a part of the corporate world. Business schools impart knowledge on topics such as entrepreneurship, economics, human resources management, management, strategy, finance, management science, marketing, operations management, sales, public relations, research methods, supply chain management, and all other skills that are needed to secure a good job in business management. However, in order to ensure success in the field, it is important that the students aim at getting their degree from among the best business schools in India. This article will attempt to explore the top business schools in India and other necessary information that a student needs to know before choosing their path.
Advantages of studying in a top business school in India
Just as the field of business and management studies, allows the students to choose among the highest paying jobs and the top career options (Career Options after Management Course), getting one's degree from among the top business schools comes with its own advantages. The advantages are mentioned below:
Attainment of the absolute best - Top business and management schools with their unique syllabus, curriculum, consideration of new improvements and trends in the business world, push students out of their comfort zones, leaving no stones unturned, preparing them for all kinds of challenges that they may face when they enter the corporate world.
Attainment of highly valued degree - Getting one's business degree from among the top colleges, holds a lot of weight. Though all business degrees hold great value across the country, getting a business degree from a well-known business and management school can increase one's chances of getting hired by the top companies hiring across the country. Apart from higher chances to secure a high-paying job, the degree can also ensure a place among the top managerial positions.
A leap beyond academics - The best business schools do not solely focus on imparting the theoretical knowledge but acquaints the students with much more and the field-relevant extracurricular activities, like internships, workshops, webinars, seminars, etc. which make the students aware of what they are going to face, once they enter work life.
Highly qualified teachers- The top business schools invest in the best teachers, who know every possible detail that is needed to attain expertise in the field, and have the proper skills to transfer their knowledge to students. These teachers also contribute to the further betterment of the college's reputation.
Top-notch infrastructure and ambiance - it is known to us all, how a better scenery during studies can facilitate a better focus than general ones. These universities and colleges receive enough funds, to build a proper studying environment for the students, thus making studying more enjoyable and relaxing.
Building a resourceful network- As the top business schools attract the best students from all across the country, it is more likely for one to associate with peers, who will have a successful career in the future, and can be of assistance. Moreover, the seminars and webinars bring top people in the business world for discussion, thus providing the students with a network, which can prove to be helpful while building a career in the future.
Attainment of entrepreneur skills and personal credibility- In case one aspired to be an entrepreneur, instead of working under organizations, studying at any of the top business schools, can be a step forward to it. A degree from one of those colleges can be helpful in securing funds, gaining trust, and choosing the best option to move forward in the career.
Guaranteed placements- During the job search, a degree from a good college comes in handy, and is given more importance, as compared to regular colleges.
Attainment of real-life skills- These colleges provide scope for the development of personality and boost solve skills, which not only help with work-life but can also prove to be useful in real life.
Easier access to international platforms - Studying from well-known business schools gives you global exposure and a degree that is recognized internationally and can provide higher chances to build a career abroad if that's what one prefers.
List of 15 top private business schools in India with fees
| Colleges | Fees— Average Annual |
| --- | --- |
| XLRI Xavier's School of Management | Rs 35K to 25.8 L |
| National Institute of Industrial Training | INR 12.53 L - 14.63 L |
| SPJIMR | INR 12 L - 19 L |
| Symbiosis Institute of Busines Management, Symbiosis International, Pune | INR 15.32 L - 21.32 L |
| Pravin Dalal School of Entrepreneurship and Family Business Management | INR 15.03 L - 37 L |
| Great Lakes Institute of Management | INR 7.2 L - 17.25 L |
| IMI Delhi | INR 19.25 L |
| IFHE Hyderabad | INR 2 L - 16.02 L |
| Amity Business School, Noida | INR 6.8 L - 14.82 L |
| KIIT School of Management | INR 6.9 L - 14.5 L |
| Lovely Professional University | INR 1.56 L - 15.6 L |
| Goa Institute of Management | INR 18.07 L |
| IMT Ghaziabad | INR 6 L - 19.53 L |
| School of Management, BML Munjal University | INR 11,55 L |
| LM Thapar School of Management | INR 9.31 L |
List of top 15 Government Business Schools in India with fees
| Schools | Fees ( Average Annual ) |
| --- | --- |
| IIM Ahmedabad | INR 23 L |
| IIM Calcutta | INR 24 L |
| IIM Bangalore | INR 23.15 L |
| IIM Indore | INR 22 L |
| National Institute of Industrial Training | INR 14.63 L |
| IIT Kanpur | INR 3.60 L |
| Jamia Milia Islamia | INR 47 K |
| Aligarh Muslim University | INR 5,87 L |
| Faculty of Management Studies, University of Delhi. | INR 1.92 L |
| SIMSREE | INR 69K |
| VGSOM IIT Kharagpur | INR 10.31 L |
| MNIT Jaipur | INR 3.17 L |
| Institute of Management Studies, BHU | INR 2.41 L |
| CUSAT | INR 42 K |
| Guru Govind Singh Indraprastha University | INR 1.92 L |
Conclusion
A B school in india is a separate institute where education in the domains of business and management is imparted. One of the key features of a b school is that they're highly specialised and more focussed on students' career instead of traditional textbook knowledge. Without a question, graduate degrees in a wide range of business subjects, including management, finance, and marketing, are in great demand in today's society. Knowing the similarities and differences of business schools and universities can enable you to pick the one that best meets your needs, thus reducing the number of graduate schools you have to choose from.The given lists can act as a guide for the students who want to pursue a career in business and management, and help them to choose a college according to their aspirations and budget. Business and management is a rewarding field of study, and if a student manages to secure a degree from any of the above, proper dedication can assure them a bright future ahead.