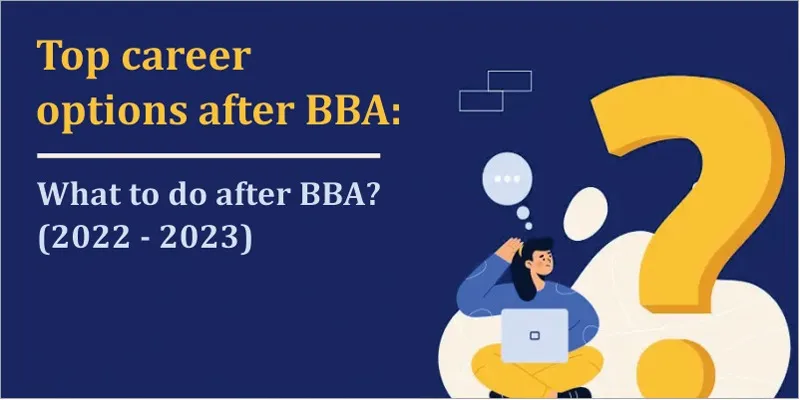 In the world, as we see today, business and management form the backbone of society, as the country's economic condition depends on them. And thus after completing school, that is after 10+2 boards, many students, especially the ones with a commerce background, choose BBA for their further studies. BBA is basically a three-year undergraduate program that gets the students acquainted with skills like analytical ability, entrepreneur skills, communication, interpersonal skills, etc. which can help them to become professional leaders of the future. Because of this, the vast number of career opportunities it has to provide, and the sense of security that comes along, BBA Course has now become one of the most popular choices among students in India. However, before choosing the course, the students have to make themselves aware of the job options and scope that they are going to get after the completion and proceed accordingly. This article will attempt to explore the career options that students get after getting their BBA degree, and proceed accordingly.
Skills gained on BBA completion
BBA is an extremely informative course that prepares students to fight real-life job challenges, by imparting both practical and theoretical knowledge, with the help of regular classes, internships, seminars, webinars, and workshops so that the students do not feel confused, once they enter the real job environment. The main skills that BBA imparts to its students, which help them to get jobs in the future are as follows:
Entrepreneur Skills
Leadership Skills
Analytical Ability
Communication Skills,
Creativity and Innovation
Networking Capabilities
Decision-making Skills
Skills needed to devise strategies
Technology handling capability
Human resource management
Top career options after BBA
Listed below are the top career options after BBA that students can get upon the completion of BBA, along with the average starting salary they can expect:
1. Investment Banker - Their main aim is to use their analytical capability, strong communication skills, and financial services industry expertise, to communicate with clients in activities such as raising capital, mergers, and acquisitions. The average starting salary of an investment banker can be around INR 2 lakhs per year.
2. Accountant - One of the most popular jobs that are offered to BBA pass-outs. Again, analytical capabilities and strategic thinking are used to make financial decisions, which are done by checking financial audits, the calculations involving bank statements, and keeping track of the organization's finances. The starting salary as an accountant can rise as high as INR 2.5 lakhs per annum.
3. Marketer - The average starting salary of marketers can be around INR 2 lakhs per annum. Marketers set their eyes on expanding the reach of the organization, along with finding and maintaining potential customers. Marketing requires the employer to collectively use all the expertise gained in the BBA course. They plan, process, and execute marketing campaigns.
4. Sales Executive - They make sure that the organization is getting the maximum possible profit, which they do by promoting the services and negotiating with the clients. Here, the interpersonal and communication skills, and their decision-making capability is put to use. The average salary for a fresher as a sales executive is around INR 2.3 lakhs.
5. Human Resources Manager - Their role is to look over the working of human resource departments, which includes hiring staff, interviewing people, overseeing if the employers are getting the deserved pay and benefits, and checking if the rules and regulations of the organizations are being maintained. The average salary of human resource managers in India is around INR 6 lakhs.
6. Entrepreneur - Entrepreneurship gives the people involved a sense of freedom and adventure, where they get to decide how to proceed with a business, with new ideas, risks, sales and marketing, conflict management, and every other thing that is included in the business. Entrepreneurs in India can earn an average of INR 6 lakhs per year.
7. Information System Manager - An information system manager uses their skills in technology, by looking over the systems, in order to design, manage and oversee the information systems, and check over the working of the specialists who install the hardware and software systems. The average salary of an information system manager can be INR 4.6 lakhs.
8. Business Consultant - Business consultants use their knowledge, gained during the course, to advise the business owners with updated information, provide insights about how the businesses are doing and make recommendations on how to make improvements in the business. The average salary of business consultants in India can be around INR 11 lakhs per year.
9. Real Estate Agent - With the aim of buying, renting, or selling properties, real estate agents work with the buyers and the homeowners. Their responsibilities include overseeing the properties that need to be dealt with, meeting with potential buyers, staging the property in a way that makes it appealing to the buyers, and pricing the property as per the market trends. The average salary of a real estate agent is around INR 20 K per month.
10. Research and Development Assistant Manager - They are responsible for research, planning, development, and implementation of new programs and upgrades. An assistant manager's average salary can be INR 8.3 lakhs per year.
11. Loan Officer - The analytical skills and strategic planning are put to use, to process loan applications and documentation within limits, estimate the applicable ratios and metrics and frame a plan on how to pay debts. The average salary is around INR 1.5 lakhs per year.
12. Business Development Executive - Together with senior team members, a business development executive is responsible for identifying and addressing company risks that might limit growth. They also create and present ideas and presentations to possible new clients, as well as recognise and look into opportunities that emerge in both current and emerging markets. The average starting salary of a BDE ranges somewhere near 3-4 Lakhs per annum.
13. Operations Analyst - A company's rules, practices, and operations are examined by an operations analyst to identify potential areas for improvement. They are primarily responsible for examining corporate data, compiling results into reports, and making recommendations for initiatives to raise performance indicators.
14. Event Managers— Event managers, also referred to as event planners or event coordinators, carry out duties like locating and reserving venues, communicating with customers and vendors, handling logistics, overseeing budgets and invoicing, setting up accreditation, controlling risk, and delivering post-event reports.
15. Administrative Assistant — General office work and administrative responsibilities are handled by administrative assistants, including managing interactions with clients and coworkers, planning events and schedules, inputting data, doing the books, keeping up with office supplies, etc. The average yearly income for an administrative officer in India is 2.9 Lakhs, with salaries ranging from 1.1 Lakhs to 7.0 Lakhs.
Some of the companies that are known for hiring BBA graduates are Infosys, Serco, L & T, Delta Systems, Sprout Logics, Tata Consultancy Services, OLA Cabs, TATA Motors, and many more. Students can also choose to pursue higher education with courses like MBA and PGDM (MBA vs PGDM), in order to gain more expertise in particular fields of business and commerce and to occupy the highest status in the top companies.
Conclusion
BBA promises its students a lot of possibilities in the future, and it is up to the students to complete the course with proper dedication, to land themselves jobs that can secure them a comfortable life, and provide them with skills that can come in handy in both personal and work life. This article explores all the possibilities that stand for BBA graduates, to help them choose what suits them the most, choose their specializations accordingly, and work towards their goals.