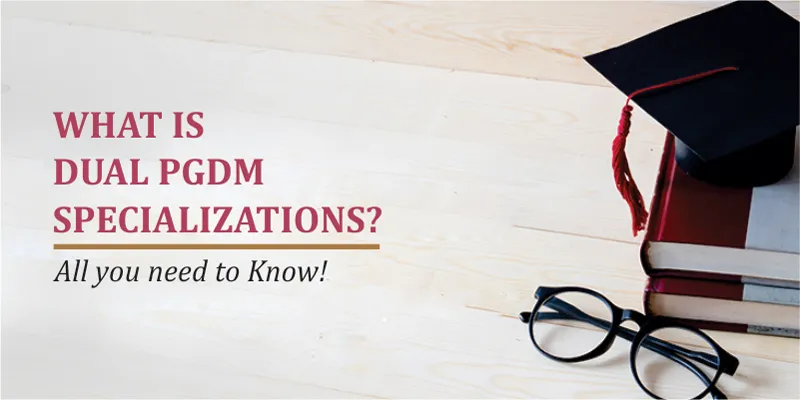 Introduction
Management has become a very popular choice for the students of India, in the current times. The abundance of jobs, high salary, and the skills the students gain in the end are the reasons they want to pursue a branch in management for their higher studies. While after their graduation, some go for MBA Course or the honours course, many opt for the diploma courses. While the honours courses focus more on the theoretical part of the managerial skills, diploma courses focus more on the application of those skills.
Post Graduate Diploma in Management dual specialization or PGDM dual specialization is a two-year full-time program that focuses on the 'acquisition, application, and assimilation of knowledge. Diploma degrees prepare the students with real-life work experiences through workshops, seminars, etc. to produce successful managers for the future. The course is designed in a way that lets the students choose between two areas of specializations, which in turn helps them to choose between two paths of career opportunities.
Eligibility criteria for PGDM Dual Specializations
Students who aspire to be a student of a PGDM dual specialization program, need to fulfil certain criteria and meet certain requirements to get admitted to an institution that provides the course. Those criteria/requirements are mentioned below.
1. The aspiring students must have secured a minimum of 50% marks in their graduation (in any subject) from a recognized college or university.
2. Some colleges take admission based on the marks secured in the college exams.
3. While most of the well-recognized colleges take admission based on entrance examinations conducted at the national, state, or university level like CAT, MAT, GMAT, CMAT, ATMA, etc.
Admission Process for PGDM Students
A (PGDM Course) postgraduate diploma in management dual specialization is a 2-year course and the program is divided into 6 trimesters. And To get admitted to an institution, recognized for providing a PGDM dual specialization courses, students must go through a certain process, which has been described below:
1. Students must have appeared for any one of the aptitude or entrance tests, conducted on a national basis, and the photocopy needs are submitted to the college. The most recognized entrance tests are:
CAT
XAT
ATMA
MAT
GMAT
CMAT
2. Students have to appear for entrance exams at the college level.
3. The scores of the tests are all taken into consideration and a shortlist is done based on cut-offs.
4. After the declaration of results, the students are called for a group discussion and personal interview round.
5. Final selection is done after that.
Students can apply direct to the College website for PGDM Course Admission
The combinations one can opt for in PGDM dual specializations
In PGDM dual specialization, by choosing two different specializations within the same academic tenure, one can add weight to their resume, add more than usual skills and secure themselves a stable and good-paying job. The most popular combinations of PGDM dual specialization programs are mentioned below:
Accounting and Taxation- include the study of the tax system, auditing, business strategy, financial reporting, and business communication. Both these courses are mutually complementing which makes them a good choice.
Cybersecurity and Logistics- the course includes topics like marketing, strategy, cyber security topics, corporate finance, analytics for business, global cyber security, privacy in cyber security, etc.
Marketing and Finance- Covers subjects like marketing research and analytics, technology and operational strategy, B2B marketing, digital marketing management, Indirect taxation, risk management,
Marketing and Human Resources Management— this course will integrate the principles of marketing management, while also making students adept in people management. The course can offer flexibility in deciding on careers while also opening the door for bigger and better opportunities in the future
Business Analytics and IT Management— A lot of information generated through business analytics in a corporate setup can be processed by IT specialists and more so, they hold the expertise to refine, filter, group and present the exact piece of information required for actionable insight.
Institutions Offering Dual Specialization Courses in India
In India, there are not many colleges that provide PGDM dual specialization courses. The best institutions providing the course are mentioned below:
| Name of the Institution | Average Annual Fees |
| --- | --- |
| Christ University, Bangalore | Rs 1820300 |
| School of Business Manage SVKM's Narsee Monjee Institute of Management Studies | Rs 2404000 |
| IMS DAVV Indore | Rs 296055 |
| Techno India University, Kolkata | N/A |
| IIM Indore | Rs 2000000 |
| NMIMS Mumbai | Rs 3130000 |
| DEI Agra | N/A |
| Integral University, Lucknow | Rs 520000 |
| IIM Rohtak | Rs 3223500 |
| Lloyd Business School | Rs 300000 |
Career Opportunities After Studying PGDM Dual Specialization
All the branches in management, be it honours or diplomas, are very rewarding and offer a big box of career opportunities for the aspirants. However, PGDM dual specialization comes with an extra set of skills and knowledge and thus letting the aspirants choose from an even larger selection of job profiles. Some of the most well-known careers that students choose after completing PGDM dual specialization can secure a job in:
Universities
Banking sectors
Multinational companies
IT sectors
Non-profit organisations
Factories
Export houses
Manufacturing
Marketing companies
Private Sector
One can also start their entrepreneurship journeys and open up their own firms/companies. With the wide range of skills attained from the dial specialization course, it is more probable for these sets of students to flourish with their own companies. Students with PGDM dual specialization degrees also have the opportunity to work as consultants or assistants in small companies and new businesses. They can also continue in the line of academics and be a professor or a researcher.
Why should one opt for the PGDM dual specialization course?
One might ask, why they should go for a PGDM dual specialization degree, instead of doing an MBA Course, the dual specialization MBA, or the PGDM. Here's why:
Wider prospects- By doing dual specialization, one is getting a comparatively larger amount of skills than the ones doing an MBA or just PGDM. Which means there is a whole new set of career options to choose from.
Provision to switch jobs- With different skills, one does not have to stay stuck at the same job or have the fear of not getting another job. They can utilize their degree to explore and find the appropriate job that suits them and their job expectations.
Practical skills- One might say that a dual specialization MBA does the same thing as getting the dual specialization PGDM course, but the PGDM course provides the students with practical experience. And two specialisations would mean more marketable skills.
The students get to choose their subject of specialization as per the contemporary market trends, and then choose their jobs accordingly.
Conclusion
No wonder Dual PGDM specialization is a rewarding course, and with proper determination, an aspiring student can secure a profitable and high-paying job. This article will act as a guide for those students who want to pursue the course, but do not have the required information to do so. Pursuing a PGDM degree that offers more than one specialization will allow law students to be more flexible with their career choice and subsequently open more than one door of opportunities for them. So, Instead of the conventional post-graduate diploma in management that limits the scope of the degree, this is your cue to look for colleges offering the same course with more than just one specialization.