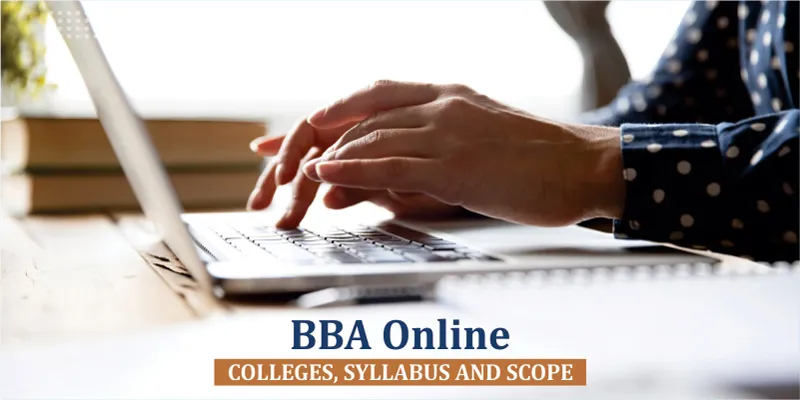 Introduction
Bachelor's of business administration, or BBA, is an undergraduate course that has gained popularity among students who opt for commerce in 12th boards, and dream of making a career in the field of business and commerce. BBA prepares the students with a basic understanding of business and management, and firms their grip on subjects such as accounting, finance, economics, management, supply chain management, marketing and strategic management, which sharpens their skills and makes them ready to face the real business world, and deal strategically. However, things have gotten easier for students, with some prominent institutions opening up to offer online BBA education to aspiring BBA candidates. This has become very advantageous for students who want to learn the course from the comfort of their home, the students who work to provide for themselves and also the ones who want to pursue some other course simultaneously. This saves time, and resources, and gives them almost the same quality education that they would have gotten in a regular course. This article will aim to talk about all the necessary details that the candidates need to know if they are thinking of pursuing an online BBA course, or the ones who just want to explore what an online BBA course entails.
Why to choose online BBA?
Now the question may arise, as to why should one opt for an online BBA course, if one could just go for regular courses? Here is why:
Here, the students get the same quality education, that too, from the comfort of their home, or wherever they are. This reduces the chances of the students missing their classes, even if they are sick or if they have any important event to attend.
The students get provided with all the necessary materials online, which is basically the same as getting materials from general offline classes.
In most online courses, students get access to digital libraries, which provide them with limitless material options, which are sometimes not available in actual libraries.
The online classes get recorded regularly, and thus the students can access the classes even after the live sessions, which is not an option for regular offline classes.
Just like offline courses, the online courses provide the students with chances to attend workshops, seminars and webinars. Attending these online is comparatively easier for the students, as they do not go through the hassles of finding the venue, limitations of seats, or the difficulty of raising questions or clearing doubts, mostly if they are seated in the back rows.
Online courses also keep the students in sync with the contemporary business trends and help them to connect with a lot of industry experts which might not be possible offline.
Many institutions providing online BBA courses, even provide flexible fee structure options, which can be helpful for the students with financial limitations.
Online BBA course is the best option for students who want to start working besides proceeding with their education, and it is also a great option for students who want to pursue some other course alongside. For example, many students want to take civil service coaching simultaneously.
The online BBA course is very convenient for students who want to learn the course from a particular university but are not willing to move states for it.
Colleges providing online BBA courses
In order to be sure that the students get the best of the course, they need to make sure that they do it from a well-reputed college, which can help them to build a career afterwards or to avail for the best jobs in the market. Mentioned below are the best institutions providing online BBA courses, along with the average fees, so that the students can check out the institutions according to their requirements, and affordability. Students can visit the website of these institutions to get detailed information, or to apply for the programs.
| Name of the institution | Fees |
| --- | --- |
| Narsee Monjee Institute of Management Studies | INR 150000 |
| Indira Gandhi National Open University | INR 27000 |
| Chandigarh University | INR 87000 |
| Shoolini University | INR 96000 |
| Amity University | INR 122000 |
| Sathyabama Institute of Science and Technology | INR 150000 |
| Alagappa University | INR 64000 |
| Online-Manipal University | INR 120000 |
| ICFAI University | INR 40000 |
| upGrad | INR 150000 |
| Symbiosis School for Online and Digital Learning | INR 140000 |
Syllabus covered in online BBA/Curriculum
Online BBA courses cover a wide range of subjects, which provide the students with basic understanding of business and administration, which will prove useful if they try to establish a career in the field, or pursue higher studies such as Masters of Business Administration and Postgraduate Diploma in Management. The syllabus of most online courses is very similar to that of a regular BBA course, however, the students can take up a few additional courses to sharpen their management capabilities. The course syllabus mainly includes economics and microeconomics. Marketing, finance, management, accounting, and human resource management
Scope of online BBA
BBA opens the door to a wide range of career opportunities (Career options after BBA) that not only provide students with a good salary and a comfortable lifestyle but also improve their soft and hard skills, which can be useful not only in the business world but also in real life. The main career options that online BBA graduates can opt for are listed below:
Human Resource Executive - They aim at creating referral programs, keep track and update the human resource policies of the organization, and look after the hiring processes. Human resource executive is one of the jobs that are most in demand in current times. The HR executives can get an average salary of INR 1.5 lakhs to as high as 5 lakhs.
Marketing Manager - Marketing Managers create, develop, implement and execute plans for the organization, to help attract potential customers and keep the ones that are already there. A marketing manager is one of the most important positions in every known organization, and the organization's development depends largely on them. The average salary of a marketing manager is INR 7.3 lakhs.
Sales Executive- They are responsible for the promotion of the products and services, and negotiate with clients to maximize profits. The salary of sales executives in India can range from INR 1.1 lakhs to INR 4,6 Lakhs, depending on the years of experience,
Marketing Executive- Their main aim is to create awareness and they are responsible for developing the brand of the organization they are working for. Based on the years of experience, the salary of marketing executives can rise from INR 1.1 lakhs and INR 5.5 lakhs.
Research and development executive- They are responsible for the planning and directing of the organization's policies, initiatives and objectives. Depending on the experience of the candidate, the salary can rise from INR 2 lakhs to as high as 11.5 lakhs.
Higher Education- The students can opt for higher education, like MBA or PGDM, which are also available as online courses, if they want to learn about business and management at a more advanced level, or to land themselves higher positions in the jobs available.
Information Systems Manager- The main job of the IT manager is to make ensure the proper operation of the computer systems, apps, hardware and software, and they are required in both private and public organizations. The average salary of IT managers is INR 2000000.
Business Consultants- They basically communicate with their clients, and help them in the organization and management of business projects, as per the client's expectations and requirements. The average annual salary of a business consultant is INR 11.5 lakhs.
Logistics Management- They make sure that the supply chain is appropriately doing its job, and is effective enough. The average salary of a logistics manager is INR 6.9 lakhs.
Freelancing— With the BBA course, the students get enough knowledge to freelance with various private organizations or new businesses in the fields that intrigue them the most.
Top companies hiring online BBA graduates
After completing an online BBA course, students can land jobs at reputed companies, some of which are mentioned below:
Tata Consultancy Services
Infosys
Amazon
Google
Serco
Concentrix
Deloitte
Hewlett-Packard
Flipkart
L & T
Sony
Samsung
Conclusion
By choosing an online BBA, students are choosing for themselves the best quality education and ensuring that they get maximum benefits from the course, which can get them jobs in the top companies in India, such as the ones mentioned before. However, it is critical that students study the course with dedication and concentration, as with online classes, students sometimes show reluctance in attending classes and seminars, without which the course will be less beneficial. However, if they manage to complete the course properly, they will get the same opportunities as the ones from the offline courses, and they might even get placements offered from companies that have link-ups with the university. The article has provided all the necessary pieces of information that the students will need to know the basics of an online BBA course, choose an institution accordingly, and know the benefits of pursuing the course.