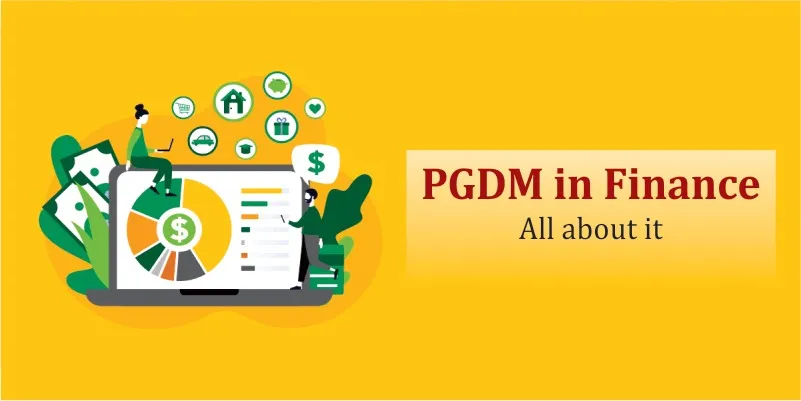 Introduction
PGDM in Finance is a diploma level course for a duration of one to two years, which is all about the development of financial management skills. The course can also be completed within 1 year if the institution you study in allows the same. PGDM in finance is a popular course pursued by many students after graduation owing to its great scope for a high-paying, long-lasting career. The PGDM in finance is preferred by companies, over MBA as it is a more industry-centric course. In the entire world, the PGDM in Banking and Finance is one of the most sought-after programmes. Excellent employment chances are provided in every firm, and the financial module includes important lessons on the management of working capital, acquisitions, and international finance.
Also Explore about PGDM Specialization
Eligibility Criteria for PGDM in Finance:
Students who wish to pursue PGDM Finance must satisfy the eligibility criteria needed to qualify for the course. Post meeting the requirements, students can apply for this discipline and get started with their career goals! Let us look at some of the criteria a PGDM Finance aspirant would need to fulfill:
You need to be a graduate of a government recognised degree course.
You need to have more than 50% in your final graduation.
Students from all streams are accepted, but there are a few institutes that give more preference to management graduates.
A few colleges grant admission based on merit, where one can directly take admission into the college.
Most colleges will require you to sit for a competitive entrance exam such as CAT, XAT, et cetera. For admission, you must achieve a specific percentage.
Along with academics, work experience and internships matter a lot and hold a significant percentage while shortlisting the candidates.
How to get admission in PGDM, Finance:
Entrance tests are used exclusively to determine admission to the leading universities in India for PGDM in finance programs and other PGDM Course Specializations. The PGDM in Finance courses aim at strengthening analytical and critical thinking skills. Working with capital management and understanding international finance are salient intellectual disciplines. The candidates are advanced to the next phase of selection based on how well they have performed on the entrance exam that was administered; scoring above the cut-off established by the institutions. Based on the candidate`s written exam performance, the institutes call for Group discussions and interviews with the short-listed candidates. In most cases, all the candidates who are called for the Group Discussion are hence interviewed. However, there are a few institutes that short-list candidates even after the Group Discussion stage and only the short-listed candidates are interviewed.
Skills required to study PGDM Finance in 2022
The following are the top 15 skills that anyone taking admission into PGDM in Finance must possess.
Analytical Skills
Negotiation Skills
Time Management
Strategic Thinking
Entrepreneurial Skills
Attention To Detail
Communication Skills
Soft Skills
Problem Solving Skills
Decision-Making Abilities
Critical Evaluation
Team Spirit
Leadership Quality
Technical Knowledge in the respective field
Networking Ability
PGDM Finance Curriculum:
In PGDM, the colleges are autonomous hence the syllabus can be updated regularly depending on the need in Industry without approval from any University. So PGDM is more industry ready and up to date compared to any MBA Course degree. Most PGDM courses are based on a trimester system which means 4 months make a trimester and there will be 6 trimesters. PGDM allows you to choose a double specialization which means you can select two electives like Marketing and HR, HR and Finance, Marketing and Business Intelligence etc, whereas most MBA's offer just a single specialization. The focus of the finance domain is on investments and the risk dynamics of assets over time and under different levels of uncertainty. You learn how to use capital budgeting while making decisions throughout the MBA in Finance course. The best business schools provide curricula that demand active engagement from their students during study sessions. The main topics covered in corporate finance courses are how to establish and carry out financial policies as well as analyze complicated investments.
PGDM in Finance Syllabus:
Understudies in PGDM programmes are given several job opportunities and are compensated well. The curriculum and organizational framework of the course are designed to address the growing business need and to turn the students into top subject-matter experts. Undergraduates who successfully complete their degree might choose PGDM as their area of study. The students receive training in managing businesses, which supports the maturation of budding business visionaries. After the completion of the course, the students have the opportunity to work in fields like finance, advertising, human resources, operations, money management, and so on.
For students who wish to study about the various facets of financial studies and their applications in the context of business and management, there is a specific PGDM programme called PGDM Finance.
The syllabus of PGDM in Finance is as follows:
First Year:
| Semester I | Semester II |
| --- | --- |
| Microeconomics | Financial Modeling |
| Principles of Accounting | Supply Chain Management |
| Principles of Marketing Management | Strategic Management |
| Corporate Social Responsibility | Marketing Research |
| Business and Communication and soft skills | Managerial Economics |
| Tools and Frameworks for Decision Making | Business Intelligence |
Second Year:
| Semester III | Semester IV |
| --- | --- |
| Macro Economics | Internship Projects |
| Operations Management | Project Submissions |
| Corporate Management | Marketing Management |
| Business Law | Project Management |
| Optimization and Project Research | Organization Behavior |
Top 10 Colleges in India Offering PGDM in Finance Course
Indian Institute of Management, Ahmedabad
Indian Institute of Management, Bangalore
Indian Institute of Management, Calcutta
XLRI-Xavier School of Management, Jamshedpur
Indian Institute of Management, Indore
Indian Institute of Management, Lucknow
Indian Institute of Management, Kozhikode
Management Development Institute, Gurgaon
Faculty of Management Studies, University of Delhi, Delhi
Department of Management Studies, Indian Institute of Technology, Delhi
Career Opportunities after PGDM in Finance:
The Finance domain in PGDM concentrates on investments, and risk dynamics of assets over time under various conditions of uncertainty. During the study in Finance, you learn to apply and implement capital budgeting in making decisions, evaluate the relative strengths of asset valuation techniques - payback period, internal rate of return, discounted cash flow models, et cetera, hence the best career options after PGDM in Finance are:
Corporate Finance: Financial Modeling and Valuation
Wealth and Portfolio Management
Investment Banking
Finance Research Analyst
Financial Consulting
Merchant Banking
Risk Management
Asset Management
Conclusion:
PGDM in Finance has a throughout the global reach and requirement, as economy and finance ensure the market position of a country, enabling interaction with the real world of finance and business. The graduates have lucrative scopes in sectors of banking, investment, and finance. The course aims to develop candidates with the necessary skills of understanding, and knowledge about the workings of economic markets and the global financial system. Independent of firm size, almost every sector needs a finance manager. The financial industry is incredibly large and has a very long history. Careers in finance management often include asset management, retail banking, financial planning and advisory services, taxes, corporate finance, investment banking, risk management, equity analysis, business analysis, sales and trade, personal finance, insurance, etc.