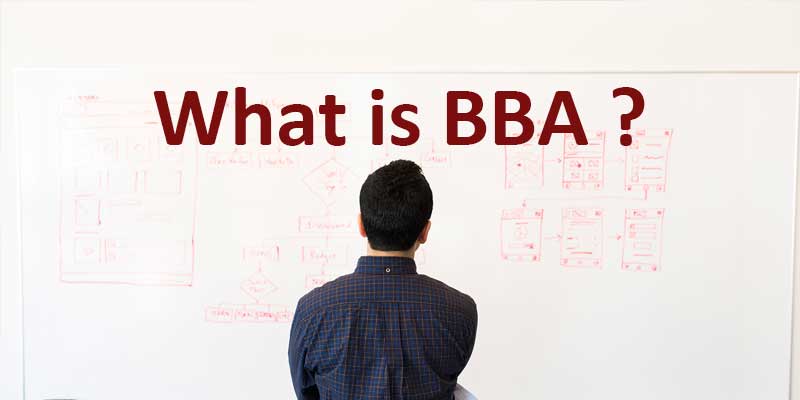 What is BBA?
Bachelors of business administration (abbreviated as BBA) is an undergraduate degree programme that covers the fundamentals of business management. Finance, Communication and Media Management, International Business, and a variety of other specializations are available as part of the programme. Every student can enter the field of management with a BBA degree, and this degree teaches them various features that are important for getting enough information in the field of successful business management.
BBA Course Structure
The BBA programme is structured into six semesters spanning 3 years. For their first year, all students from various specialisations are expected to study the same syllabus, which varies based on the chosen discipline. Every topic is assigned a credit score, and internships, internal assessments, and project work are all given equal weight.
This systematic and in-demand course focuses on equipping management aspirants from any profession, such as arts, science, and commerce, with the necessary information and training in business administration operations. This degree encourages self-employment and includes specialisations in personnel management, accounting, and marketing. This degree is critical in instilling much-needed industry experience in individuals by providing them with a systematic set of information that focuses on an organisation's growth and advancement.
BBA Eligibility
The following are the qualifying requirements (BBA Eligibility) that a BBA aspirant must meet before being admitted to Business School courses:
1. The candidate must have completed his or her 12th grade in any discipline.
2. The applicant must have received a minimum of 50 per cent in their 12th board examinations.
3. Applicants must have completed their 11th and 12th grades from a recognised educational board, such as the state board, ICSE or CBSE
4. Candidates should have passed any additional college selection criteria, which may include interview sessions, group discussions, or any written test/entrance exam.
| Sno. | Name Of The Course | Possible Job Profiles |
| --- | --- | --- |
| 1 | BBA Core Course | General Manager, And All The Job Profiles Listed Below. |
| 2 | BBA Business Analytics | Sales Analyst, Big Data Engineer, Data Scientist, Operations Analyst, Business Strategist |
| 3 | BBA in Marketing | Marketing Executive, Market Research Analyst, Sales Executive, Digital Marketing Manager, Business Development Executive |
| 4 | BBA in Human Resource Management | Technical Recruiter, Employee Relations Manager, Staffing Director, HR Generalist, Training And Development Executive |
| 5 | BBA in Finance | Finance Manager, Cost Accountant, Financial Analyst, Business Analyst, Audit Manager |
| 6 | BBA in Supply Chain management | Operations Manager, Demand Planner, Consultant, Project Manager, Logistics Manager |
| 7 | BBA in Information technology | Database Manager, Systems Manager, Networking Manager, Web Developer, It Manager |
| 8 | BBA in International business | Trade Manager, International HR Manager, Global Distribution Manager, Analyst, International Marketing Manager |
| 9 | BBA in Travel and Tourism | Travel Agent, Itinerary Manager, Destination Manager, Marketing Manager, Personal Tour Guide |
| 10 | BBA in Entrepreneurship | Assistant Manager, Business Consultant, Franchise Manager, New Venture Developer, Banker |
| 11 | BBA in Hospitality Management | Hotel Manager, Sales Executive, Customer Service Executive, Front Office Manager, Supervisor |
| 12 | BBA in Digital Marketing | Seo Executive, E-Commerce Manager, Digital Strategist, Analytics Manager, Digital Marketing Manager |
| 13 | BBA in Strategic Management | Product/Project Strategist, Process Coordinator, Business Consultant, Business Analyst, Project Manager |
Career Options after BBA in 2022
1. Higher Education
Students can go for higher education after the completion of their BBA degree. They can either do a master's in their chosen specialisation to make their job profile more specific. Or a job oriented diploma to fast-track their career.
2. Core Job— Corporate Sector
There are a plethora of job opportunities available for graduates in BBA. students from any and all specialisation can get a good, managerial role in some of the profiles listed above.
3. Entrepreneurship
Whether you belong to the realm of management or not, the option of birthing your own startup is always a viable career option. BBA students are especially well-versed in the complex business atmosphere and understand the dynamics of it, which they can use as leverage to unleash their own venture.
4. Government Job
If you're someone who values government jobs and wants a career in a government organisation, you can appear for exams like SSC CGL, Railways, Banking, CDS, and many others.
5. Teaching Jobs
The option of becoming an academician or an educator after you've completed your graduation, as well as master, is also a feasible choice. You can take up courses like B.Ed and D.Ed to teach as a TGT or PGT in a school.
Why should you pursue a career in BBA in 2022?
While there are many reasons to study BBA as an undergraduate programme, here are some of the most popular reasons that students often opt this course for.
1. Futuristic Course
2. Good Earning Potential
3. Wide Variety Of Specialisations
4. Diverse, Lifelong Skills
5. Networking
6. Corporate Exposure
7. Sets Ground For MBA
8. Easy Employment Opportunities
BBA Admission Process
Following is the detailed process for admission into BBA courses. It may be noted that some universities offer admission based on merit, whereas some conduct their own entrance exams that students may have to appear for in order to secure admission into a BBA course.
1. Fill in all required fields, such as the Course you're applying for, Category, Contact and Personal Information, and so on.
2. Accept the application's terms and conditions by checking the 'I Agree' box, then pressing the 'Start' button and filling out the form. They may request papers such as 10th and 12th-grade certificates, identity cards, and so on. Please upload all required documentation.
3. You will have to pay a nominal application fee as well. Make a copy of the receipt for future reference.
4. You will need to choose a location near your house where you may take the test, or you may be required to take the admission exam at the institution.
5. After completing the forms, you will receive an email with information about the test, including the date, time, location, papers to bring to the examination, and rules and regulations.
6. After you have taken and passed the test, you will be given your score and rank, based on which you will be able to choose your preferred BBA specialisations in the selected college.
7. If you meet the requirements for your selected institution, you will be shortlisted, and you will be required to pay a fee to secure your spot in that course and college.
8. Following that, you will be asked to attend the institution at a specific time and day to have your documents verified, which you had uploaded before taking the exam.
9. For the same, you will submit your fees receipt, documentation, and biometrics.
10. Your acceptance to that institution will be verified once all of these steps are finished, and you will be notified when the orientation ceremony will take place.
Conclusion
In this article, we have covered the basics of the BBA course in detail. From listing the job profiles after each specialisation to mentioning the detailed admission process, we have entailed every single piece of information that you need to know before deciding to pursue this lucrative degree. With the advent of new technology, comes new interventions in business innovations. People are adapting to more comprehensive business ideas and turning them into powerful ventures of the future world, this calls for immense networking as well employment opportunities at every level, which BBA graduates in the upcoming times can take advantage of.