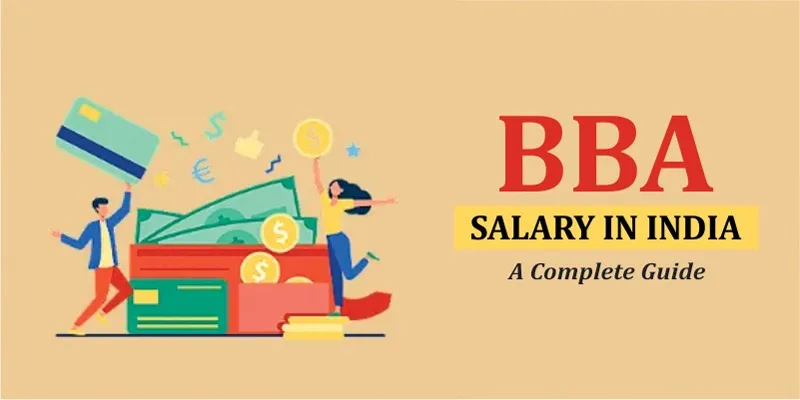 Introduction
In this reign of corporate, planning to join BBA or Bachelor of Business Administration is the most educated decision one student can make. The span after the 12th standard when a student decides on their future step is the most crucial point in any person's life. It forms the foundation of the future they'll lead. Many opt for the science stream while most others prefer to join the BBA program for authentic and credible reasons. After the enormous recessions caused by Covid-19, the world's economy was vilified. It was the corporate and its dealings that helped the world economy to bounce back, somewhat filling that mammoth void of monetary loss. It must not come as a surprise to see students getting more inclined towards opting for BBA to secure their careers.
BBA or Bachelor of Business Administration is the main aid for higher training in management business. This 3-year-long course brushes up your entrepreneurial skills. For those with interests in business administration fundamentals and management principles, this course will help them carve a resplendent future. The main objective of this discipline is to make a student proficient in handling the tricky and risky world of business. Consider your career half guaranteed when you decide to take up BBA.
General Salary Received After BBA:
The BBA degree has assisted graduates in bagging the most coveted and high-paying jobs. Even the starting remuneration that a BBA graduate receives is much higher than other normal graduates. Although the salary received depends on various assets, we've encapsulated a general list. Go through the unambiguous list below and judge the credibility of the aforementioned statement for yourself-
The average starting salary for any recent BBA graduate with little or no work experience ranges between 5 to 7 lakhs per annum.
For graduates with medium-level work experience and skill set, the salary ranges between 7 to 9 lakhs per annum.
For graduates with good professional exposure, the salary may range from 8 lakhs to 12 lakhs.
If one is diligent and hard-working enough, one can climb the success ladder easily within a small span of time and get promoted to the prestigious position of manager or leader. In that case, the salary received will go a few notches higher.
Topmost Paying Job Profiles:
In this list, the highest-paying job profiles (high paying job after bba) one can opt for after BBA are segregated. A BBA graduate must aim to try to bag these jobs to achieve the success of the highest order.
| Job Profiles | Average Annual Salary Received |
| --- | --- |
| Public Services | Rs 6 - 9 lakhs |
| Teaching | Rs 6 — 8 lakhs |
| BlockChain Expert | Rs 10 lakhs |
| Foreign Embassies | Rs 10 - 12 lakhs |
| Information Technology | Rs 12 - 14 lakhs |
| Marketing Executive | Rs 7— 10 lakhs |
| Human Resource Manager | Rs 13 — 16 lakhs |
| Business Development Executive | Rs 8 — 9 lakhs |
| Field Sales Executive | Rs 6 — 7 lakhs |
| Financial Analyst | Rs 5 — 9 lakhs |
| Operations Analyst | RS 10 lakhs |
| Information Systems Manager | Rs 11 lakhs |
| Business Consultant | Rs 12 lakhs |
| Marketing Manager | Rs 10 lakhs |
| Market Research Analyst | Rs 12 lakhs |
| Business Administration Researcher | Rs 11 lakhs |
| Tourism Management | Rs 7 — 9 lakhs |
| Information Technology | Rs 10 — 14 lakhs |
| Sales Executive | Rs 8 lakhs |
| Management Trainee | Rs 8 — 9 lakhs |
It may also be very interesting to note that BBA students can choose any specialization (BBA Specialization) that suits their area of interest and also is in demand as per the current job market. Some specializations are weighed much above others, but identifying those business trends and acquiring that level of expertise is a decision that every student has to make.
Roadmap to Get a Higher Salary after BBA:
As easy as it may sound, achieving any of the aforementioned jobs is not an easy task. Besides the BBA degree, what a student needs is the appropriate skillset. Enlisted below are some tips that will help you do the needful
Aim for a top-ranking B-School: Top-ranking B-schools provide you with better exposure and placements. Top companies target to select students from the topmost B-schools.
Choose a trending and futuristic specialization: One must never pursue a specialization that seems outdated or is not much in demand. Always choose a specialization that promises a secure future even years later.
Grow the work experience and network while studying: Start evolving your skill set and gaining some kind of experience while studying. This not only saves time but also demarcates you from the rest of the crowd thus giving you an edge.
Partaking in competitions, seminars, webinars, symposiums, etc.: Interaction is a very significant stepping stone to achieving a successful career in the field of business. Participating in competitions, seminars, etc. will not only teach you how to interact but also give you exposure and knowledge about what is recently happening in the field of business.
Develop your best skill set: Introspect and compute your best skill. Once you do that, keep on polishing it unless it turns into one of your biggest strengths that'll help you climb the ladder of success.
Line up internships: Internships help you accumulate work experience and brush up on your skills which is very important to get a good job.
Perform well in college: A good result can take a student to big places. A good result implies a good grip on the topics besides helping you give a good first impression on the interview board.
Interview for top companies; Aim big to achieve big. Interview for companies that offer better remuneration and more job security. Many MNCs and corporate businesses offer lucrative packages to fresher's, researching and placing yourself amongst the top lot is imperative for a strong career.
Top 3 BBA specialisations that pay the most;
BBA in Management: This specialisation deems fit for those who have a knack for management. Students comprehend managing businesses in this stream. This specialisation will make you eligible to be a manager, the highest-paid employee in any corporate field. Salary: Rs 14-15 lakhs per annum
BBA in Human Resources: This is the most popular specialisation. It teaches students to manage the employees of an organization, and cultivate their talent. HR is mandatory for the proper functioning of every company. With the passing of time, the need for more HR personnel will increase. Salary: Rs 10-12 lakhs per annum
BBA in Business Administration; The BBA in Business Administration is coveted by those students who aim to handle the administration and management aspects of any business. The application of fundamentals and concepts of business administration is taught in this discipline. The potential for salary and growth is quite high. Salary: Rs 11-13 lakhs per annum
Conclusion:
BBA is all about business strategising but it also delicately deals with formulating managerial skills in a student to make them adept at handling dicey situations in the business world. A good prospect in the future is the main driving force behind any student's choice of subjects. BBA has proven to give very promising results in that case by helping the graduates to achieve the best paying jobs in the country as well as abroad.