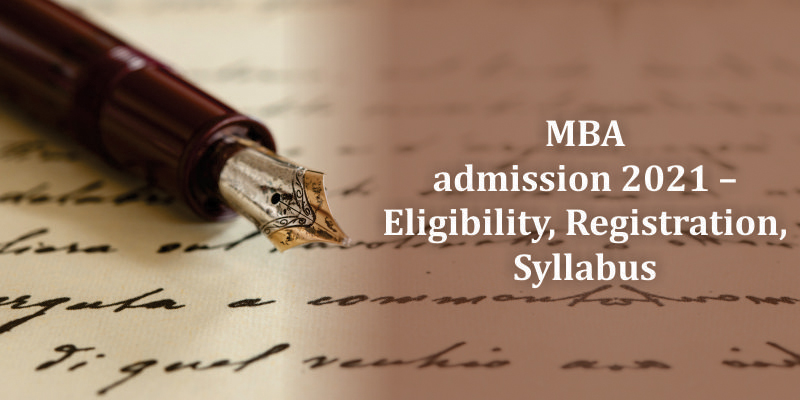 Earning a management degree in the current times is an extremely advantageous endeavour, especially when it is considered an inseparable organ of all working institutions. The functionality, growth, and success of any business enterprise are determined by the efficacy of its managers, which is why it is also seen as delegation or an extension to ownership. An MBA degree holds the power to uncover and make accessible the top-level managerial positions in large and complex corporate houses. Successfully carrying out the tasks of cooperation, direction, integration of interests, as well as communication when it comes to the needs and strategies of a business is what managers are specialised in. This quality and effectiveness can only be embedded through a Master's in Business Administration degree , and that's what makes management a prestigious vocation to go after.
Eligibility Criteria For Doing MBA Course in India
Eligibility criteria are partially common across institutions, however, the specifications might vary from one college to another depending upon the level, ranking, and the type of college- private or government. The general eligibility criteria for MBA is mentioned below:
1. The candidates must have completed their graduation in any stream from a recognised university.
2. The candidates should have secured a minimum aggregate of 50-60% in their bachelor's degree if they're from unreserved category and 45-50% in case of any reserved category.
3. The applicants must have appeared for any of the listed entrance exams required for MBA, such as CAT, MAT, CMAT, GMAT, NMAT, XAT, SNAP, ATMA, or any other as required by the shortlisted university.
4. Applicants should have cleared the Group Discussion round/ personal interview/ written ability test or any other final qualifying test held by the college to be able to make it in the merit list.
5. All applicants must comply with all admission norms listed by the B school at the time of admission.
6. While colleges like IIMs do ask for prior work experience of more than 6 months as weightage is given to it during admissions, candidates must note that it is not mandatory.
The Registration Process For MBA
Like any other exam, MBA requires the aspirants to appear for certain exams that make them qualified to study management at a post-graduate level. Presently, there are around 6 national level Entrance exams for MBA that are accepted by a wide variety of colleges all over India. To be eligible for pursuing MBA, the candidate should have cleared at least one of these exams with compliance to preferred University norms. The following steps explain the complete registration process for MBA admission:
1. Apply for the entrance test accepted by the B school you're planning to take admission to. After checking the names of the exams accepted, aim to appear for all of them to make your chances more certain. In any case, CAT is one exam that all MBA candidates must prepare and appear for since almost all universities offering MBA accept CAT scores. Submit your application forms before the last date to avoid any last-minute fuss.
2. The second step involves downloading the admit card from the link online and reporting to the allotted venue on the given date and the given time slot. Candidates shall adhere to all the instructions mandated by the University to undergo a seamless examination.
3. As soon as the colleges commence their registration process, the students should submit their application forms after filling in all the necessary details.
4. Management aspirants must keep checking the official college/university website for any correspondence concerning the exam, registration date, counselling date, and anything else of importance. Most colleges release the shortlist soon after the exam results are out.
5. If the candidates find their names in the shortlist put out by the respective colleges, they should start preparing for their group discussion, personal interview, and written ability test, if any.
6. To get selected in the final merit list, the candidates should have cleared their GD-PI/WAT, which is further followed by the counselling dates and the payment of admission/semester fee after which the admission is confirmed and a seat in the B school is allocated to the applicant.
List of Colleges with MBA Admissions 2021 Open
India is said to have more than 8000 business schools consisting of public, private, and autonomous ones that offer various degrees in management. While the admissions to MBA courses in 2024 are going on in full Splendor, some colleges have already closed their admission portals and scheduled the commencement of their sessions. Although, there are still some that are taking MBA aspirants in! Following is the list of colleges in 2021 whose admissions are open:
List Of Colleges With PGDM Admission For 2024 Open
University/Business School
Lloyd Business School
BITS Pilani
Chandigarh University
ICFAI University
Hindustan University
Chitkara Business School
ITM Business School
IMS Ghaziabad
Lovely Professional University
Amity University
The Northcap University
Graphic Era Deemed To Be University
UPES School Of Business Dehradun
MBA Syllabus 2024
The curriculum breaks up for most MBA courses is usually semester wise. The subjects are evenly distributed into two years, with the core subjects being taught compulsorily in the first year, and the subjects chosen from preferred electives in the second year. MBA programs range from full-time to executive programs, or even programs with single and dual specialisation. Depending upon these bases, the subjects taught are changed minutely while the core teaching focus remains consistent. Following is the list of subjects distributed semester wise.
Semester 1
Organizational Behaviour
Quantitative Methods
Managerial Economics
Financial Accounting
Marketing Management
Statistics for Management
Human Resource Management
Business Communication
Information Technology Management
Semester 2
Organization Effectiveness and Change
Management Science
Economic Environment of Business
Financial Management
Management Accounting
Production and Operation Management
Marketing Research
Management of Information System
Semester 3
Business Ethics & Corporate Social Responsibility
Strategic Analysis
Legal Environment of Business
Strategy Execution
The Economics of Business Policy
Treasury Management and Foreign Exchange Markets
Semester 4
Project Study
Global Leadership
Strategic Management
Analytics in Practice
Competitive Marketing Strategy
Sustainable Supply Chain Management
International Business Environment
Electives
The subjects that an MBA student studies in the 2nd semester are usually chosen from the course electives. There are around 7-8 electives with 5-6 subjects in each elective course per semester. Unlike the core subjects, students can choose their preferred subject combination in the case of electives. Following is the list of electives in MBA that most Universities offer.
Finance and Accounting
Business Communication
Human Resource Management
IT management
Strategic Management
Economics
Organisational Behaviour
Marketing
Operations Management
Information Systems
Summary
MBA is the most sought after degree irrespective of the previous educational background, and there's a reason behind that. The demand for managers who can take up the responsibility of smooth functioning, result-oriented growth and long-term success of a business enterprise will see a spike in the upcoming times. The startup culture has already started gripping the market and the need to tap eminent management professionals will only evolve from here. In this article, we have consolidated all the vital information and resources on the eligibility, registration process as well as detailed syllabus of an MBA course. Management aspirants looking to apply for MBA programs in 2021 can also go through the consolidated list of colleges across India with admissions currently open.