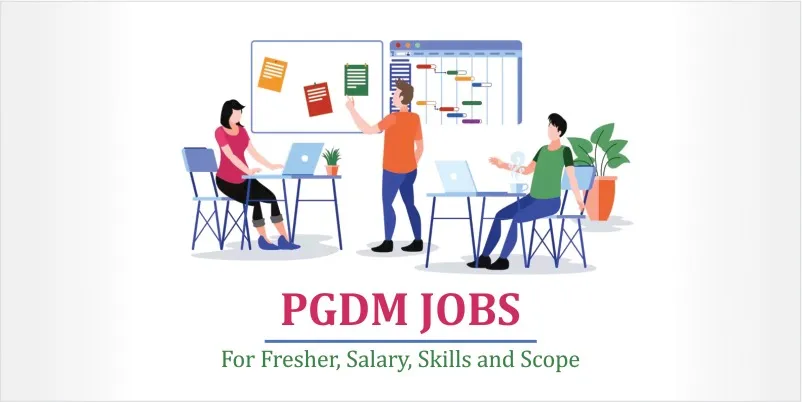 Introduction
With the gradual transition of the world's focus towards the world of business and management, the popularity of fields of study based around business and management has grown parallelly. We can see how many students, no matter what stream they are from, migrate from their respective streams to MBA or PGDM, because of the endless possibilities it has to provide regarding career, skills, and salary. PGDM has many similarities with MBA courses, however, PGDM focuses more on imparting practical knowledge to students, which stands in contrast to MBA, which is more focused on theoretical knowledge. And thus, in modern times, a huge part of the students who would have previously opted for an MBA is now pursuing PGDM. PGDM is a 2-year post-graduate program that is recognized by AICTE. But what comes after when you complete the course and get your degree? What are the career options for you as a fresher, and what amount of salary can you expect? This article will attempt to understand the scope a student gets after getting their PGDM degree, possible salary, and skills acquired throughout the course.
Skills imparted through PGDM
PGDM through their practical approach in their teaching provides the students with the following skills, which can help them once they enter the job environment:
Strategic Thinking
Entrepreneur Skills
Interpersonal Skills,
Communication Skills
Leadership Skills
Research Skills
Analytical Skills
Time Management
Efficiency And Effectiveness
Teamwork
Explore all about the PGDM Course Details
PGDM Eligibility Requirements
For all postgraduate programmes, the prerequisites for admission to an AICTE-approved institution are the same. The following are some requirements that a student must meet:
The candidates must have graduated from a UGC-recognized university with a minimum academic achievement of 45–50% for students in the unreserved category and 40–45% for students in the reserved category, depending on the assessment of the particular school.
According to the requirements of the university, the students must have taken entrance examinations like the CAT, MAT, GMAT, XAT, NMAT, or SNAP, and their grades should be within the cutoff range.
If admission is not being granted solely on the basis of merit, students must pass the group discussion or interview stage.
Additional job experience is not essential, however, some colleges prefer it, since a set percentage is granted to candidates with considerable prior professional experience.
Explore more about the PGDM Admission Procedure
Jobs after PGDM
After one gets a PGDM, there are high chances that they get to work for the contemporary top companies in India, and thus, get jobs that are probably among the highest paid jobs in India. Fields like sales, marketing, and finance are in constant need of PGDM graduates. Down below are some of the jobs in demand currently, that fresher's can get after completing PGDM are listed:
Marketing Manager- PGDM graduates can easily land up a job as marketing managers, and their salaries can rise as high as INR 10 lakhs per annum. They develop and execute strategies for proper marketing, for organizations. Their main goal is to retain the old customers and get new ones. They can gather the potential to turn into future professional leaders. As PGDM provides the students with lots of practical knowledge, it helps them to cope with the real world as managers, better than the pass-outs from MBA.
Sales Manager- Their main aim is to hit the target sales of the company and to plan strategies that would help increase sales. The basic task of the sales manager includes objective setting, recruiting, and performance tracking. Sales managers can earn as high as INR 10 lakhs per year.
Digital Marketing Manager - They are responsible for the development, promotion, and finding of new strategies to promote brands or products, with the help of social media, advertisements, and any other digital forums there are. Digital creators initially can make up to INR 4.5 lakhs per annum.
Management Consultant- They sell consulting services to various companies, in order to help them increase their sales. They gather information, organize it and make reports accordingly, which can be beneficial for the organizations. The starting salary can be as high as INR 9.5 lakhs per year.
Operations Manager - They look over the operations, as in the hiring of employees, supervision, and managing the quality checks of the concerned programs, and they also check if everybody is completing their work as per schedule. The starting salary one can get as an operations manager is INR 7 lakhs per year.
Entrepreneur - PGDM provides the students with enough knowledge that will enable them to set up their own organizations and business, and students know the risks and benefits of being an entrepreneur. With appropriate access to information and knowledge about entrepreneurship, the students know how to approach their idea, and take accurate steps, which is not possible without a degree. Also, PGDM gives the chance to meet with other successful entrepreneurs through workshops, seminars, and webinars, which can help the aspirants frame their own strategies.
Project Manager- The job of project managers includes constructing project plans as per the business goals, overlooking the work that needs to be accomplished through the project, creating and managing teams accordingly, and keeping in communication about the results with the stakeholders. They are a vital part of any organization. The starting salary can rise up to INR 13 lakhs per annum.
Business Teacher- Their main aim is to get students acquainted with the basics of business and management systems, and the jobs can both be in schools and colleges. They teach important courses in business and management such as accounting, finance, business management, and labor. Along with high wages, business teachers help to raise a whole new generation of business and management enthusiasts, who can become leaders of the corporate world tomorrow.
Accounts Manager- They check if the department is meeting the needs of the clients/customers, by registering and managing complaints, finding solutions, and building a strong relationship between the organization and the customers. The average starting salary can be as high as 6 lakhs per year.
Healthcare and Hospital Manager-Also known as health administrators, they oversee and manage the day-to-day operations of a hospital and healthcare organization. They look after the general work, manage the infrastructure and the employees and frame the budget and finances of the department. The average starting salary can be around INR 4 lakhs per annum.
The other career options that are available to people, after they get their PGDM degree are retail manager, operations manager, supply chain manager, retail manager, accountant, insurance broker, HR consultant, business analyst, logistics manager, and many more. With a PGDM degree, the students can get themselves jobs in reputed companies such as Tata Consultancy Services, Wipro, Nestle, Mahindra, Philips, Amazon, Bajaj, Flipkart, Sony, Microsoft, Deloitte, and basically every other leading company, which has its industry widespread in India.
Conclusion
This article has aimed to make the students aware of all the job opportunities that they can get as freshers, once they complete their PGDM course (PGDM Specialization). PGDM is a rewarding course and it provides the students with both soft and hard skills, which can be helpful in both work life and private life. With proper dedication and completion of a PGDM degree, the students can easily get themselves a job, which will give a high salary, a proper lifestyle, and an abundance of skills.