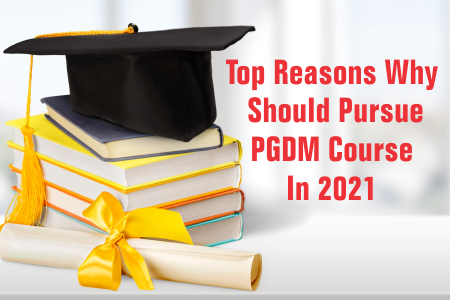 Management in India is considered a reputable and lucrative career option. One of the major reasons for its popularity and demand is that companies who recruit management professionals often offer fancy salary packages, given the student has pursued it from a renowned B-school. However, when it comes to choosing the best management degree out of many alternatives available, students must consider every single option at the table.
PGDM appears to be the soundest choice for students looking to carve a management career in 2021. This is because of several reasons that make it seem better than the conventional MBA degree. In this article, we talk about the top 10 reasons that make PGDM Course the best and the most suited diploma for obtaining jobs in the management sector.
Top 10 Reasons Why PGDM Is the Best Career Path In 2021
1. Highly Specialized Course
Unlike the general MBA courses, PGDM diplomas can be chosen for exactly the discipline you want to work in as these courses contain specializations in more than 50 domains. Some of the widely taken up diploma specializations include PGDM In Marketing Management, PGDM In Financial Management, PGDM In Business Analytics, PGDM In Logistics And Supply Chain Management, PGDM In Human Resource Management, and various others. The reason why the PGDM diploma is specialized is that the course structure is more equipped with practical learning inputs rather than focusing entirely on theory. Out of other alternatives like MBA and MIM, PGDM stands as the best.
2. Evergreen Field To Work In
Management till date stands as the functional core behind every business, which requires a highly trained and dynamic workforce to maintain a balance of operations. This makes management an evergreen field to pursue a career in as there will always be work opportunities lingering in companies, irrespective of the industry you belong to. Students who study PGDM gain timeless skills like customer engagement, project management, leadership, and operational abilities, business development and planning skills, etc that are and will be needed in every business organization today or some years from now.
3. Revised Curriculum
Conventional MBA degrees sometimes have outdated curriculum including papers that are no longer relevant to the current market trends. On the other hand, PGDM is a professional diploma course which means it is consistently altered to make room for more skill-based knowledge that can be applied to the industry practices without any barrier or difference. These updates are often suggested by renowned industry executives from top management institutions like IIMs and are thus in accordance with the ongoing industry trends. As for the MBA degree, changing its curriculum becomes a strenuous process as it needs to be updated by government regulatory bodies before they make their way into institutes.
4. Industry Oriented Diploma
When compared to the framework of MBA courses, the Course structure of PGDM programs is always industry-specific, which is why you only learn the relevant syllabus to set you up for the specific course where you intend to establish your career. This is corroborated by the inclusion of credit-based internships as a part of the curriculum, on-job training, fieldwork, and practical experience gained over the course of two years.
5. Company Exposure
As established above, PGDM stands as an industry-integrated diploma with a lot of scope for on-job training, internships, fieldwork, and industrial exposure as a part of the curriculum itself. This gives them the benefit of gaining an ample amount of experience by the time they finish their diploma. Not just this, most PGDM courses are taught by top-level executives, entrepreneurs, and corporate leaders, and students can gain direct one-to-one corporate insights from them. Learning directly from these eminent professionals through vivid classroom sessions, Institute-sponsored management training, etc can give them the kind of exposure that's missing in the conventional MBA degree.
6. Entrepreneurial Skills
One of the major advantages of a PGDM degree is that it infuses entrepreneurial qualities in students and encourages them to be self-starters, pioneers, and go-getters right from the beginning. Students gain an abundance of knowledge on working and dealing with the business sector which can lead to a start-up mindset at an early age. Students pick the ability to turn ideas into reality by tapping resources effectively, which not only helps them in securing employment for themselves but also creates a wide number of career opportunities for others. Start-up culture in India has gained momentum in the last decade and has benefitted millions of people in so many ways and the government has provided so many schemes for MSMEs as well. This makes taking up a PGDM degree a brilliant career move.
7. Corporate Readiness
The benefits of PGDM courses are not limited to the development of interpersonal relationships and the acquisition of business knowledge. The benefits are manifold. One of the most important advantages of the PGDM program is that it prepares you to work in world-class companies. While pursuing a PGDM degree, you will learn the basics of modern business administration. You will learn about topics that will accelerate your growth in your career. In any PGDM course, whether it is PGDM in human resources or PGDM in business analytics, you will learn about the wider branches of management like corporate finance, entrepreneurship, marketing, leadership, etc. This will help you immediately prepare for the demands that the corporate world has and thus build a successful career.
8. Open For All
The most overlooked advantage of a PGDM diploma is that graduates from any field can opt for it to get one step ahead in their careers. No matter which subject domain you belong to, having a PGDM diploma in hand will only enhance your chances of gaining a top leadership position in any company. Here, the best part is that you can choose an industry that you have primary academic experience in through your graduate degree, and then gain a managerial position in the companies working in that specific industry.
9. Higher Packages
Being a skill-based course, PGDM is especially preferred in companies these days as the learning outcomes outweigh the traditional theoretical perspectives. More hold on practical skills means higher placement ranges. PGDM courses are mostly offered by autonomous institutes that offer advanced placement services and guaranteed assistance to students. Sometimes, these institutes also have tie-ups, collaborations, and sponsorships with top-notch, high-paying companies where students can gain employment.
10. Skill-Based Program
A Postgraduate Diploma in Management allows the student to exert flexibility in their practice as it focuses more on the real-time skills and competencies of the student and less on the academic structure. Along with the skills necessary in the chosen specialization, a PGDM holder also learns other essential acumen of corporate growth like strategic thinking skills, organizational skills, soft skills, communication skills, and much more. Students who demonstrate these skills accurately inevitably set themselves up for a bright and rewarding career in the management sector.
Keeping the above pointers in mind, it is now proven that a PGDM degree will help candidates turn themselves into multifaceted professionals of the future. However, before opting for a PGDM program, the students must ensure that the Institute is AICTE approved. The reputation and standing of the college are directly proportional to the viable career prospects that will shape the future of the students.